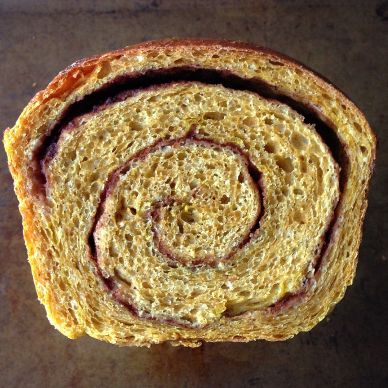 I've really been trying to attack my Pumpkin Pinterest board this Fall, and this Pumpkin Cinnamon Swirl Bread has been my white whale. It's not really something you can throw together at 10pm (my usual baking time these days), so I needed a day with no plans to make it happen.
And a couple of weekends ago, the stars finally aligned. It was a rainy day outside, Stranger Things 2 just dropped on Netflix, and I had a glorious afternoon filled with zero plans. A perfect day for baking bread. It's impossible to rush through the process, so it forces you to completely slow things down in the kitchen. There's just something so comforting about baking bread.
I have no notes on this recipe because it's perfect as is. Everything went smoothly, the rise times were accurate, and it tasted completely amazing. I ate a couple slices warm out of the oven, and then as toast for a few breakfasts before freezing the rest. I've added all my nerdy baking notes (temperatures, weights, etc.) to ensure success!
Pumpkin Cinnamon Swirl Bread
Source: Baked By Rachel
Ingredients
Dough
1/2 cup milk, warm (110-115°)
2 1/4 tsp active dry yeast
1 tsp sugar
1 cup pumpkin puree
1/3 cup sugar
1 egg
1 tsp cinnamon
1/4 tsp nutmeg
1/4 tsp allspice
pinch cloves
3 1/2 cups flour (15 3/4 oz, if you want to weigh it)
1 tsp salt
Filling
2 tbsp butter, softened
1/3 cup sugar
1 1/2 tbsp cinnamon
Egg Wash
Directions
First things first, preheat your oven to it's lowest setting, and then shut it off.
In a measuring cup, add the milk, and then heat in the microwave for 20 seconds. Use a candy thermometer to see what the temperature is, and if you hit 110°-115°, you're good to go. If not, heat in 10 second bursts until you get there.
Add the yeast and sugar to the warm milk, and stir once or twice to combine. Let sit for 5 minutes, until it starts to get foamy. (If it doesn't get bubbly and foamy, your yeast is old or your water was too hot. Start again).
In a large bowl, whisk together the pumpkin, sugar, egg, cinnamon, nutmeg, allspice and cloves. Add the milk/yeast mixture, flour and salt, and stir with a spoon until a smooth dough forms.
Spray a large glass bowl with non-stick spray and add the dough. Turn the dough around until spray covers all sides. Cover the bowl with a clean kitchen towel, and place in the warm oven to rise for 1 hour.
Spray a loaf pan with non-stick spray. Lightly flour your counter or workspace, and roll out the dough to a large rectangle (aim for 10″x 20″, but just try your best). Spread the softened butter all over the surface (I found it easiest to use my hands) then sprinkle with sugar and cinnamon.
Roll up the dough into a tight log, starting at a short end. Pinch the seam closed at the end. Add the dough to the loaf pan, seam side down. Cover with towel, and place back in the oven to rise for 90 minutes.
Remove the dough from the oven, and turn it on to 350°. Whisk the egg and water together to make the egg wash, and use a pastry brush to brush it over top of the loaf.
Bake for 35-40 minutes, until golden brown and your kitchen smells like a delicious fall candle. Let cool for 10-15 minutes, then remove from pan.
{ 0 comments }