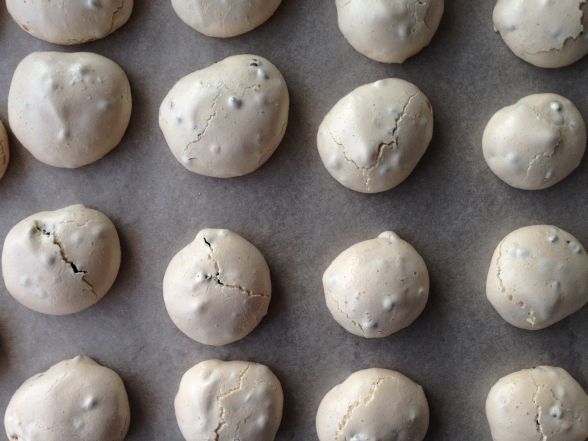 I can't believe this is our last recipe from Baked Occasions! I also can't believe it's been three years since the book came out and I went to NYC for the launch party; truly one of the best days of my life!
We're finishing up the book with these Peppermint Chocolate Chip Meringue Cookies. I actually spent the last four days making a two tier Paw Patrol birthday cake, so I was a bit baked out, but I just had to join in for the last recipe of the book.
These cookies are a simple mixture of egg whites, sugar, peppermint extract and mini chocolate chips, plus a bit of cream of tartar. They get baked at a low temperature for a long time, so you end up with that crispy outside that shatters when you bite it, plus the soft, marshmallow-like centre. I'm somehow out of red food colouring, so I just left mine plain. You can find the recipe here!
And that brings us to the end of Baked Occasions! In total I made 47 recipes from the book, which includes the ones I tested way back in the Summer of 2013! I just loved baking my way through this book, and here are my Top 10 favourites:
I was busy with other baking projects the past couple months, so I missed out on a bunch of the last recipes on the schedule, plus there were a couple I missed along the way. Here are the recipes I still want to make:
Black Cocoa Bundt with Butter Whiskey Glaze
Hot Chocolate Pudding Cake
Chocolate Pop Tarts with Peanut Butter and Jam Filling
Peanut Butter Blossoms
Next up, we're throwing it back to the very first Baked book! I've made a lot out of this book over the years, but I'm excited to bake up some things for the first time. Our first recipe is a pumpkin chocolate chip loaf that's to die for. I can't wait!
More Baked Sunday Mornings here!
{ 2 comments }