OSG Everyday
I loved the first Oh She Glows cookbook, and I think I cooked almost every recipe in the entire book. I was trying to keep track on a piece of paper, but I lost it, and then by checking things off on the contents pages, but I eventually gave up.
The second book, Oh She Glows Everyday came out last week, and I decided to go digital this time around, and will keep track here, with quick photos from my phone, and a couple comments here and there where I feel like it.
Reset Button Green Smoothie, September 8th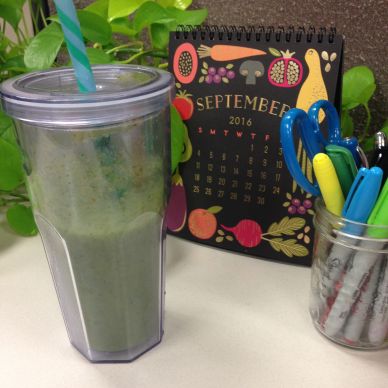 2. Thai Almond Butter Sauce, September 8th (this is the dressing for the Thai Crunch Salad below)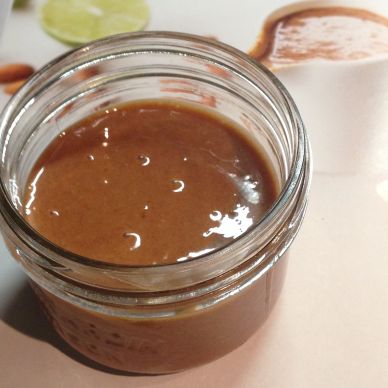 3. Thai Crunch Salad, September 8th – I had deja vu when I was eating this salad, and I figured out why – I made this one back in 2013 when it was posted on the OSG blog here with a similar dressing. This is also supposed to have tofu in it, which I didn't make this time around, and homemade tamari almonds, but I just bought mine in the bulk section of my grocery store.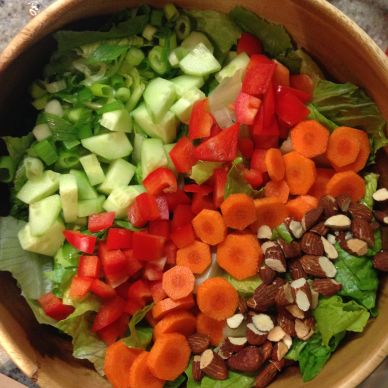 4. Coconut Chia Pudding, September 8th – I would make this with equal amounts coconut milk and almond milk next time.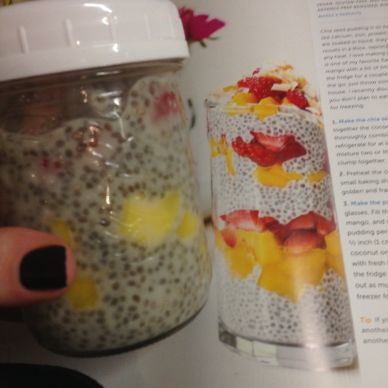 5. Vegan Parmesan Cheese, September 10th – obviously no substitution for the real deal.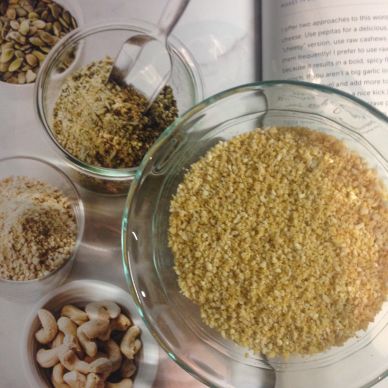 6. Sun-Dried Tomato Pasta, September 10th – loved this.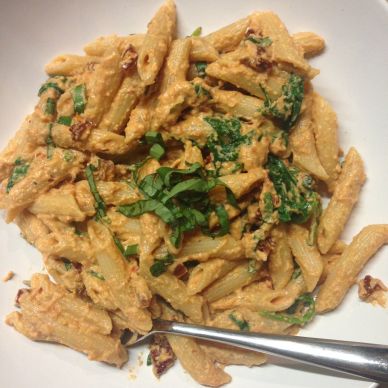 7. Protein Power (Rainbow) Quinoa Salad, September 11th – didn't love the dressing in the book, it was too bracing, so the next day I ate it with a lemon-tahini dressing and liked it way better.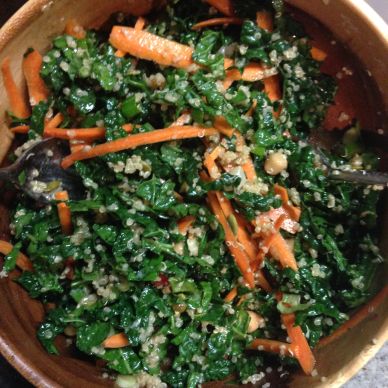 8. Green-Orange Creamsicle Smoothie, September 13th – I normally don't like creamy citrus things but this was really good (it has coconut milk in it).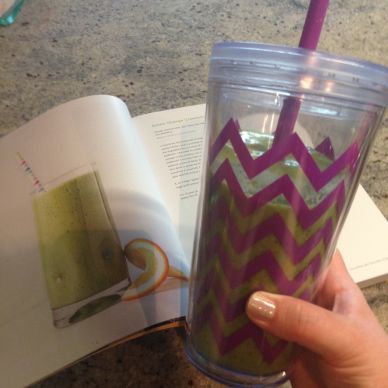 9. Loaded Sweet Potatoes, September 16th – will totally make these again.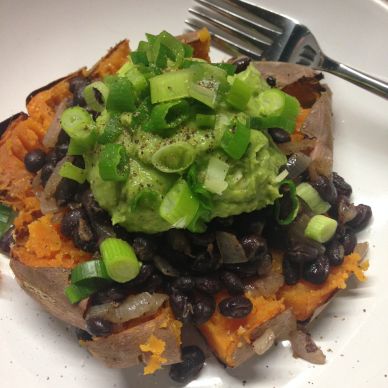 10. Cookie Dough Balls V (no pic), September 17th
11. Every Day Lemon-Garlic Hummus, September 18th – so quick and easy, made me wonder why I ever buy hummus in a tub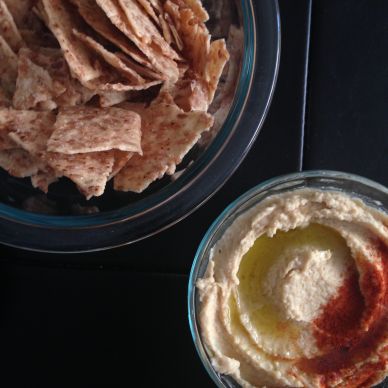 12. Sweet Potato, Chickpea, and Spinach Coconut Curry, September 18th – can you really call this a curry if there's no curry powder in it? Nicole thinks this should be remained Vegetable Chickpea Stew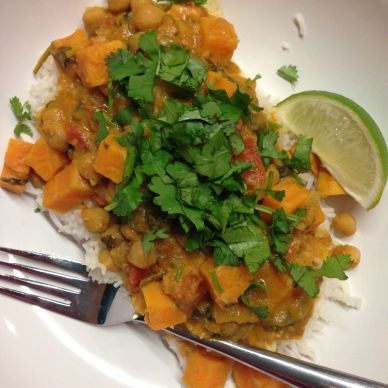 13. The Ultimate Flourless Brownies (no pic), September 18th – these turned out to be 1/4″ thin, while the picture in the book makes them look like quadruple that size. These brownies are also only for rich people, because it uses 3/4 cup of almond butter, a jar of which costs me like $14.99 at my grocery store. (Update: just realized you're supposed to make these in a loaf pan, not an 8×8 pan, which is why mine turned out so thin).
14. Avocado Hummus Toast, September 28th – I mean do we really need a recipe for this? I did like it with the hummus though (didn't put the 9-Spice Powder on it because I haven't made it yet)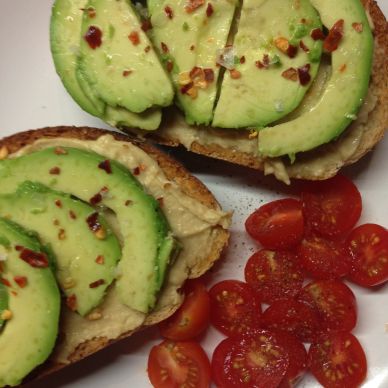 15. Lemon-Tahini Dressing, September 28th – this turned out WAY too lemony for me, so I had to add some more olive oil and water to tame it down. Would only add 1/4 cup of lemon juice next time.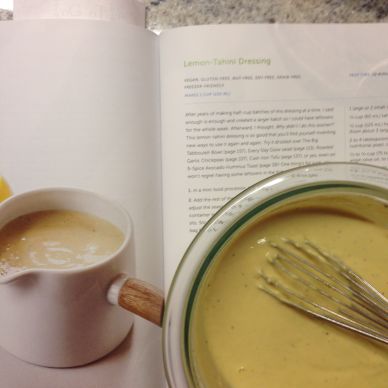 16. Every Day Glow, September 28th – totally loved this (Update: have made it many more times!)
17. Cast-Iron Tofu, September 28th – I don't have a cast-iron pan, so I just did this in a non-stick skillet and it was fine.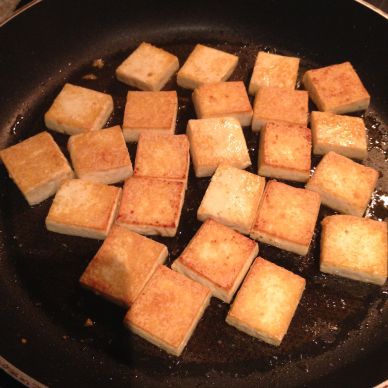 18. 6 Vegetable and "Cheese" Soup, October 1st – I have issues with soup in general, and am extremely picky. This was pretty bland and needed a lot of extra salt. I felt like I could only taste the broccoli. I don't think I would make this again.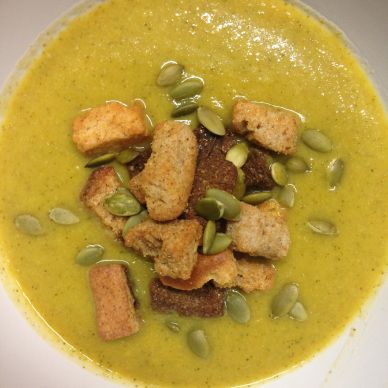 19. Crowd-Pleasing Caesar Salad, October 2nd – there's a caesar salad in the first OSG book that I think I like better. It has a whole head of roasted garlic in the dressing. This one was okay. Still not sure how I feel about roasted chickpeas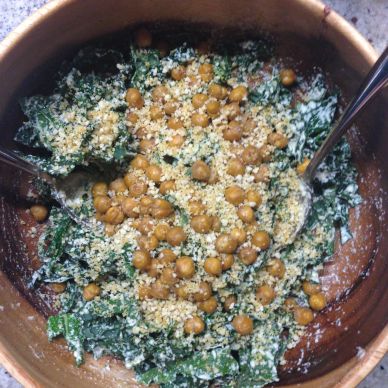 20. Apple Pie Overnight Oats, October 3rd – not my favourite variation on overnight oats. Didn't love the texture of the grated apple in there.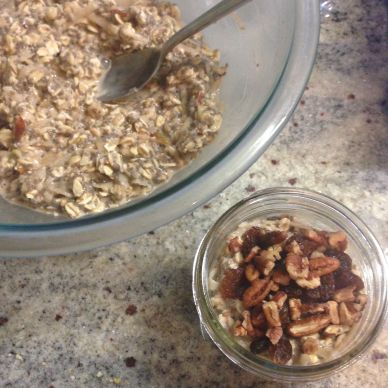 21. Crispy Smashed Potatoes, October 19th – these were okay, but it feels weird just eating potatoes for dinner.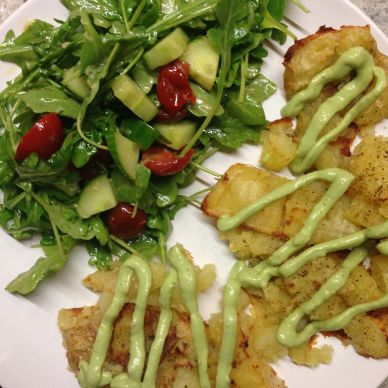 22. Roasted Garlic & Sun-dried Tomato Hummus, October 22nd – nope. I guess I don't love sun-dried tomatoes as much as I thought, because I did not like this.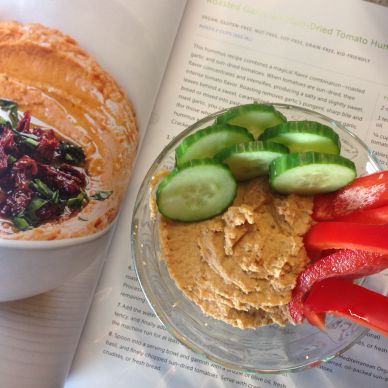 23. All-Purpose Cheese Sauce, October 24th – this was disgusting. I was going to make the chili nachos in the book, but this was so vile, I gave up. There are potatoes in it, which gives it a super weird texture. Not a fan.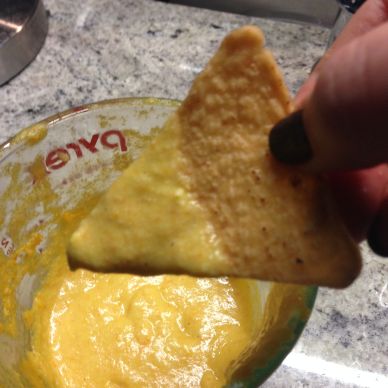 24. Vanilla Super-Seed Granola, October 24th – decent, basic granola. Update: I made this again with the big wide coconut flakes as seen in the book, and liked it even more.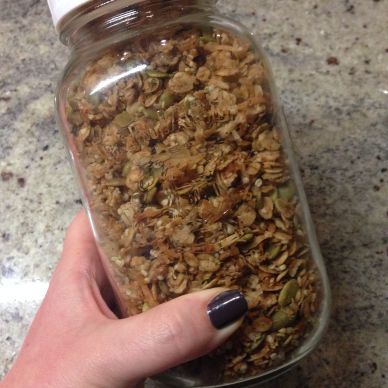 25. Peanut Better Balls, November 21st – made these for Aoife's baby shower and they're good, but super sticky, since the filling is essentially just peanut butter and a bit of maple syrup.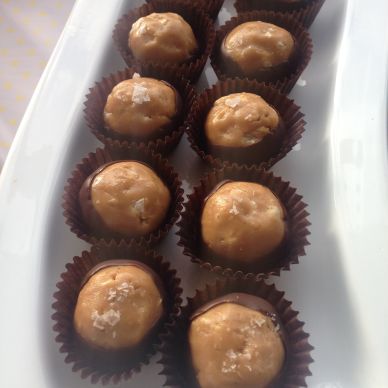 26. Strawberry Oat Crumble Bars, November 23rd – also for Aoife's baby shower. Good, but if you leave them at room temperature they become so soft you can't even pick them up!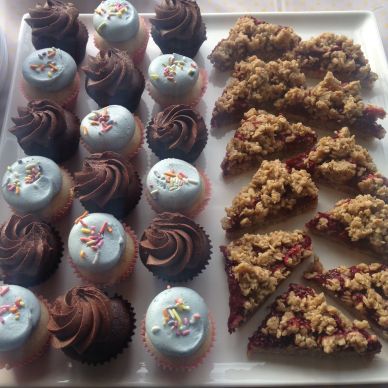 27. Salted Chocolate Hemp Shake, January 3rd – delicious. This is my new go-to post-yoga smoothie. It's also identical in taste to the chocolate smoothie from the first book.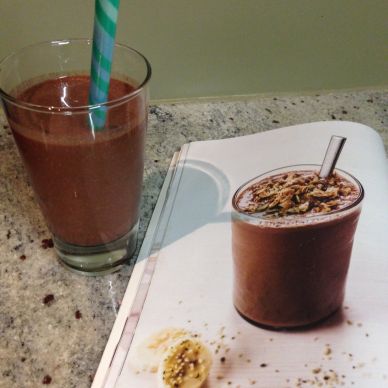 28. The Fastest Sprouted Steel-Cut Oatmeal, January 7th – I'm into these oats, because one recipe has about 3 servings, so it's something easy to make on the weekend and save for a couple breakfasts during the week.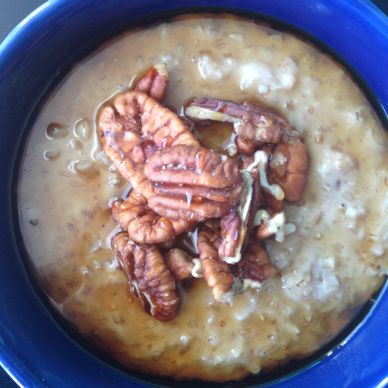 29. 9-Spice Mix, January 15th – so far I've used this on avocado toast and sprinkled on air-popped popcorn with melted coconut oil. It's used in a bunch of other recipes in the book. This was was small batch and didn't even make a quarter of this jar, so make the large batch instead.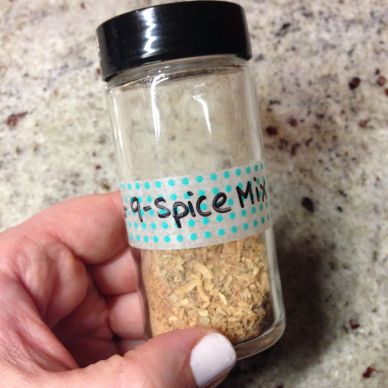 30. The Best Shredded Kale Salad, January 15th – not the best in my opinion, but a pretty close runner up. The toasted pecan parmesan is alright, but not necessary, and I would just throw in a handful of pepita next time and a sprinkle of nooch (aka nutritional yeast).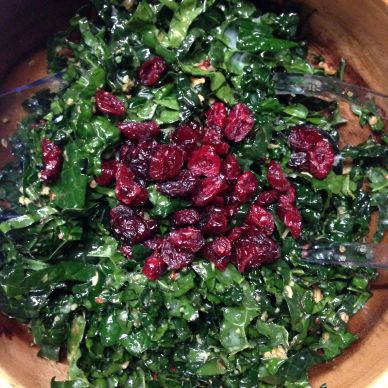 31. Chocolate Dreams (Protein) Smoothie Bowl, January 17th – I actually made this once last year with some protein powder I found at Bulk Barn and it was so disgusting I had to pour it all down the drain. Tried it again this time without the protein power and still wasn't a fan. The Salted Chocolate Hemp Shake (#28 above) is way better.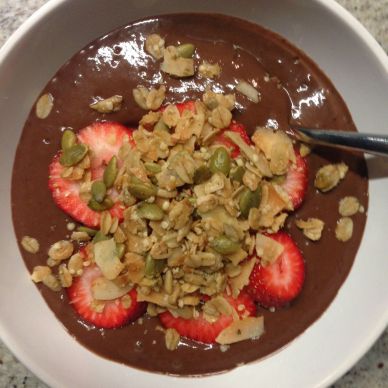 32. Tropical Overnight Oats, January 19th – this was really good and a bright fresh twist on my regular overnight oats (which I usually do a PB&J kinda thing with).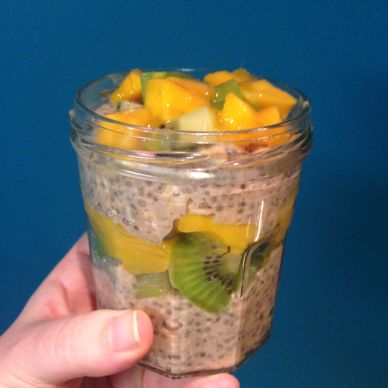 33. Flourless Peanut Butter Cookies, January 26th – pretty homely looking but these were actually really good. Totally flourless, just using a lot of natural peanut butter to hold things together and some oats and coconut for texture. 100% would make these again, and even reduce the sugar next time.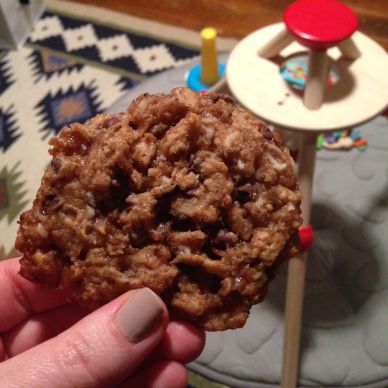 34. The Satiety Smoothie, April 25th – this smoothie is supposed to have protein powder (which I left out, see #32), and otherwise is kind of ho-hum. It's banana, blueberries, avocado and almond milk.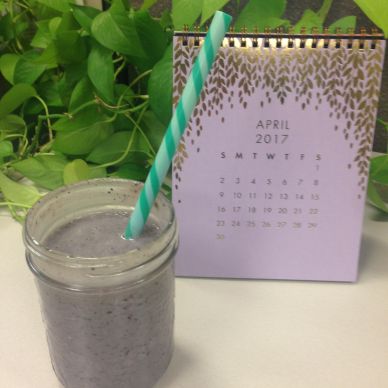 35. Roasted Breakfast Hash, April 30th – this was a totally delicious addition to a (not totally vegan) brunch I prepared.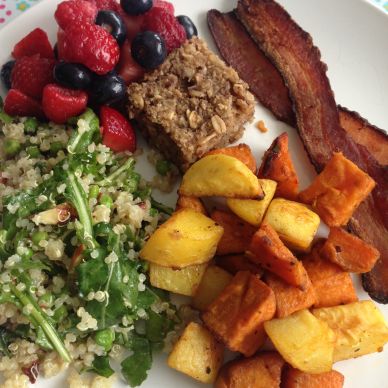 36. Green Matcha Mango Ginger Smoothie, May 2nd – I was nervous the matcha would be overpowering so I only put 1/2 tsp instead of 3/4 tsp and I couldn't even taste it. Fresh ginger tends to overshadow everything.