The last time I went to LA it was 2005. Food blogs didn't exist, and I didn't even have a digital camera. I don't really remember much about what Kristine and I ate on that trip, with the exception of multiple trips to Coffee Bean & Tea Leaf for Ice Blendeds. This time around, I was visiting my friends Christine & Daryl for a quick trip, and managed to pack in lots of memorable eats! Here's what we squeezed in:
Sweetgreen: After I landed and dropped off my bags at Christine & Daryl's, I spent the afternoon exploring Santa Monica. I made a beeline to Sweetgreen for lunch as I've been hearing about it non-stop and wanted to see what all the fuss was about. I mean, it's just salads and bowls, right? WRONG. It was totally amazing! I would have licked my bowl clean if I could have. I had the Kale Caesar which has roasted chicken, cherry tomatoes, thick shavings of parmesan, and also these parmesan crisps which I specifically need to buy a silpat so I can re-create them.  The whole thing was tossed in a delicious, garlicky fresh dressing and finished with a squeeze of lime, which sounds confusing, but was perfect. I obviously will be eating this all summer, and luckily Adriana's got a copycat recipe right here.
The Dudes' Brewing Co: I needed a place to watch Game 2 of the NBA Finals, so after a bit of quick Google research decided to head over to see The Dudes' in Third Street Promenade. It was perfect (despite being surrounded by Warriors fans!) and I had a mango sour that I really liked (but can't remember the name). Christine & Daryl met me there just in time to see the Raptors lose
Brentwood Country Mart: Christine and I went over to the Brentwood Country Mart the next day in hope of seeing some celebs (which we didn't), but we did get some delicious pastries from Farmshop (strawberries & cream croissant + oatmeal raisin cookie), plus I bought a whole bunch of Compartés chocolate bars. I've been lusting after them for years and can't get enough of the pretty packaging and unique flavour combinations and they made me so happy. We also tried some Spindrift which may not seem like a big deal, but I fancy myself a sparkling water connoisseur (my co-worker and I have a running La Croix flavour ranking) and had to check it out. Unlike La Croix (or really any other sparking water you can get in Canada), Spindrift has real squeezed fruit in it, and I'm here to report back that it is DELICIOUS. We tried the Lemon and Raspberry Lime flavours, and then got a small case of Blackberry at Target and they were all so good. Come to Canada, Spindrift!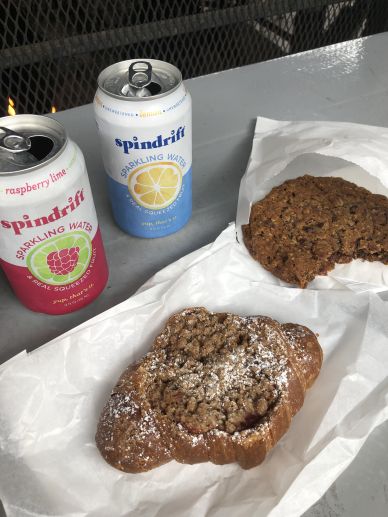 Jon & Vinny's: As soon as I booked my flight, Christine made us a reservation at Jon & Vinny's in Brentwood, not only because the food is incredible, but because she and Daryl spotted Jennifer Garner having dinner there with her kids there. And then, a few days before I left, my imaginary celebrity best friend tweeted this: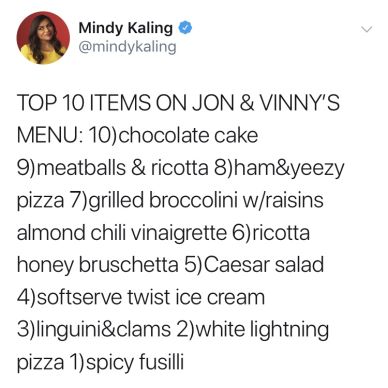 We ended up ordering a whole bunch of dishes to share and this is what we ended up with: Bruschetta with Avocado, Olive Oil, Lemon, Red Chili & Parmesan, Grilled Sugar Snap Peas with Ranch (because there were out of Mindy's recommended broccoli dish), Gem Lettuce with Calabrian Chili Dressing, Parmesan and Crispy Breadcrumbs (must re-create at home!), Mozzarella Sticks with Marinara (I had to skip this one because of my post-gallbladder life), White Lightening Pizza (mozzarella, ricotta, garlic, onion, pickled jalapeño – this sounds odd but was AMAZING!) and finally two pasta dishes: Spicy Fusilli & Cacio e Pepe. This is now the reigning champ for my best meal of 2019. I doubt anything else will come close. Here's our empty plates: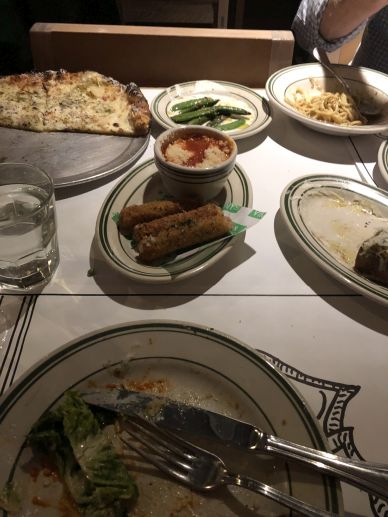 Tartine Bianco: It's long been my dream to visit Tartine Bakery in San Francisco, but lucky for me, there's a new Tartine outpost in LA. It's called The Manufactory and includes a market, a walk-up window for coffee and ice cream, a supper club, and Tartine Bianco where Christine and I had brunch. I'm here to tell you that dreams do come true, because I ate a Tartine Morning Bun and my life will never be the same. Picture in your mind a cinnamon bun, but made with the most buttery, flaky croissant dough, plus a hint of orange zest. We also tried the brioche jam bun, which that day was filled with strawberry black pepper jam, plus a frangipane croissant. Oh, also a breakfast sandwich on the softest brioche bun you can imagine. Everything was perfect and has now spoiled me for life.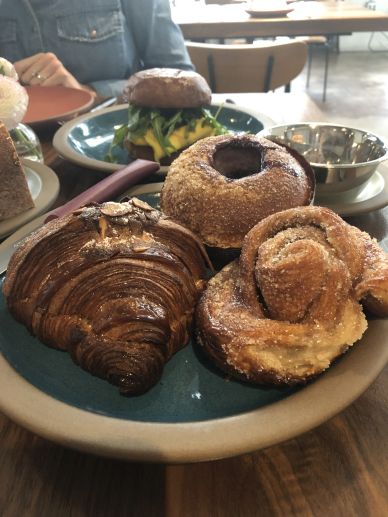 Mr. Holmes Bakehouse: This place was on Christine's list, plus my friend Dafna also recommended it. This bakery is made for Instagram pictures: neon sign, white subway tile, cute bakery boxes, a sign out front that says "Eat Me LA". We bought a few treats to take home and snack on, including this chocolate hazelnut cruffin and a churro croissant. Both were tasty, but it's hard for any pastries to impress you when you began the day at Tartine!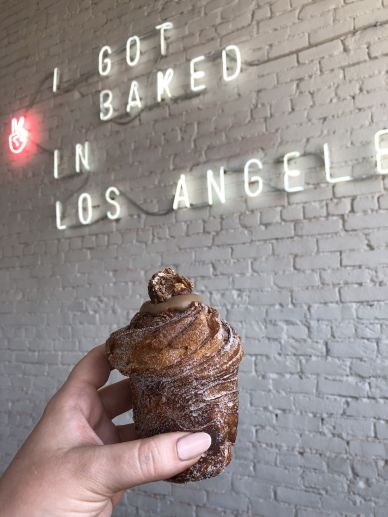 Gracias Madre: My co-worker Nat C. told me I had to go to Gracias Madre because not only was the food good, but she saw Kim Kardashian across the street when she went there. I was sold! Gracias Madre is a super trendy spot in West Hollywood, and even though we were definitely not cool enough to be there, we still felt comfortable and had an amazing time. The menu is plant-based Mexican, and I loved everything we had: guacamole with crudité, a butternut squash quesadilla, brussels sprouts with cilantro pesto, and portobello mushroom and poblano pepper fajitas. Again, no celeb sightings, even though we did a lap around the patio before we left!
Thank you Christine & Daryl for being the most amazing hosts and thank you LA for having delicious carbs and treats everywhere even though you'd think most of your residents would never touch them!