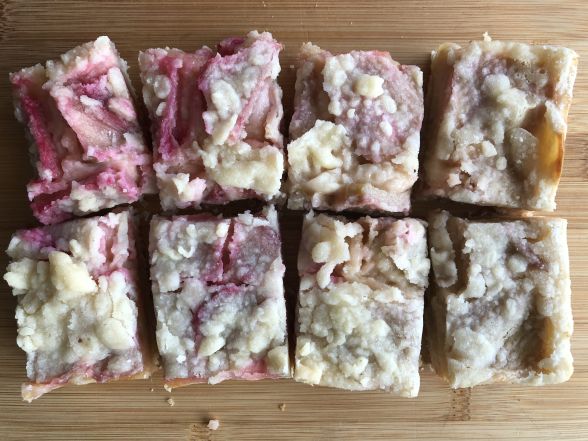 I truly thought it would be a rhubarb-less year here on Planet Byn. Last year, without any new inspiration, I re-made a couple of my favourite recipes from the archives: Lemon Rhubarb Bundt Cake and Strawberry Rhubarb Tart with Brown Butter Crumble. So I thought I might just skip the whole thing this year, but Joy the Baker saved the day when she posted the recipe for these Rhubars (as she calls them).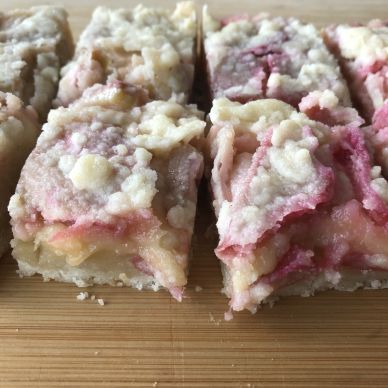 I made these for dessert when my parents came over for dinner for Father's Day, and as soon as I took one bite, they brought me right back to another hit from the past: Rhubarb Custard Pie. These are just as delicious, but way faster to make and all in a portable bar formation. Add these to your summer baking list before rhubarb vanishes for another year!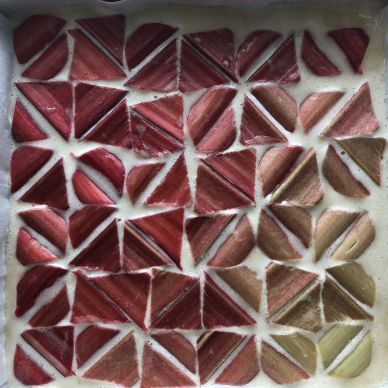 Rhubarb Custard Bars
Source: Joy the Baker
Ingredients
Crust & Topping
1 1/2 cups flour
3/4 cup sugar
1/4 tsp salt
3/4 cup (1 1/2 sticks) butter, cold and cut into cubes
Filling
2 eggs
1 cup sugar
1/2 cup sour cream
2 tsp vanilla
1/4 tsp almond extract
1/3 cup flour
2 tbsp cornstarch
pinch salt
4 cups rhubarb, cut into 1″ pieces
Directions
Preheat oven to 350° and line a 8×8″ square pan with parchment paper.
For the crust/topping; add the flour, sugar and salt to a food processor. Pulse a few times to combine. Add the butter and pulse until the mixture is the size of peas (you can also do this in a bowl, and cut the butter in with a fork or pastry cutter). Measure out a heaping 1/2 cup of this mixture and set aside. Add the rest to the prepared pan, and press into an even layer. Bake for 12 minutes and let cool slightly.
For the filling, whisk together the eggs, sugar, sour cream, vanilla and almond extract until combined. Add the flour, cornstarch and salt and whisk again until smooth. Pour over crust.
Arrange the rhubarb pieces on top of the custard, being as #basic or #extra with your design as you wish. Sprinkle the reserved crust mixture evenly over the top.
Bake for 25-30 minutes until the filling is set. Cool to room temperature before slicing.