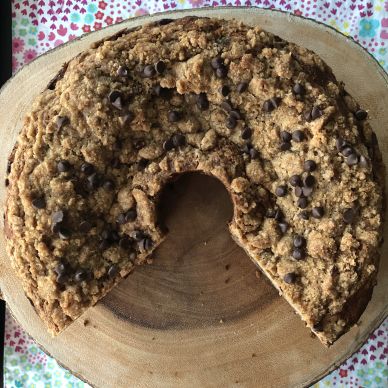 Last week I took my first true vacation since starting my (not-so) new job last Fall. I went to LA for a quick visit to see my friends Christine & Daryl (lots more on that soon!) and then was back home in time for a super fun charity event with my co-workers, Games 3 and 4 of the NBA Finals, my niece and nephew's birthday party and a very nerdy (in the best way) NBA fundraiser hosted by Kevin O'Connor from The Ringer. It was a busy week, so I spent my Sunday afternoon winding down by working on this Banana Chocolate Chip Coffee Cake.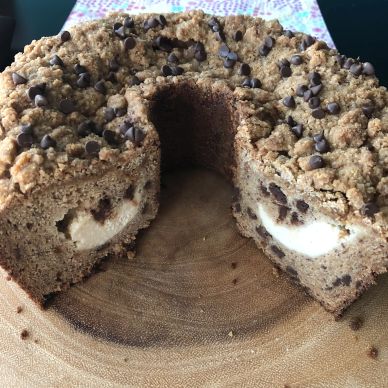 I came home from LA to some freckly bananas on my counter, so I knew it was finally time to make this cake that I've had bookmarked for years. There's a lot happening here: hydrated banana chocolate chip cake + sweet cream cheese filling + brown sugar streusel topping (can't get enough). It took a while to make and used all my big bowls, but I was excited to use my TUBE PAN which doesn't get enough love in my kitchen and pull it all together.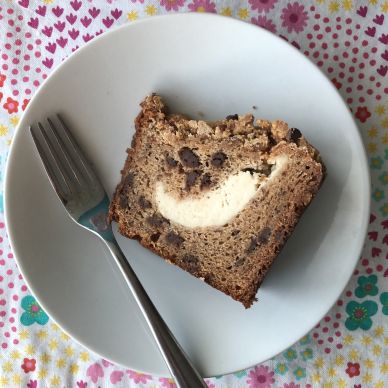 All you need to know is that is hands-down the most well-received treat I have brought in to this job. The entire thing was gone before the end of the day. My one little Gen Z co-worker ate FOUR slices. A direct quote from another team member: "HOW IS THIS SO GOOD?". I got a text at 5:30pm from my cubicle neighbour who said she waited all day to have some and was so sad went she went over to the snack station and it was all gone.
What more can I say, except this is a winner!
Banana Chocolate Chip Coffee with Cream Cheese Filling
Source: Carlsbad Cravings
Ingredients
Streusel Topping
1/2 cup flour
1/2 cup brown sugar
1/2 tsp cinnamon
4 tbsp (1/2 stick) butter, cold, cut into cubes
Cream Cheese Filling
8 oz cream cheese, room temperature
1/4 cup sugar
1 tsp vanilla
1/4 cup reserved banana cake batter
Banana Chocolate Chip Cake
2 1/4 cup flour
1 1/4 tsp baking powder
1 1/4 tsp baking soda
1 tsp salt
1 tsp cinnamon
1/2 cup (1 stick) butter, room temperature
1 1/2 cups sugar
2 eggs, room temperature
1 cup mashed bananas (2-3 bananas, depending on size)
1 tbsp vanilla
1 1/4 cups sour cream, room temperature
1/2 cups mini chocolate chips (plus a few extra for sprinkling on top)
Directions
For the streusel topping, stir together the flour, brown sugar and cinnamon together in a small bowl. Add the cold butter and cut it into the mixture with a fork or pastry cutter, until the mixture is crumbly and the butter is the size of peas. Put the bowl in the fridge.
For the cream cheese filling, mix together the cream cheese, sugar and vanilla until smooth. Set aside (you'll add some of the banana cake batter later).
For the banana cake, first stir the flour, baking powder, baking soda, salt and cinnamon in a medium bowl and set aside.
In a large bowl, beat the butter and sugar together until light and fluffy. Add the eggs and vanilla and mix until combined, then add the bananas and mix until just combined (the mixture might look a bit curdled at this point, but it's fine).
Add the flour mixture in three parts, alternating with the sour cream, mixing each time until just combined. When done, measure out 1/4 cup of the batter and add it to the reserved cream cheese filling, and mix that until well blended. Stir in chocolate chips to the remaining banana cake batter.
Preheat the oven to 350° and spray a tube pan with non-stick spray.
Measure out 1 cup of banana cake batter (this will be the top of the cake) and pour the rest into the tube pan. Use the back of a spoon or a spatula to smooth out the batter, then make a slight "moat" all the way around. Spoon the cream cheese filling into the "moat", taking care that the filling does not touch the sides or centre of the tube. Spread the reserved 1 cup of batter over the top of the cream cheese and smooth out carefully. Sprinkle the streusel evenly over the top of the cake.
Bake for 60 minutes until a toothpick inserted comes out clean. I baked mine for an extra 10 minutes just to make sure it was baked all the way through. Sprinkle a few mini chocolate chips on top while it's still warm, if you want.
Let cool in the pan for half an hour or so, then carefully remove from the tube.