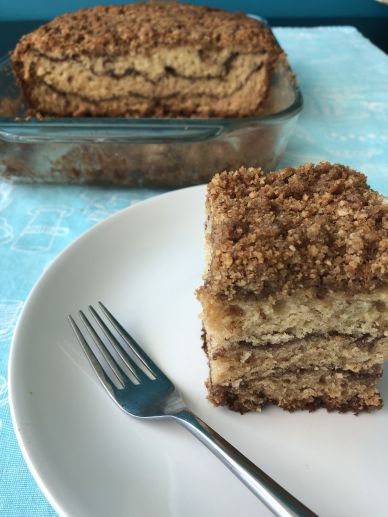 One of my personal rules at work is to never schedule meetings before 9am or after 4pm unless absolutely necessary. I just feel that before and after those hours you're never getting people's full attention, and I personally like that time to prepare for/wrap up my day, so I like to keep it free if I can.
However, a couple of weeks ago, not only did I have to schedule an 8:30am brainstorming session with my team, but 8:30am on a MONDAY. Yikes. Obviously I sweetened the deal for them with the promise of baked goods! I consulted our Baked Sunday Mornings schedule to see what we had coming up.
This is another one of those recipes from Baked: New Frontiers in Baking that I've always been interested in, but have never made. Probably because I'm never motivated to make a recipe that isn't accompanied by a photo. In any case, I'm so happy I finally made this. The cake turns out super hydrated because of all the sour cream in the batter, and I love that when you slice it you see defined stripes of cinnamon sugar. The brown sugar pecan streusel on top is the perfect finishing touch.
The only note I have on this thing is that it is HUGE! It makes a big 9×13″pan and is almost 4″ high. I called it the never-ending cake because I kept bringing containers of it into work for the rest of that week.
You can find the recipe here!
More Baked Sunday Mornings here!