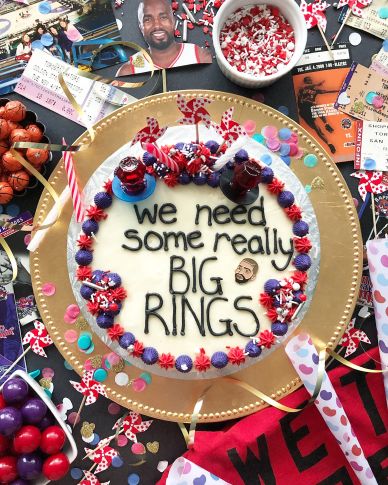 My life truly revolved around the Raptors playoff schedule this month, more so than any other year because they just MADE IT TO THE NBA FINALS for the first time ever (refer to my Drake on Cake pictured above)!!! Here's what I ate between games:
There was actually one event that was more important than any of the Raptors games this month, and that was my parents' 50th Wedding Anniversary! We celebrated with a special blessing at their church followed by brunch at the Glen Abbey Golf Club. I didn't want to roll in there with my own cake, so instead I made these cute little take home treats that my niece handed out to everyone before we left. I used this recipe for the cookies which I love, and Annie's classic recipe and tutorial for the icing. I didn't really think through what would happen when I added gold lustre dust to the icing, but it made it a soft peach which I paired with navy detail and ended up loving.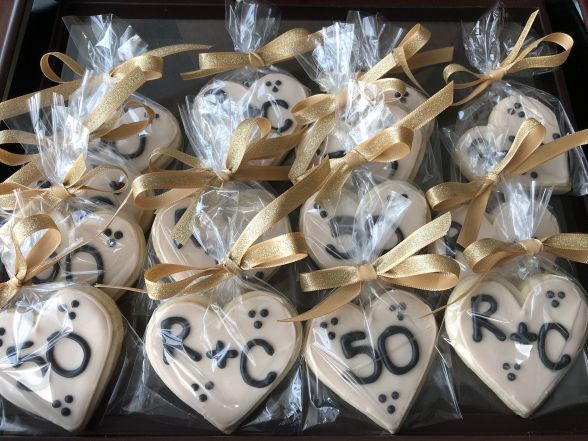 I didn't eat out much this month, but Heather introduced me to a hidden gem in Mississauga over the long weekend: Istanbul House. We shared the most delicious, rich and smooth hummus with pillowy housemade flatbread, and then I tackled a truly gigantic platter of chicken doner, rice and salad. I ate about half and then brought the rest home. New fave!
Claire made gourmet Doritos. Enough said.
I cooked a bunch at home this month, and these were the new things I made that I really liked: Thai Panang Curry with Tofu, Baked Pesto Rigatoni, Crispy Roasted Broccoli with Tahini Sauce.  I also made the best Sloppy Janes from the archives, and my first Breakfast Crisp of the season with rhubarb and blueberries.
No Mother's Day recap this year as my Mom & Dad were on their anniversary cruise, but we're going to have a re-do this summer!
Other non-foodie stuff I was obsessed with this month:
I spent the entire month in a Raptors playoff frenzy, and was lucky enough to go Game 4 of the Eastern Conference Finals against Milwaukee which we WON!!! Shout to my friend Ryan for selling me his seats for the game! The Finals are now underway and I'm hoping for some really BIG RINGS!
My favourite show is back and I am not ashamed to admit was I 100% wrong about Hannah as Bachelorette. I am LOVING her! She's awkward, dorky and has no filter, which is making for a supremely entertaining season so far! We had our draft at work and my team got Peter, Tyler C., Garrett and Cam (now replaced with Dylan) while the other team got Luke P., Jed, Connor S., and Mike. It's going to be a battle.
I binged Dead to Me on Netflix with Christina Applegate and Linda Cardellini and really liked it. If you can handle a VERY dark comedy, I recommend it.
Flashback!