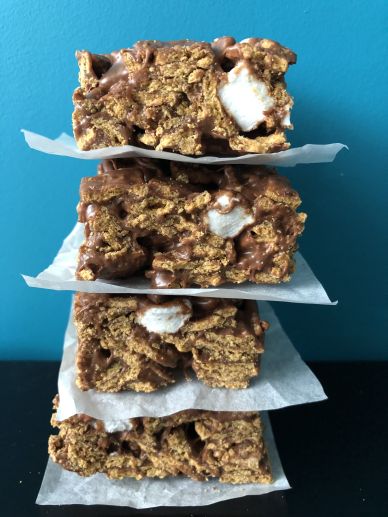 We had a little cookie exchange at work last week, which is obviously one of my joys in life. I was a little baked out after Champagne & Cookies, but pulled it together enough to make a batch of Chai Chocolate Chip Cookies.
The day of our exchange, a few people bailed, so it ended up just being five of us that participated. We still had a fun time filling up our containers with each other's treats. There were some traditional Greek cookies soaked in honey and spices that I loved, lots of almond and sesame biscotti, and some classic sugar cookies. But then there were these.
I WAS OBSESSED. Do you even realize what this is? It's basically a rice krispie square, except with Golden Grahams instead of rice krispies, and chocolate added into the melted marshmallows to hold everything together. I ate ALL of the ones I grabbed from the exchange, and asked for the recipe from my co-worker right away.
I made them this week to gift to my friend Janelle for a belated birthday and Christmas treat. They take less than 10 minutes to make, but are so satisfying to eat. Each of the holy trinity of s'mores flavours shine through: graham + marshmallow + milk chocolate. I'm sold!
Golden Grahams S'mores Bars
Source: Pinch of Yum (I promptly lost the sheet my co-worker wrote the recipe on, so I made this one from POY and it's the exact same. If you don't want to use corn syrup, they have another recipe without it here)
Ingredients
1 bag mini marshmallows (5 1/2 cups)
1 1/2 cups milk chocolate chips (I actually used half milk, half semi-sweet)
1/4 cup (1/2 stick) butter
1/4 cup light corn syrup
1 tsp vanilla
1 box Golden Grahams cereal (8 cups)
Directions
Line a 9×13″ pan with parchment paper. Set aside 1 cup of marshmallows.
In a large microwave safe bowl, add the bag of marshmallows (less the 1 cup), chocolate chips, butter and corn syrup. Heat for 1 minute, stir, and heat for another minute and stir until everything is melted. Stir in the vanilla.
Add the Golden Grahams and stir to combine, using a big sturdy spoon and a lot of upper arm strength. Mix in the reserved 1 cup of marshmallows.
Add the mixture to the pan and spread into a flat layer as best you can. Let sit for about an hour, then cut into squares.