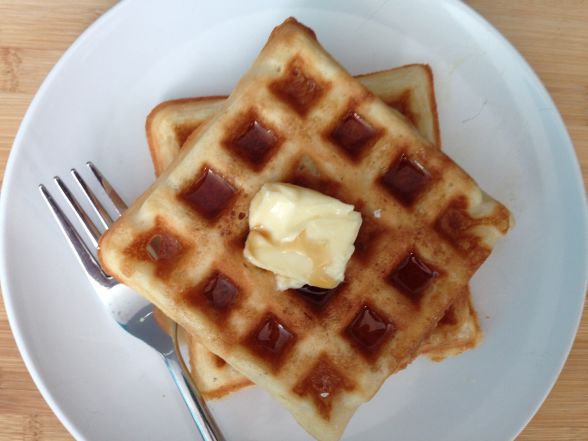 I was just re-reading some old monthly recaps, and in my January 2016 post, I mentioned that I had finally found a waffle recipe that I liked: "I've been looking for a basic waffle recipe forever! I need to make it a few more times before it reaches 'My Favourite' status, and then I'll blog about it. Well, it's been two years, and this is still my go-to waffle recipe, so here we are: 'My Favourite' status granted!
Just like pancakes, I seem to have tried every waffle recipe on the internet before I reached this bliss. They were either too light, too doughy, or had yeast in them (yes, this is a thing), which I found weird. I also can't have a recipe that violates my main pancake/waffle rule: no whipping egg whites separately. There is nothing more annoying to me.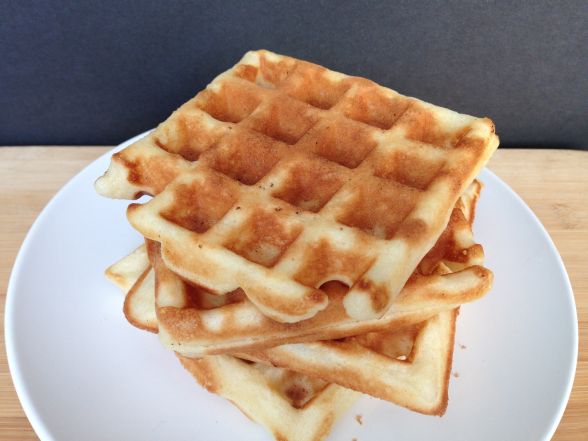 Basically what I'm looking for in a waffle recipe is to get as close as I can to homemade Eggos, and this recipe nails it. Great flavour, perfect texture on the inside (not too light or too doughy) and crispy on the outside.  I also love my waffle maker, which has removable dishwasher safe plates, and this has made all the difference in my waffling.
The best part of these is making the whole batch (or even a double batch), letting them cool, and freezing them in groups of two for my very own Eggos. I would even say I like them this way better, because I can get them super crispy in the toaster when I'm reheating them. Of course, if you're making waffles and eating right away, you can keep them warm in a low 200° oven, set on a cooling rack on top of a baking sheet to keep them crispy.
My Favourite Waffles
Source: Orangette
Ingredients
3/4 cup flour
1/4 cup cornstarch
1 1/2 tsp sugar
1/2 tsp baking powder
1/4 tsp baking soda
1/2 tsp salt
1 egg
1 cup milk or buttermilk (or a combination of the two)
1/3 cup vegetable oil
1 tsp vanilla
Directions
In a medium bowl, whisk together the flour, cornstarch, sugar, baking powder, baking soda and salt.
In a small bowl, whisk the egg, then add the milk/buttermilk, oil and vanilla and whisk again.
Pour the wet mixture over the dry and whisk just until the ingredients are just combined. The batter might be a bit lumpy, but that's just fine. Let batter rest for 30 minutes.
Prep your waffle maker. Mine is non-stick, so I just turn it on and wait until it beeps at me, and it's good to go. Make your waffles according to your waffle maker's instructions. Top with butter and maple syrup or your other favourite toppings.