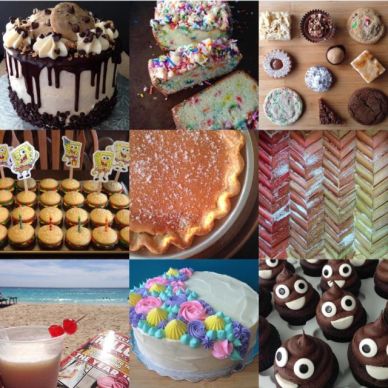 This Christmas was very different for me as I flew the coop with my parents to Barbados to celebrate my Mom's 70th Birthday, which was on Boxing Day! Here's what I was up to before we left:
Nicole and Francis came over for our annual Christmas baking day! A little challenging with a 1 1/2 year old, but we managed to get a batch of Chewy Ginger Molasses Cookies done, and the dough for these Brown Butter Sugar Cookies so Nicole could freeze it and bake them later on.
Janelle and I went to King Taps for our Christmas Lunch and repeated a few apps I've tried before (Bang Bang Shrimp and Crispy Potato Skins – so basic but SO GOOD) and had a "Just Gimme a Pepperoni" Pizza which is pretty self-explanatory. It was amazing, even better than the Forager Pizza I tried last time I was there. On the way out J was buying a gift card and the hostess was telling us all about her favourite items on the menu, so now we have a list of other things to try!
I did another Hot Chocolate Bar at work this year after everyone was so excited for it last year. We have a coffee machine in our new workspace, which also makes hot chocolate, so that made it even easier (last year I had the little powdered packets for people to add to boiling water in our old kitchen). I brought in a can of whipped cream, homemade Bailey's, sprinkles and candy canes and threw up the fireplace channel on You Tube on the screen. Big hit!
Quick little recap of our Barbados Eats! So in Barbados, there is this strip called the St. Lawrence Gap. It's a little street lined with restaurants, bars and nightlife, so we headed over there for dinner most nights (it was just a short walk from our resort).  Our favourite place was Cocktail Kitchen, where we went on my Mom's Birthday (so good, plus complimentary spicy popcorn to snack on while you wait!), and the others we went to were Cafe Sol (surprisingly delicious Mexican!), Castaways (I had local flying fish!) and Sharkey's (twice), plus we ate at the hotel on Christmas Day. I had fish almost every night, except for the last night where I was craving a burger!
Other non-foodie things I was obsessed with this month, YEAR END EDITION:
My favourite books of the year, in order: Little Fires Everywhere, Saints For All Occasions, Rich People Problems, The Hate U Give, The Sun Is Also A Star.
My favourite movies of the year, also in order: Southside with You (this movie didn't even come out in 2017, but I probably watched it 5 times on Netflix. It's a fictionalized version of Barack & Michelle Obama's first date, and I just LOVE IT), Spiderman: Homecoming, Wonder Woman, Girls Trip, Logan Lucky.
My favourite TV of the year, not in order, because I watched too many things that I was obsessed with: Big Little Lies, Insecure, People vs. OJ Simpson: American Crime Story, The Night of, Riverdale, How To Get Away With Murder, Master of None, The Handmaid's Tale, Stranger Things 2, Glow, Mindhunter. You'll note that The Bachelor, my usual fave, is not on the list because I can't stand Nick Viall, and The Bachelorette only gets an honourable mention for one scene, which was Peter tearing off his t-shirt in slow motion to dry his tears as he and Rachel broke up.