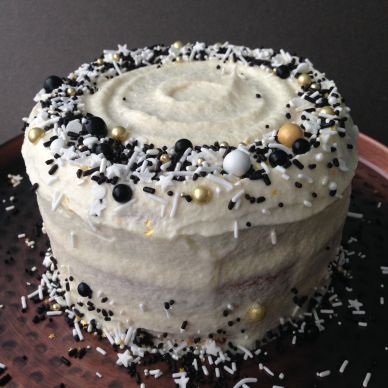 This was the second year in a row we had a Baked Sunday Mornings cake assignment close to New Year's Day. Last year it was the Ultimate Birthday Cake from Baked Occasions, and this year it's the Whiteout Cake from the first Baked book.
I scaled down the recipe to make a little 6″ cake, and it turned out to be pretty cute, especially with my New Year's themed sprinkles. The cake recipe is great, even with the annoying step of whipping egg whites and folding them in.
My only problem with this is the icing. I've gone back and forth on the Baked boys' cooked icings over the years. Most of the time it's a disaster, but every once and a while it works perfectly. Today it was a mess, but to be fair I wasn't taking my time and just kind of did a rush job.
This cake is currently cut and wrapped into individual slices in my freezer, because January is the only month when people aren't happy to take your baked goods.
You can find the recipe here!
More Baked Sunday Mornings here!