Every part of my annual Champagne & Cookies Christmas party fills me with so much joy. I love spending the weeks leading up to it finalizing my baking list, stocking my freezer with treats, and then finally sharing them with all my friends. This is truly my favourite holiday tradition, and it just keeps getting better. I was so happy with all of my picks this year, the majority of which were things I've made in the past, plus some special requests, and a new cookie that I already know will be on this recap every year from now on! Here's what I made:
1. Chewy Ginger Molasses Cookies + 2. Christmas Confetti Cookies + 3. Maple Pecan Pie Triangles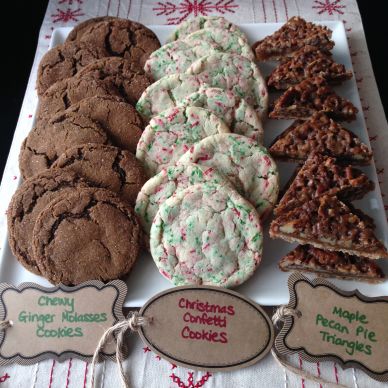 Ah, the classics. For the second year in a row, I made these Chewy Ginger Molasses Cookies from Gimme Some Oven, and they were so perfect. My friend Lusina loved them so much she made them for her family over the Christmas break, so I'd say that's the highest compliment! I also gave these cookies to my team at work for their Christmas treats, and they were a huge hit.
Loved these Christmas Confetti Cookies again this year too. Pretty #basic, but I love the pop of colour they bring to the table.
I brought back the Maple Pecan Pie Triangles again this year after a two-year hiatus. They're so easy, and so tasty. I was happy to have them make a return!
4. Pretzel M&M Cookies + 5. Chocolate Crinkles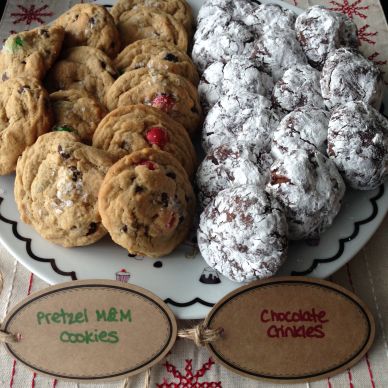 Speaking of triumphant returns, Pretzel M&M Cookies were also back due to popular demand. I can't find Pretzel M&Ms anywhere in Canada, but luckily had been down to Buffalo in November and picked up a few bags. That salty and sweet combo is just killer, and many of my friends grab one of these first.
I loved these Chocolate Crinkles so much when I made them last year, but regretted that the batch was so small. I doubled up on them this year, and was glad I did. They're so rich and fudgey, and I love having something purely chocolate in the rotation.
6. Pretzel Linzers with Salted Caramel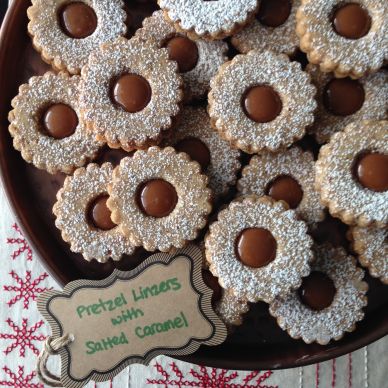 I wrote about these guys last week, and they were my winner for the night. I just loved the way they turned out, they were so pretty, and tasted so good. I normally loathe cut-out cookies because they're so time consuming, but I'm happy to make an exception for these. I can see these being on the table every year from now on.
7. Campfire Squares
I was joking that this year Champagne & Cookies was the People's Choice, because I had a few very specific request from my friends. Lydia was asking for these Campfire Squares again, and I was only too happy to oblige because I'm a sucker for S'mores!
8. Ruffles Squares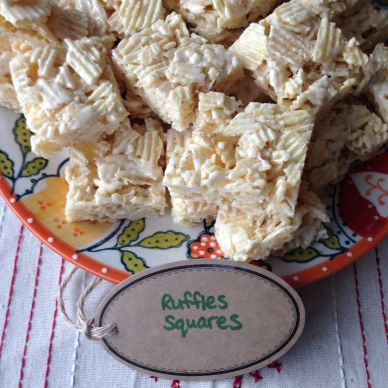 There's something so weird about these, but so addictive. I had so much fun watching everyone try them last year, that I knew they needed to make a repeat appearance this year.
9. Nutella Cheesecake Cups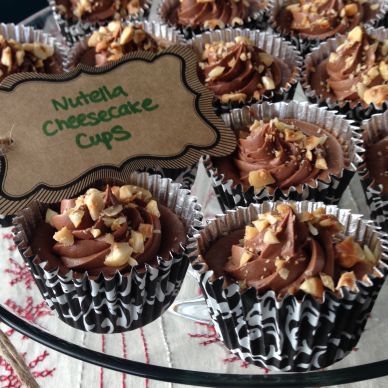 My final two spots at Champagne & Cookies are always reserved for vegan/gluten-free treats, but those friends weren't able to make it this year, so all of a sudden I had two wild card spots open up the week before the party! It was so hard to decide, but I finally settled on Nutella Cheesecake Cups, just for something a little bit different. They had a Oreo cookie crust, Nutella cheesecake filling, a swirl of Nutella Cloud Frosting on top, and were sprinkled with toasted, chopped hazelnuts. So decadent and so good.
10. Buckeyes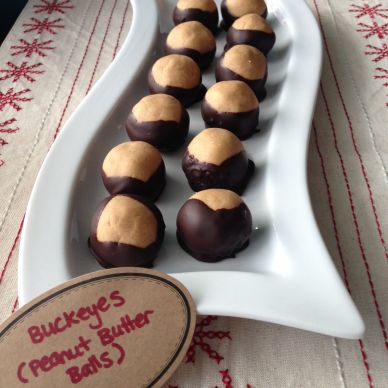 Last but not least, since I usually make some type of vegan/gf raw cookie dough ball dipped in chocolate, I threw it back to the OG Peanut Butter Ball: Buckeyes. There's absolutely nothing redeeming about these (peanut butter, graham cracker crumbs, icing sugar and butter), but they are so addictive, and dipping them in dark chocolate only makes them better.
Overall I was super happy with everything I made this year, and give myself an A! My favourites were the Pretzel Linzers and the Chocolate Crinkles. I might have to mix it up a little next year and try a few more new things, since this year was almost a greatest hits of past C&Cs. This is my second year leaving out the chocolate/mint selection, and I'm standing firm in that choice. There's only one word I need to remember for next year: Gingerdoodle.
Wishing you happy baking and Merry Christmas!
Flashback to previous C&C parties: