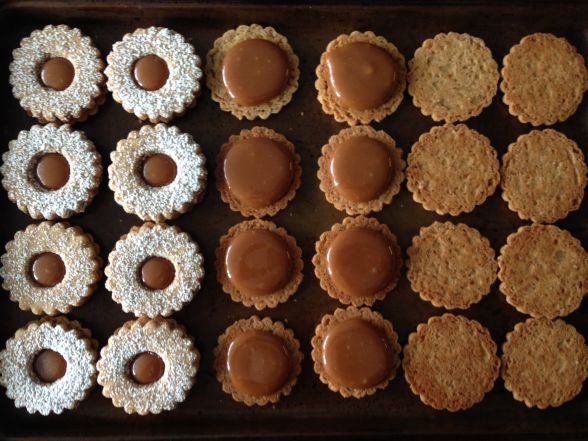 Smitten Kitchen has a new cookbook out! I've really tried to curtail my cookbook acquisitions over the last couple of years, but obviously I needed to have this one. I bought it when I went to see Deb on her cookbook tour back in October. She didn't do an interview or Q&A like last time, but I got a lot of one-on-one time to chat with her, which was the best.
When it was my turn to get my book signed, I told Deb about my favourite recipe from her first book, and how I make it all year round with whatever fruit is in season. We talked about the Marble Bundt cake in her new book and how I can't wait to make it. Finally, I told her about how my friends follow the Smitten Kitchen account on Instagram and tag me on posts of things they want me to make for them! She thought that was funny and asked what the last thing I made them was, so I told her all about Kristine and the Brown Butter Breakfast Puffs that she said were better than churros. Then we took some pics and I was off on my merry way. It was truly one of my happiest days of the year!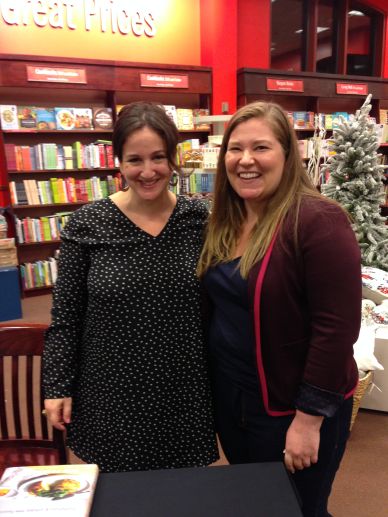 When I got home and flipped through the book with my post-it notes, there was one recipe that stood out right away, and I knew it would be the first thing I made: Pretzel Linzers with Salted Caramel.  I also thought this was fitting, since the first recipe I made out of the first cookbook was also a cookie!
I made these for Champagne & Cookies VIII (more on that soon!), and they're quite a bit more time consuming then I prefer, but I decided one labour intensive cookie would be okay. The cookie dough has ground pretzels in it, giving it a bit of a salty, toasty taste, but mostly it tastes like a delicious, crisp shortbread cookie. I was tempted to use my own favourite Salted Caramel for the filling, but I was glad I didn't. The Salted Caramel in the book is perfect for this recipe, because it's firm enough to hold the cookie together without sliding all over the place.
I have about 20 other things flagged and I can't wait to make them!
Pretzel Linzers with Salted Caramel
Source: Smitten Kitchen Everyday
Yield: 27 cookies, using a 2 1/4″ cookie cutter
Ingredients
Cookies
3 1/2 cups small pretzel twists
1 1/2 cups flour
1 cup sugar
1/4 cup brown sugar
3/4 tsp baking powder
1/2 tsp salt
1 cup (2 sticks) butter, cut into chunks
1 egg
Salted Caramel
1/2 cup whipping cream
2 tbsp butter
1/2 tsp flaky sea salt
2/3 cup sugar
1/4 cup light corn syrup
+ icing sugar for dusing
Directions
Put the pretzels in your food processor and process until they're a fine powder. Pour this pretzel powder into a bowl, measure out 1 1/2 cups, and add that back to the food processor. You can throw out the rest of the pretzel powder.
Add the flour, sugar, brown sugar, baking powder and salt to the pretzel powder. Pulse a few times until combined. Add the butter and pulse until the mixture starts to form a dough, then add the egg and blend until it all comes together.
Pour the mixture out onto a large piece of parchment paper. Here's where I deviate from the recipe – Deb says not to knead it, but I went ahead and did anyway because I thought the dough was looking a bit dry and I wanted to make sure it would roll out okay. Then I formed it into two balls, and patted each of them out into a disc. I made two discs just so the dough is easier to manage.
Set one dough disc aside, and then place another piece of parchment paper on top of the dough disc currently on the parchment, and roll out to 1/8″ thickness with a rolling pin. Slide this whole thing onto a cookie sheet and put it in the fridge. Repeat with the second disc. Let the dough chill for about an hour.
When you're ready to bake, preheat the oven to 350°, and take the first sheet of dough out of the fridge. Stamp out the cookies (my cookie cutter was 2 1/4″) and then use a small 1/2″ piping tip to cut a little hole in the middle of half the cookies. I re-rolled the scraps multiple times without issue, so I recommend doing that too. Bake cookies for 10-12 minutes and let cool completely. Repeat with second sheet of dough. At this point I froze the cookies for about two weeks, and that worked out well too.
When you're ready to assemble the cookies, make the salted caramel by adding the cream, butter and salt to a small microwave safe bowl and heating until melted.
In a medium sauce pan, cook the sugar and corn syrup until it reaches 305°-310°, then add the cream mixture, and cook until 245°-250°. Let it cool a little, but only for about 10 minutes or so. I went to run an errand for an hour and it was totally hard by the time I got back.
Flip over all the cookies without a hole in them (those are the bottoms) and use a spoon to add about 1 tsp of caramel to each one. Take all the cookies with a hole in them and dust with icing sugar before carefully adding one to each cookie to make a sandwich.