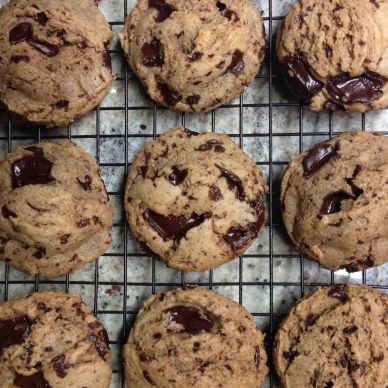 Yes, we all agree that Pumpkin Spice-flavoured things have jumped the shark, and everyone is over it. I propose that we now move on to Chai Spice in our baked goods! It's still in the same cinnamon/ginger/nutmeg family, but with a few additions: cardamom, cloves, allspice and black pepper. I love drinking hot chai during the cold months, with a big splash of almond milk, so I'm all for this transition.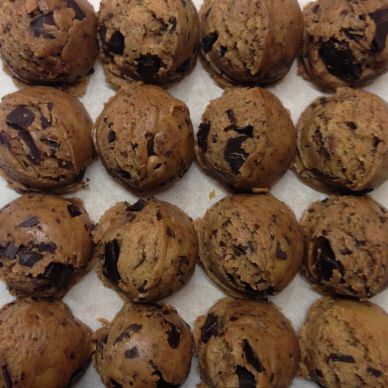 My friend Sarah is a big chai fan too, so when I saw these cookies on Instagram the week before her birthday, I knew they'd be perfect for her. I was expecting to like them, but not as much as I did. These cookies are AWESOME. They're based off Adrianna's go-to chocolate chip cookie recipe, so I'll have to make that soon to see how it compares to My Favourite.
I have one more pumpkin recipe to post about and then it's onto COOKIE SZN!
Chai Chocolate Chip Cookies
Source: A Cozy Kitchen
Ingredients
1 1/2 cups + 2 tbsp flour
3/4 tsp baking powder
3/4 tsp baking soda
1 tsp ginger
1/2 tsp cinnamon
1/4 tsp EACH cardamom, cloves, allspice, freshly ground black pepper
1/4 tsp salt
1/2 cup (1 stick) butter, melted
3/4 cup brown sugar
1/4 cup sugar
1 egg
1 tsp vanilla
6 oz chocolate chips or chopped chocolate
Directions
In a medium bowl, whisk together the flour, baking powder, baking soda, ginger, cinnamon, cardamom, cloves, allspice, pepper and salt.
In a large bowl, mix together the butter and sugars until well combined, then add the egg and vanilla and mix again until smooth. Add the dry ingredients and mix again, until everything is combined. Stir in the chocolate.
Use a cookie scoop to make balls of dough and add onto a plate or sheet pan. Wrap in plastic wrap and chill for 2 hours, or overnight.
When you're ready to bake, preheat oven to 350° and line your cookie sheets with parchment paper. Add dough balls to cookie sheets and bake for 8-10 minutes. Definitely eat at least one while it's warm.