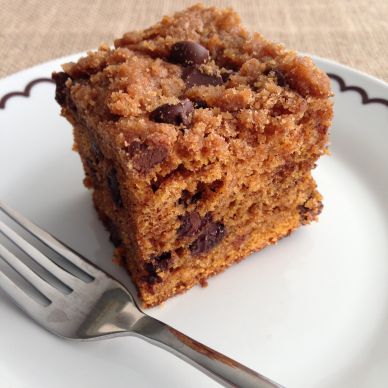 We're currently going through a major change at my work. Last week, we moved to a brand new office without cubicles or assigned seating. It's totally open, and you can sit wherever you want. There are different types of workspaces depending on what you need to do that day, for example, collaboration spaces, a quiet zone, focus rooms, etc.
Over the past 8 months or so, I prepared myself for this change by reducing my use of paper at work (the new space is paperless), embracing my headset (they took away our landlines and we now use Skype for business), and slowly taking home all my blazers, shoes and the rest of my personal stuff from my cubicle. I would say I was pretty proud of myself for embracing the coming change. But I kind of forgot about one thing.
In any office I've ever worked in, I've always kind of had a designated "treat zone" where I would set out the various baked goods I brought in. It was always a place close to my team, so even if we shared a floor with other groups, my teamies would always get first dibs just by their proximity to the treats. In the new workspace, since there are no assigned desks, and we share the space with so many other teams, there's no way to set up a team-specific treat zone. Not to mention YOU CAN'T EAT AT ANY OF THE WORKSPACES. You can only have food in this designated "Bistro" area, but if I put my treats in there, anybody can take them! This is an outrage! Please stay tuned as I figure this all out.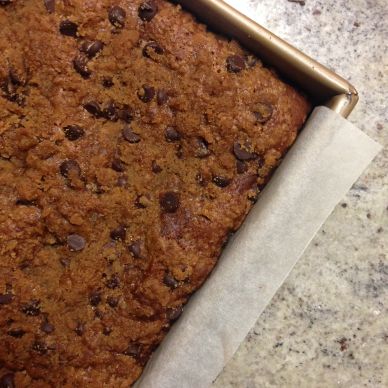 Anyway, I knew I needed to make something for our last day on the floor, so I brought in this Pumpkin & Chocolate Chip Crumble Cake last week. It was a huge hit, and one of my co-workers declared it the best thing I've ever baked (although don't take his word for it…he barely eats sugar and never eats the treats I bring in…don't know why he ate this one). I loved this though – nice and hydrated pumpkin chocolate chip base with a brown sugar crumble topping. I'd definitely make this again.
Pumpkin & Chocolate Chip Crumble Cake
Source: Butterlust (fantastic blog name!)
Ingredients
Topping
1/2 cup brown sugar
2 tbsp flour
2 tbsp butter, cubed
1/2 cup chocolate chips
Cake
1/2 cup (1 stick) butter, room temperature
1/2 cup sugar
1/2 cup brown sugar
3 eggs
1 1/2 tsp vanilla
2/3 cup pumpkin puree
1/3 cup greek yogurt or sour cream
2 cups flour
2 tsp cinnamon
1 tsp baking powder
1 tsp baking soda
1/2 tsp salt
1 1/2 cups chocolate chips
Directions
For the topping, in a small bowl, mix the brown sugar and flour together until combined. Cut in the butter with a fork or pastry cutter until the mixture is crumbly. Stir in the chocolate chips. Stick this in the fridge while you make the cake.
For the cake, line a 8×8″ baking pan with parchment paper and preheat the oven to 350°.
In a large bowl, cream together the butter and sugars until light and fluffy. Add the eggs and vanilla and mix again until combined. Add the pumpkin puree and yogurt and mix in until combined.
Add the flour, cinnamon, baking powder, baking soda and salt, and mix until just combined. With a spatula, fold in the chocolate chips.
Spread cake batter in the prepared pan and smooth into an even layer with an offset spatula. Sprinkle the topping evenly over the top. Bake for 40-45 minutes, until a toothpick inserted into the centre comes out clean.