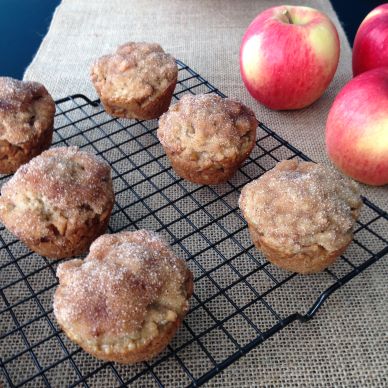 Apple picking was the last thing on my mind this September due to the sauna-like weather we were having around here. When I finally got it together to check the Chudleigh's schedule last week, I learned that Honeycrisp season is long gone (those are my favourite variety), but Fuji, Mutsu and Ambrosia were still available to pick. In addition to a Breakfast Crisp (this recipe but with apples), I knew I wanted to make these muffins, after eyeing them on Everyday Annie for a couple of years.
There are already two pretty amazing apple muffin recipes in the archives here, but there's always room for one more. These muffins are a little more labour intensive for a muffin recipe than I prefer, because you have to caramelize the apples, plus prepare a separate topping, but I was interested to see if the extra time was worth it.
Turns out it totally is. The muffin part is pretty virtuous with ground oats, whole wheat flour and greek yogurt, which is good, because to finish them off you dunk them in butter and roll them in a crunchy cinnamon sugar topping. So good warmed up with a cup of chai tea.
Cinnamon Sugar Apple Muffins
Source: Everyday Annie
Yield: 15 muffins
Ingredients
Cinnamon Apples
2 tbsp butter
3 medium-sized apples, peeled and diced
1 tbsp sugar
1/2 tsp cinnamon
pinch salt
Muffins
1 1/2 oats
3/4 cup flour
1/2 cup whole wheat flour
1/4 cup sugar
1/4 cup brown sugar
1/2 tsp cinnamon
1 tsp baking powder
1 tsp baking soda
3/4 tsp salt
6 tbsp butter, melted
3/4 cup milk (I used buttermilk)
1/2 cup greek yogurt or sour cream
1 egg
Topping
1/4 cup sugar
1 tsp cinnamon
3 tbsp butter, melted
Directions
For the apples, melt the butter in a large skillet over medium heat. Add the apples, sugar, cinnamon and salt, and stir together. Cook until softened, about 15 minutes. Set aside to cool.
Preheat oven to 350° and spray muffin tins with non-stick spray. For the muffins, first add the oats to a food processor and process until finely ground. Measure out 1 cup and add to a large bowl. Add the flour, whole wheat flour, sugar, brown sugar, cinnamon, baking powder, baking soda and salt and whisk together.
In a medium bowl, whisk together the butter, milk, yogurt and egg.
Add the wet ingredients to the dry ingredients and fold together until just combined. Fold in the apples.
Add batter to muffin tins and bake for about 20 minutes or until a toothpick inserted into the centre of a muffin comes out clean. Let cool for 10 minutes in the pan, then remove muffins to cool completely on a wire rack.
In a small bowl, whisk together the sugar and cinnamon. Dunk each muffin top in melted butter, then into the sugar/cinnamon mixture.