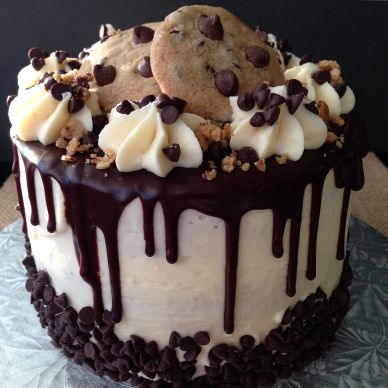 My favourite thing to bake lately has been cute little 6″ birthday cakes. This is no doubt due to the endless cake decorating videos I've been watching on Instagram (faves: @chelsweets,  @whippedcakeco, @bakingwithblondie, @karleeskupcakes). Making mini versions has been a great way to practice a few specific things (i.e. using a bench scraper to get smooth sides, perfecting the chocolate drip) without making a huge cake.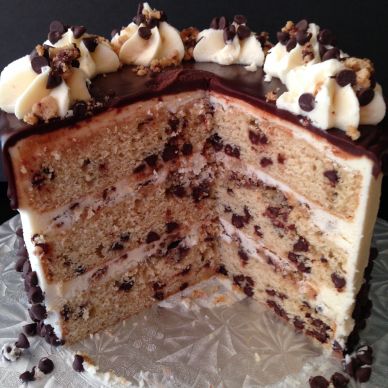 The first one I made was a coconut cake with vanilla buttercream and a dark chocolate drip, and the next one was a chocolate cake with peanut butter buttercream; both for my friends from work (bonus: smaller cakes are easier to transport to the office!).
So when it came to MY BIRTHDAY, of course I had such a hard time deciding which cake to make for myself. The other two finalists were Cookies & Cream and Funfetti, but this Milk & Cookies cake won out! I loved this concept of brown sugar chocolate chip cake layers stacked up with vanilla buttercream and crumbled chocolate chip cookies in between.
When it came to decorating, I took inspiration from another one of my favourite instagram accounts, @piepiemydarling based out of Chicago. I'm so obsessed with the look of her cakes, so I did my best to copy it here and I think it turned out great!
Milk & Cookies Cake
Source: Life, Love & Sugar
Ingredients
2 1/2 cups flour
2 3/4 tsp baking powder
1/2 tsp salt
1/2 cup milk
1/4 cup water
3/4 cup (1 1/2 sticks) butter, room temperature
3/4 cup sugar
3/4 cup brown sugar
1/2 cup sour cream
3 tsp vanilla
3 eggs
1 1/4 cups mini chocolate chips
Directions
Preheat oven to 350° and line three 8″ cake pans with parchment paper and spray with non-stick spray (for my cake pictured above, I actually halved this recipe and baked it in three 6″ pans).
In a medium bowl, whisk together the flour, baking powder and salt and set aside.
In a liquid measuring cup, stir together the milk and water and set aside.
In a large bowl, cream together the butter, sugar and brown sugar until light and fluffy. Add the sour cream and vanilla and mix in until combined, then beat in the eggs.
Add half of the dry ingredients and mix until just combined. Add the milk/water mixture and mix until combined. Finally add the rest of the dry ingredients and mix until just combined.
Fold in the mini chocolate chips.
Divide the cake batter equally between the pans and smooth the top with an offset spatula. Bake for about 25 minutes or until a toothpick inserted into the middle comes out clean. Let cool completely before frosting.
To assemble the cake, place a cake layer on a serving platter and spread a thin layer of buttercream over top. Crumble a few chocolate chip cookies overtop and press gently to stick. Dollop about a 1/2 cup or so of frosting overtop the cookie crumbles and spread evenly (this gets a little messy but it all works out). Repeat one more time, and then finish with the final cake layer. Add a thin layer of icing all over the cake, chill for 30 minutes, then finish with the final layer of icing. Decorate as you like! I did a chocolate drip, cookies, and more cookie crumbles and chocolate chips!