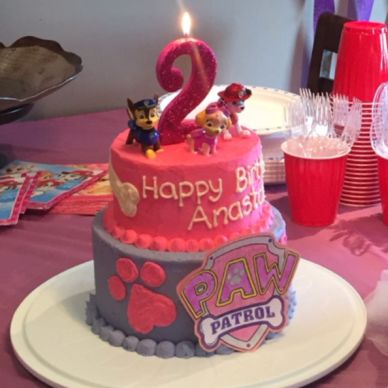 September was more hot and humid than any of the summer months that just passed. It definitely wasn't time for cozy fall baking or apple picking, but instead a two tiered Paw Patrol cake, and some other fun stuff:
Kristine's friends Justin and Masha asked me to make a Paw Patrol cake for their daughter's 2nd birthday (pictured above). It was a 8" chocolate cake on the bottom and a 6" funfetti cake on the top, and I copied the design from a cake Masha saw on Pinterest. Stacking the layers stressed me out, as well as the paw prints and dog bone decorations, but in the end I was happy with how it turned out, and the birthday girl loved it.
I made this copycat recipe of Cactus Club's flatbread (with this super simple whole wheat pizza dough), and halfway through I realized it was just this pizza recipe from the archives with the addition of caramelized onions and balsamic drizzle (face plant emoji). It was still so delicious.
Since I'm scared to go anywhere with my vegan friend Josie after CURRYGATE 2017, we finally went up to Yorkville to Planta, which is a super cute, all-vegan restaurant. Josie was so excited that she could have anything on the menu, and we ordered a bunch of things to share: queso dip, cauliflower tots, fried mushrooms, coconut ceviche and lettuce wraps. Everything was good, but it was pretty expensive, and I think I can cook just as good of a vegan meal at home with recipes from Oh She Glows.
Weedy has a new job in the Financial District, so Krishna and I initiated her to the area with a little craft beer crawl: Batch, Goose Island and King Taps (which has the same owners as Cactus Club). King Taps has some totally delicious apps that we shared (Bang Bang Shrimp, Crispy Potato Peels…like fancy junk food), plus pizza (we had the Forager). Tons of beer to choose from and fun music on Friday night.
Kristine and Nicole came over to watch the Emmys, and we had brunch for dinner (stop trying to make brinner happen, Ayesha Curry. It's not going to happen). We had this Corn & Cheddar Strata, roasted bacon, arugula salad and Cinnamon Brown Butter Breakfast Puffs, plus Chocolate Pudding for dessert. One of my favourite things in life is that Kristine follows Smitten Kitchen on Instagram and will tag me in posts of recipes she thinks looks good with a note to "add it to my list". Nicole sometimes does this too, so it was fun to surprise them with a few of the things they've commented on recently (the puffs and pudding!).
Other non-foodie things I was obsessed with this month:
I binged on The Handmaid's Tale one weekend and it was so disturbing and creepy, but I loved it. I kind of felt like I didn't get full enjoyment out of the Big Little Lies miniseries since I had read the book, so it was great to go in to this show blind, since I've never read the book. I was so anxious throughout the whole thing because it kept getting weirder and you could not predict ANYTHING that was going to happen. Elisabeth Moss is amazing.
Since I had to subscribe to Crave TV to watch The Handmaid's Tale, I also caught up on Broad City and it reminded me how much I loved this show. I'm going to see Ilana Glazer and Phoebe Robinson (I read her book back in March) next month and it's going to be so great.
Everything I read this month was a dud, and I totally hated The Woman in Cabin 10.
So the show Suits films at the building across the street from mine and I had FOMO for the last year or so because I never saw them taping, but I finally did! Twice actually, once at night (Harvey and Donna!) and once at lunch (Mike Ross). No Megan Markle though….
Speaking of MM, Prince Harry was in town for the Invictus Games, and he was IN MY BUILDING at work for a press conference. I didn't get to see him (security everywhere, plus, you know, I had to actually work), but probably would have been arrested if I saw him in person.
Flashback!