Without a doubt, this is my Summer Seventeen obsession right here. While it doesn't exactly meet the criteria of a Signature Summer Cocktail (it's a little too high maintenance for that), I couldn't stop making it over the past few months.
I first came across the idea of frozen rosé (also known as frosé or rosé slushies) last year on Annie's blog, and knew I needed this in my life. This obsession was also the result of the whole "Rosé All Day" and "Yes Way Rosé" things that started popping up everywhere on Instagram over the past year. The fact that Annie's recipe has you bust out the ice cream maker just made it appeal to me all the more.
The actual cocktail is a mixture of rosé, Aperol, simple syrup, lemon juice and water. Easy, right? And then things start to get a little more complicated.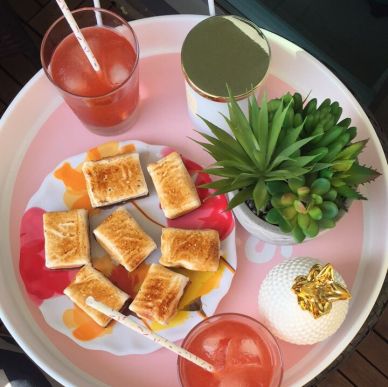 Frosé Trials, Part I was a bit of a bust. I underestimated the amount of time I needed to churn the mixture for, so it was only a little bit slushy when I poured it into our glasses. Complicating factor #1 was that it was a super hot day out, so what little slushy bits we had started to melt immediately when we went out to my balcony. Complicating factor #2 was that we were heading out to a concert and kind of in a rush, so just not an ideal Frosé experience out the gate.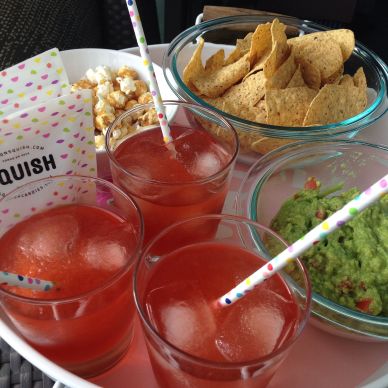 For Frosé Trials, Part II, I let the mixture churn way longer and it definitely got more slushy than the first time, but again started to melt pretty quickly. Definitely still delicious and fun and my friends loved it.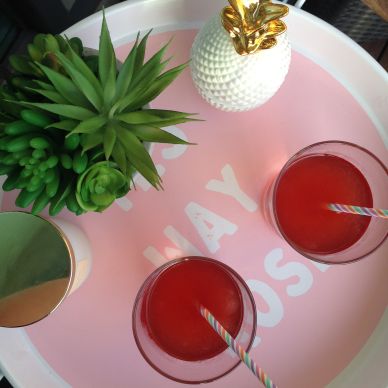 For Frosé Trials, Part III, I actually mixed the Aperol, simple syrup, lemon juice and water the night before, poured it into a plastic freezer bag and let it freeze overnight, just to have things as cold as possible, and I knew the Aperol would stop it from freezing completely (alcohol doesn't freeze). When it was cocktail hour the next day, I added the rosé, and it was my slushiest mixture yet (although it's hard to see in this photo). Success!
HOWEVER, the real magic I discovered later. Because it was just Lydia and I for Part III, I had a lot of the mixture left over. I froze it overnight in the plastic bag and PEAK SLUSHINESS was achieved. My friend Jen confirmed this Labour Day weekend when she froze her entire mixture in a pitcher the night before her BBQ (she had to let it melt a bit to get it out of the pitcher the next day).
Thus I am here to conclude that while it is super fun to bust out your ice cream maker (if you have one) to delight your friends, for the best frosé, all you actually need is a large plastic freezer bag. Fun straws are not optional! I can't wait to make this again next summer, or like in the dead of winter with a tropical inspired dinner.
Frosé
Source: Everyday Annie
Ingredients
1 bottle of your favourite rosé
3 oz Aperol
2 oz simple syrup
2 oz lemon juice
4 oz water
Directions
Mix everything together in a pitcher or large liquid measuring up. Pour into a resealable plastic freezer bag and set in a bowl, then put in the freezer. The mixture won't freeze completely. Leave overnight.
When it's cocktail hour, scoop frosé mixture into glasses and you're ready to roll.