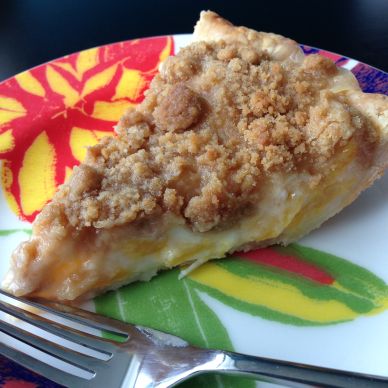 I first made this pie way, way back in my pre-blog baking days. It was probably around 2004 or 2005, and while I don't remember if I made my own pastry or not, I definitely know that I made it with canned peaches. After making Rhubarb Custard Pie in 2014 and Blueberry Custard Pie in 2015, I knew a redux of this Peaches & Cream Pie was going to happen. And it was going to happen with fresh, delicious, juicy, Ontario peaches.
I didn't do any baking with peaches last year, so I was excited to pick up a big basket of them at the start of Labour Day weekend. I made my favourite pastry, lovingly peeled and sliced a bunch of peaches and mixed them into a creamy filling, and made a nice crumbly topping. It baked up perfectly, held a nice crimp in the crust (metal pie plate FTW!) and was absolutely delicious. Even though this ended up being the only pie I baked this summer, it was a total stunner.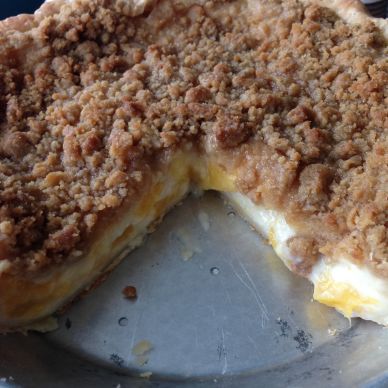 Peaches & Cream Pie
Source: a piece of paper in my old pre-blog recipe binder, no clue where it came from!
Ingredients
Pastry
1 1/4 cups flour
1/2 tbsp sugar
1/2 tsp salt
1/2 cup (1 stick) butter, cold, cubed
1/2 cup ice water
Filling
3/4 cup sour cream (or plain greek yogurt)
1/2 cup sugar
1/4 cup flour
1/4 tsp almond extract
6 peaches, peeled and thickly sliced
Crumble Topping
1/2 cup flour
1/2 cup brown sugar
1/4 cup (1/2 stick) butter, cold and cubed
Directions
For crust, add the flour, sugar and salt to a big bowl, and whisk together. Add the butter, and use a pastry cutter to cut it in, until the butter is the size of peas and the mixture is crumbly. Start by adding 1/4 cup of cold water, and stir together with a spatula until the dough starts to come together. Add more ice water a tbsp at a time, until all the floury bits are incorporated. Knead the dough very briefly with your hands until it all comes together, then shape into a disc and wrap in plastic wrap. Stick it in the fridge to chill for about an hour.
For the filling, whisk together the sour cream, sugar, flour and almond extract. Gently stir in the peaches and chill until you're ready.
For the crumble topping, stir the flour and sugar together, then cut in the butter with a fork (or use your fingers) until crumbly. Chill until you need it.
Preheat the oven to 425°. Roll out the dough on a well-floured counter, then gently add to your pie plate, trim the edges and crimp them. Pour in the peach filling, and crumble the topping over it until covered. Bake for 15 minutes, then reduce the heat to 350° and bake for another 35 minutes. Keep an eye on it, I had to cover mine with foil about halfway through so it wouldn't get too brown.