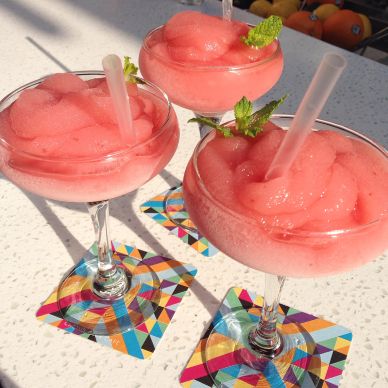 First of all, I followed Descendant Pizza on Instagram back in July and because I was their 6,000th follower, they gave me a free pizza! Tasty G and I ventured over on a rainy Friday afternoon and tried two pizzas: Classic Pepperoni and Truff-ghi, which has garlic mushrooms, double-smoked bacon and white truffle sauce. Their pizza is square, with a thick crust that's light and airy, and these crispy cheese edges that are to die for. I still drool just thinking about it.
Krishna & Jen came over for Frosé Trials: Part II on my balcony. I let the mixture churn for about half an hour in my ice cream maker, and it definitely got more slushy than last time, but still not as frozen as I wanted it to be. I also made a S'mores Pie for us that was sooooo good, but didn't get any good pictures to update that old post.
Can you guess Kristine's pick for her birthday treat this year? Sprinkle Loaf with Birthday Cake Crumb Topping! New fave!
I finally crossed an item off my Summer '16 to-do list (yes, one year later), which was to drink rosé on the Cactus Club Rooftop. Squeezed that in on August 30th with my friends from work, and it was even better because CC has a FROSÉ MACHINE for maximum slushiness (pictured above)!!!
Now for some Edmonton Eats! I did a bit of Edmonton research before my trip, and there were two main places I wanted to checkout. First up: Doughnut Party! I was excited to pick up a bunch for my road trip to Jasper. Each day there are six different kinds of doughnuts, and I was so excited for Birthday Cake Crumble or Cookie Dough, or any of those kinds I had seen on their Instagram. Instead, these were the six flavours on the day I visited: Lavender Sugar (I hate floral), Rosewater Pistachio (ditto), Orange Coffee Cinnamon (you know I hate citrus desserts), Banana Cardamon (I actually spat this one out), Apple Fritter (#basic) and Sour Rocket (this was a white glaze with blue and pink sour raspberry stripes drizzled on, like the popsicle). Even though I wasn't a fan of 4/6 flavours, I will report the the doughnuts themselves are pretty amazing. Worth a visit if you're in town!
The other place on my Edmonton to-do list was Duchess Bake Shop, and it was everything I hoped for and more. As far as treats go, it reminded me a lot of Nadege in Toronto with lots of cute pastries, macarons and croissants. I ate lunch in the shoppe before I set out on my road trip and had a delicious turkey sandwich on a fresh croissant and a peach bourbon macaron for dessert. I took a pain au chocolat and a couple other treats with me to Jasper.
Danielle and Blair's rehearsal dinner was at the Jasper Brewing Company. Danielle and I split this amazing beet salad with CRISPY FRIED FETA that I can't stop thinking about, plus I thought it was only fitting to order a burger made with Alberta beef chuck.
I didn't think anything could top Nicole & Geoff's wedding favour (bottles of maple syrup!) but Danielle & Blair came close with mason jars full of gummies! Absolutely loved that!
Other non-foodie things I was obsessed with this month:
After seven years of FOMO, I finally went to OVO Fest! I was freaking out right away when the curtain dropped and a replica of the top of the CN Tower was on stage with Drake sitting on it like on the front of the Views album, with Free Smoke starting to play. I definitely felt a little old being surrounded by millennials who knew every single word of Bodak Yellow, while my friend and I looked at each other like who the hell is that? (I've subsequently watched the video on You Tube 1,000 times). Anyway, Nelly came out for a short set, plus The Weeknd, so it was all worth it in the end. I don't think I need to go again, but if I luck out getting tickets again next year, I probably will!
August is usually a barren wasteland for movie-going, but I saw a couple good ones this month. I loved Logan Lucky, which was like the Kentucky Fried version of Ocean's Eleven, and The Big Sick because cute, funny, heartwarming rom-coms are so hard to come by these days.
My book recommendation this month is The Arrangement by Sarah Dunn. I read a few of her books probably around 10 years ago, and just saw this one on Reese Witherspoon's Instagram. I love anything with relationship drama and great characters, so this was perfect for me.
Flashback!