The theme for Francis' party was Under the Sea, based on his love for his favourite Walter Whale Book. After many texts flying back and forth with Nicole, here's what I ended up baking for the big day:
Walter the Whale Smash Cake: To make this cake, I first made a template by tracing the actual book on a piece of paper, then placed my template on top of a 9×13" vanilla cake and carved it out. Note that for smash cakes I use cake mixes, because the actual amount of cake that makes it into, not onto, the baby is not that big. I frosted the whole thing in a layer of My Favourite Buttercream (crumb coating first of course), then used black licorice strings to mark Walter's smile, fin and tail. I tinted some icing navy blue, and used a small star tip to pipe on his stripes. To keep them as straight as possible, I made very light indentations with a ruler first. Walter's eye is a chocolate covered coffee bean, which was yanked off as soon as the candle was blown out to keep it away from Francis! I didn't want to use a chocolate covered nut, and chocolate covered raisins are too small – and gross – but chocolate covered coffee beans are the perfect shape.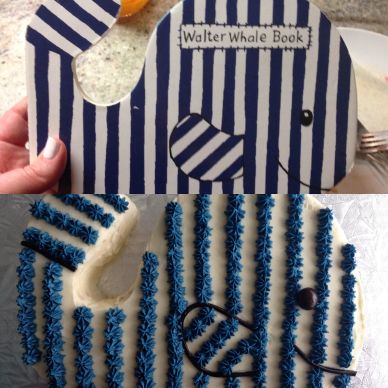 2 dozen Vanilla Cupcakes: I made these the week before and froze them, and found them to be a bit dry. I was almost ready to do a post on how these are my favourite vanilla cupcakes, but I'll have to revisit. Not sure if I overbaked them, or the time in the freezer dried them out. ANYWAY, I bought four bags of Swedish Fish so I could pluck out all the orange ones, and still only ended up with about 15 fish, so I did half the cupcakes with a fish and bubbles (just white icing piped on with a very small round tip), and the other half with Buried Treasure sprinkle mix (from Sweetapolita, which you can now find at Homesense and save yourself the shipping fees!).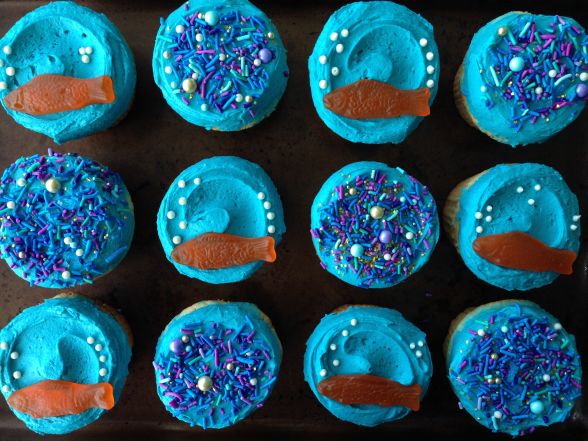 Campfire Squares: Ever since I brought a S'mores Pie to a BBQ at Nicole and Geoff's years ago, s'mores something is always requested and raved about with this squad. This is the recipe from Butter Baked Goods that I made at Champagne & Cookies a few years ago. Huge hit.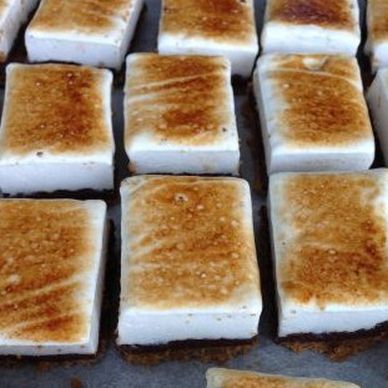 Blueberry Crumb Squares: It seemed a crime against nature not to make something with peak summer berries, so for my last treat I decided on these Blueberry Crumb Squares. I think I first made these about 10 years ago, and were one of the first things I made from Smitten Kitchen. They're quick, easy, delicious, and make a big 9×13" tray which is always good for a party.
Fruit Salad: I didn't make this, but it was so awesome. Nicole's parents carved a whale out of a watermelon and filled it with chopped fruit. LOVED it.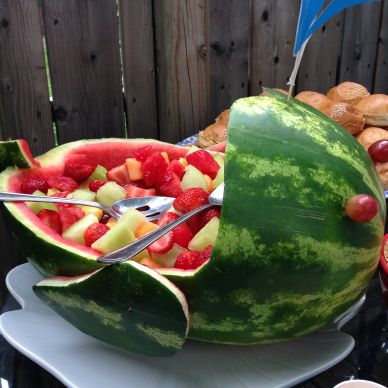 Francis smashed his cake all over his high chair, the patio, and himself, which I would say is the sign of a successful birthday party!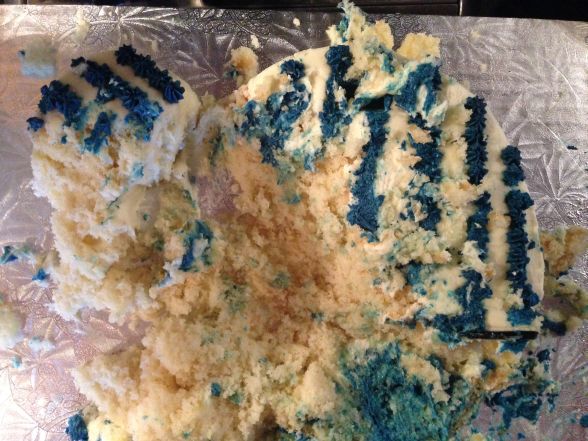 Blueberry Crumb Squares 
Source: Smitten Kitchen
Yield: 9×13″ pan
Ingredients
Crust & Crumb Topping
3 cups flour
1 cup sugar
1 tsp baking powder
1/4 tsp salt
zest of 1 lemon (optional)
1 cup (2 sticks) butter, cold and cut into cubes
1 egg, whisked lightly in a small bowl
Blueberry Filling
4 cups fresh blueberries
1/2 cup sugar
4 tsp cornstarch
juice of 1 lemon
Directions
Preheat oven to 375°, and line a 9×13″ pan with parchment paper or foil (spray with non-stick spray if using foil).
In a large bowl, whisk together the flour, sugar, baking powder, salt and lemon zest (if using).
Add the cold cubes of butter, and cut into the flour mixture with a pastry cutter or a fork. When the mixture is crumbly, and the butter is the size of peas, add the whisked egg and stir to combine.
Add half of the dough to the pan, and press into an even layer. Set the other half of the dough aside.
For the filling, stir the blueberries, sugar, cornstarch and lemon together in a medium bowl, then pour over the crust and spread evenly.
Crumble the remaining dough over top of the blueberries.
Bake for 45 minutes until crumbs on the top are starting to brown, and the blueberries are bubbling. Cool completely and cut into squares.