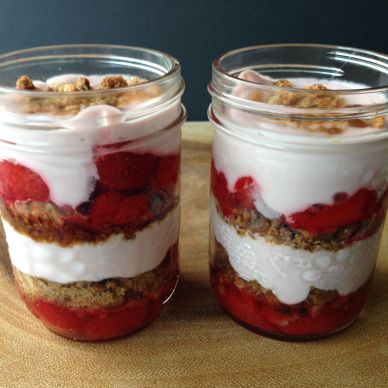 This is the only recipe that was on my strawberry agenda for this Summer. I've flipped past it in The Smitten Kitchen Cookbook so many times, but it wasn't until Danielle made them a couple months ago and sent me a picture that I became obsessed. She made them in little mason jars, and I just had to copy her.
These parfaits consist of three layers: lightly cooked strawberries, a cream cheese/whipped cream mixture, and crumbled digestive cookies. I actually went with homemade graham crackers instead, as I'm currently in the middle of extensive homemade graham cracker trials this summer (#bakingnerd).
It was about halfway through assembling these when I realized something. I was basically recreating my Signature Dessert of Summer Sixteen, in parfait form. If it ain't broke, right?
These were totally delicious little gems, and the perfect summer treat for when Kristine came over for dinner.
Strawberry Cheesecake Parfaits
Source: The Smitten Kitchen Cookbook
Yield: 4 parfaits, in little 1 cup mason jars
Ingredients
Strawberries
4 cups strawberries, hulled and quartered
2 tbsp sugar
2 tsp cornstarch
juice from 1/2 a lemon (about 1 tbsp)
Cheesecake Mixture
8 oz cream cheese, room temperature
1/4 cup sugar
1/4 tsp vanilla
pinch salt
3/4 cup whipped cream
Graham Cracker Crumbles (Note: (I would totally make and use the crumbles from this recipe next time)
8 graham crackers
2 tbsp brown sugar
Directions
Mix the strawberries, sugar and cornstarch together in a medium saucepan. Let sit for 15 minutes, then bring to a simmer over medium heat. Let bubble away for 2 minutes, then pour strawberries into a shallow bowl or onto a plate. Set in the fridge to cool while you make everything else.
For the cheesecake mixture, beat the cream cheese, sugar, vanilla and salt in a medium bowl until smooth. In a separate medium bowl, beat the whipping cream until it holds stiff peaks, then fold it into the cream cheese mixture. Stick in the fridge until you need it.
For the crumbles, put the crackers and the sugar into a ziploc bag and smack it with a rolling pin until nice and crumbly.
One extra optional step – if you want you can strain the strawberry mixture at this point, and add 1/4 cup of the juice to the creamcheese mixture. It turns it pink, and gives it a bit of a strawberry flavour. But I think I would save myself the extra dishes/time and just leave it next time.
To assemble, add alternating layers of the strawberries and cheesecake mixture to the jars, separating each layer with crumbs. Chill for half an hour before serving. YUM.