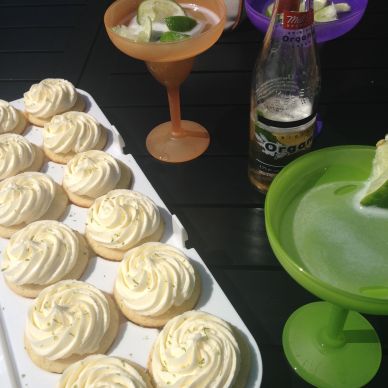 One of my favourite things to do with my co-workers is go to Lone Star for Fajita Fridays. It doesn't necessarily take place on Fridays, and we don't always eat fajitas, but there is one constant: CHEAP MARGARITAS. It's truly the best.
My friend Shane had all of us over to the patio in his building for a BBQ before the Canada Day long weekend, and I knew right away I had to make these Margarita Cupcakes as a tribute to our tradition. They're a pretty standard vanilla cupcake recipe, but both the batter and the icing get spiked with lime juice, lime zest and tequila. I also added a sprinkle of flaky sea salt right before we ate them, to mimic the salted rim of a margarita glass.
I know I just finished talking about how I don't like tart/creamy things, but in these the combo was working for me! They were totally amazing. One of the girls ate two, and another took home the leftovers and then declared they're her favourite cupcake OF ALL TIME. This is a keeper.
Margarita Cupcakes
Source: Brown Eyed Baker
Yield: 12 cupcakes
Ingredients
Cupcakes
1 1/2 cups flour
1 1/2 tsp baking powder
1/4 tsp salt
1/2 cup buttermilk
1 1/2 limes, zested and juiced
2 tbsp tequila
1/4 tsp vanilla
1/2 cup butter, room temperature
1 cup sugar
2 eggs
Icing
1 cup butter, room temperature
5 cups icing sugar
1/4 cup whipping cream
2 tbsp tequila
2 tbsp lime juice
+ tequila for brushing onto the cupcakes
+ extra lime zest and a sprinkle of flaky sea salt for finishing
Directions
Preheat oven to 325° and line a cupcake pan with liners.
In a small bowl, whisk together the flour, baking powder and salt.
In a measuring cup, whisk together the lime zest and juice, tequila, vanilla and buttermilk.
In a large bowl, mix the butter and sugar together until light and fluffy. Mix in the eggs.
Add the flour mixture in three additions, alternating with the buttermilk mixture in two additions, mixing each time until just blended. Scrape down the sides of the bowl a few times to make sure everything is getting incorporated.
Divide batter among cupcake liners and bake for about 22-25 minutes, or until a toothpick inserted in the middle comes out clean.
Let cool for 10 minutes, then remove cupcakes to a cooling rack and brush a little bit of tequila on to each one. Let cool completely before frosting.
For frosting, add all ingredients to a large bowl, and mix slowly until everything is combined, then whip at high speed until nice and fluffy. I used a large open star tip to pipe the icing onto the cupcakes and sprinkled with lime zest. Add a sprinkle of sea salt right before serving.