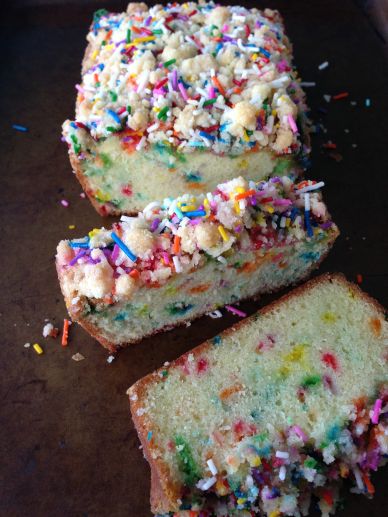 And it's not even my birthday! I saw this sprinkle loaf on Jenn's Instagram last month and have been thinking about it NON-STOP ever since. I felt like it was everything good about Christina Tosi's birthday cake without all the steps, wrapped up into a convenient loaf formation.
The recipe comes from Bake from Scratch Magazine, and it is genius as written, but I have a few small notes:
I personally prefer smaller, mini loaf cakes and breads. Mainly because I find when you fill a loaf pan almost to the top with batter, it takes almost a full hour and half (sometimes more!) to bake through, and I definitely get overbaked bottoms and edges. So I split my batter into two loaf pans, meaning a shorter bake time, plus one loaf for me, and one to give away to my co-worker for her birthday.
I followed the gospel according to Molly Yeh when it comes to funfetti type things, and used artificial clear vanilla extract. Not only does this not dye your crumbs and loaf brown, but it also lends a nice birthday cake/box mix undertone to the whole thing.
I usually get so frustrated when my sprinkles bleed when folding them into cake batter (Exhibit A here, I didn't even take a picture of the inside of this cake since I was so annoyed), so I tried something new this time. I tossed the sprinkles with a bit of flour before I folded them into the cake batter and it worked like a charm!
I doubled the birthday cake crumb so I would have a full batch for each of my loaves. I would take a bit more care to gently press it into the cake next time I make this. It kind of exploded everywhere when I tried to slice it, but that just meant more birthday cake crumbs for me to snack on!
This loaf is a true gem of a recipe, and I can see myself making this over and over again!
Sprinkle Loaf with Birthday Cake Crumb Topping
Source: Bake from Scratch Magazine
Yield: two loaves
Ingredients
Birthday Cake Crumb Topping
1/2 cup flour
1/2 cup sugar
1/2 tsp salt
1/4 cup (1/2 stick) butter, cold and cut into cubes
1 tsp vanilla (clear if you have it)
2/3 cup rainbow sprinkles
Sprinkle Loaf
1 cup (2 sticks) butter, room temperature
1 1/2 cups sugar
4 eggs + 1 egg yolk
1 tbsp vanilla (clear if you have it)
2 cups flour
1/2 tsp salt
1/3 cup rainbow sprinkles, tossed with 1/2 tbsp flour
Directions
Preheat oven to 325° and line two loaf pans with parchment paper so you can easily remove the loaves later.
For the birthday cake crumb topping, in a medium bowl, whisk together the flour, sugar and salt. Use a pastry cutter (or fork) to cut the cold butter into the dry ingredients, until you have a mix of big and small crumbs. Stir in the vanilla, then stir in the sprinkles. Stick in the fridge to chill while you make the cake.
For the sprinkle loaf, cream the butter and sugar together until light and fluffy. Add the eggs and yolk one at a time, mixing well after each one. Scrape down the sides of the bowl and add the vanilla, and mix until combined.
Add the flour and salt and mix until just incorporated, then add the sprinkles, and GENTLY fold in with a spatula.
Divide the batter between the two loaf pans, and smooth the top with an offset spatula. Grab the crumb topping from the fridge, divide in two, and sprinkle over top of each loaf. Gently press to adhere.
Bake for 1 hr and 15 minutes, checking for doneness with a toothpick starting at the 1 hr, 5 minute mark. Let cool completely (ha! as if I could wait that long) before slicing.