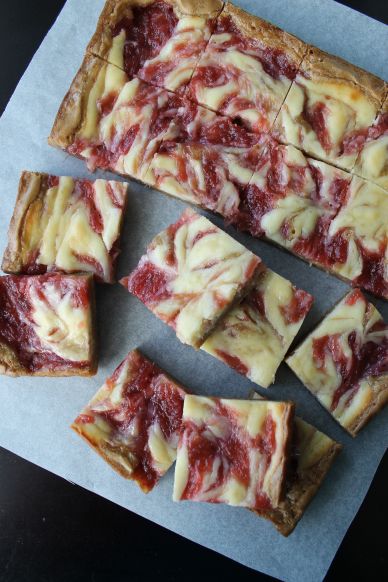 Of all the baking I've done with rhubarb over the years, one of the things I've never paired it with is chocolate, and I wasn't about to start now. I just don't feel like that's a good match AT ALL, which is why I swapped out the brownie layer of these squares for a blondie. Everything else I was on board with.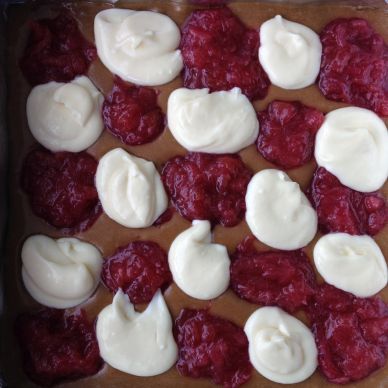 You have a quick blondie layer, which gets topped with a simple rhubarb mixture, plus sweetened cream cheese. After a quick swirl (the most fun, and pretty much why I wanted to make these) you pop them in the oven.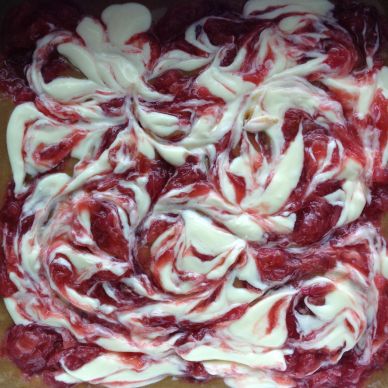 These went over very well with my co-workers, and while I did appreciate them, I overlooked one major factor when I made these. I just don't like things that are TART and CREAMY at the same time (i.e. lemon meringue pie, key lime pie, creamsicles). Not really sure why that didn't occur to me here, but alas, I'm scraping the bottom of the barrel Pinterest, because it feels like I've made every rhubarb recipe on the internet.
I redeemed myself by making my go-to favourite summer breakfast, and plan to make one of these this upcoming long weekend.
Rhubarb Cheesecake Blondies
Source: Blondies from Smitten Kitchen, Swirl from Canadian Living
Ingredients
Rhubarb Part
2 cups chopped rhubarb
1/2 cup sugar
Cheesecake Part
4oz (1/2 pkg) cream cheese, room temperature
2 tbsp sugar
1 egg yolk
1/2 tsp cornstarch
Blondies
1/2 cup (1 stick) butter
1 cup brown sugar
1 egg
1 tsp vanilla
1 cup flour
1/4 tsp salt
Directions
For rhubarb, add the rhubarb and sugar to a small saucepan. Heat over medium heat until it starts to bubble, then turn down heat and let simmer for 10-15 minutes, until rhubarb starts to break down. Pour into a shallow bowl and stick int he fridge to cool while you prepare everything else.
For the cheesecake part, mix all ingredients until smooth and combined with an electric mixer. Set in the fridge to chill a bit.
Preheat oven to 350° and line a 8×8″ square pan with parchment paper or foil, and spray with non-stick spray.
For blondies, melt the butter and brown sugar in a medium saucepan over medium heat. Add the egg and vanilla and stir to combine. Fold in the flour and salt with a spatula, then pour into the prepared pan.
Add alternating dollops of the rhubarb and cheesecake mixtures on top of the blondies, as pictured above. Use a knife to gently swirl the dollops together.
Bake for 40-45 minutes until set. Chill completely before slicing.