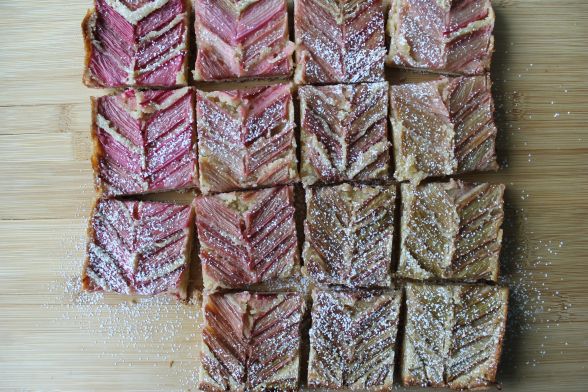 Every year when Winter seems to be dragging on forever, I start researching rhubarb recipes, so I'm ready to go when Spring finally arrives. So when I got a text from my friend Erin one weekend at the end of May asking if I wanted any rhubarb from her garden, I automatically knew what my first recipe on deck would be.
These squares have a shortbread base, almond filling, and a pretty rhubarb pattern on top. You don't have to arrange your rhubarb in a chevron/ombré style for these, but I wanted to try it out and it looked SO pretty before it went into the oven.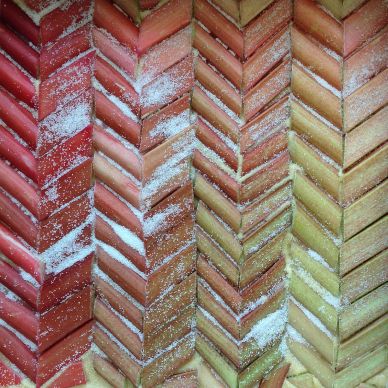 Unfortunately it doesn't really stay exactly as cute once it's baked, but they taste amazing and got rave reviews from my Mom and her friend Janet! My only note/reminder on these is to pick stalks on the thin side, that are the same width from top to bottom – this will make your chevrons match up well.
Rhubarb Almond Shortbread Squares
Source: Smitten Kitchen
Base
1 cup flour
1/4 cup sugar
1/4 tsp salt
1/2 cup (1 stick) butter, cold or room temp is fine
Almond Layer
3/4 cup sliced almonds, toasted and cooled
6 tbsp sugar
1 tbsp flour
1/4 tsp salt
5 tbsp butter, cold or room temp is fine, cut into cubes
1 egg
1/2 tsp almond extract
Rhubarb
4-6 stalks rhubarb, cut on the diagonal into 1 1/4″ pieces lengthwise, then cut in half horizontally
Directions
Preheat oven to 350° and line a 8×8″ square pan with parchment paper.
In a food processor, add the flour, sugar and salt and pulse to combine. Add the butter, and process continually until a dough forms (about 1 minute). Add the dough to the pan and press into an even layer. Bake for 15 minutes, then cool until room temperature (slightly warm is okay).
For almond layer, add the almonds, sugar, flour and salt to the food processor (don't bother washing it!), and process until the almonds are finely ground.
Add the butter and process until combined, then the egg and almond extract and process again until fully mixed in.
Spread the almond layer over top the cooled crust.
Arrange your rhubarb into a pretty pattern (I organized mine on a cutting board first) over the almond layer, and sprinkle with a couple tsp of sugar. Bake for 45-55 mins, or until a toothpick inserted into the centre comes out clean.