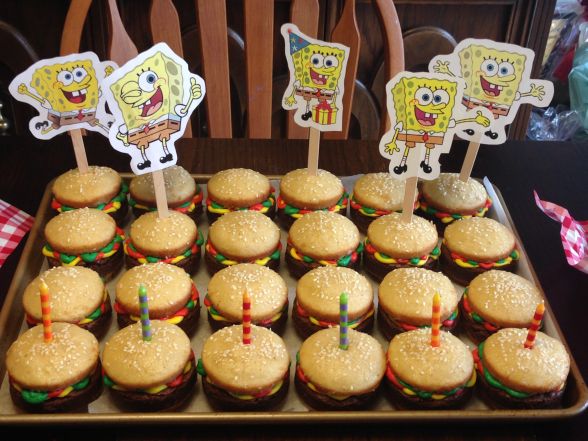 When my nephew started telling me that he wanted Krabby Patty Cupcakes for his birthday this year, I had no idea what he was talking about. I looked to my brother for guidance and his explanation started with "Well, you know how Spongebob is a fry cook?" and the answer to that was a resounding no, as I've never actually given much thought to the occupation of this cartoon sponge (and clearly I've never seen an episode before!).
Turns out Spongebob works at Krusty Krab, flipping burgers all day, and those burgers are called Krabby Patties. When Joel and Matthew were looking up Spongebob birthday cakes, they came across Krabby Patty Cupcakes, and I accepted this challenge, as it's my duty as an awesome Aunt to make all birthday cake dreams come true (see list of Matthew's previous birthday cakes below).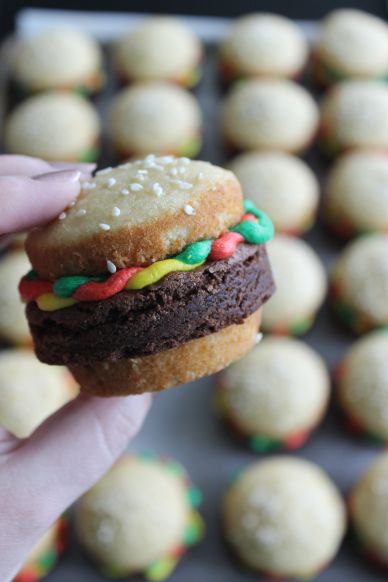 Here's how I did it:
For the burger buns, I baked two dozen vanilla cupcakes (recipe from The Joy the Baker Cookbook), being careful not to overfill the tins. I didn't want an overflowing dome on the top of the cupcake, and wanted them to closely resemble slider buns. I actually tested a few first to make sure I was getting the shape I wanted. (I also made these a week in advance and froze them). Before assembly, I cut each cupcake in half horizontally, then using a pastry brush, brushed the top of each cupcake with a little bit of water, and sprinkled them with sesame seeds.
For the burger patties, I baked three pans of brownies (I only own one 8×8 pan, so just did one batch each night leading up to the party). Once totally cooled, I used a 2 1/2″ round cookie cutter to stamp out my patties.
For the ketchup, mustard and relish, I made a full batch of My Favourite Buttercream, split it into three bowls, and used my Americolor gels to tint them red, yellow and green. I added the icing to piping bags (no tips) and just snipped off the end.
To assemble, I put a small dollop of icing on the bottom of each brownie and used that to secure it to the bottom of each bun. I drizzled each of the icing colours on the top of each brownie, then added the top bun, pressing down gently.
For extra fun, I also made sugar cookie fries, but the recipe was a disaster, so I won't repeat that here (they spread everywhere and I had to slice them into fry shapes). However, they still looked super cute because I put them in these cute baskets. I also added some sugar to a little spice shaker and labelled it "salt" and I put the leftover red buttercream into a squeeze bottle and labelled it "ketchup".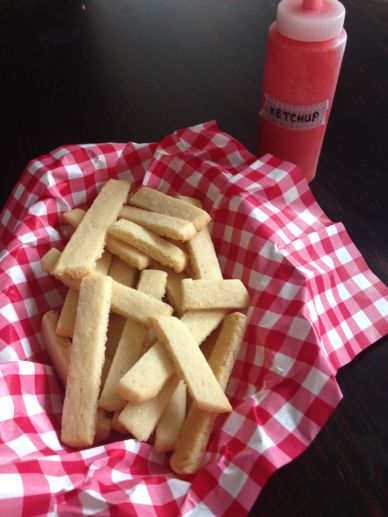 I can't even explain how big of a hit these were, and my other brother was legitimately confused when he walked in and saw the set-up ("We're having sliders for dessert?"). Classic.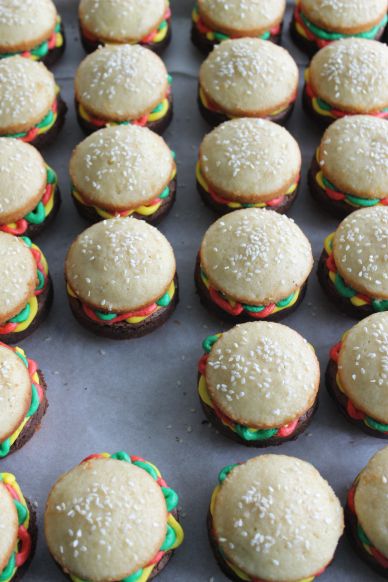 Matthew's Previous Birthday Cakes: