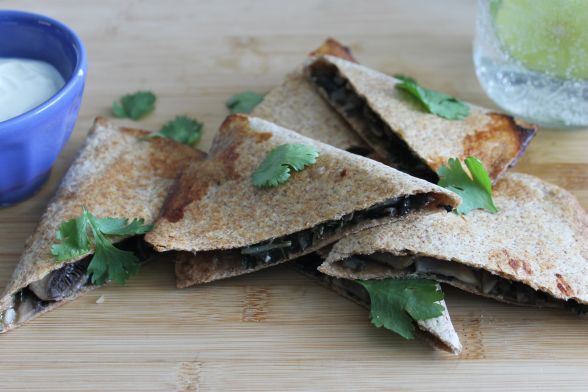 This post goes out to my friend Weedy. She was telling me at Christmas how she loves Planet Byn for easy, weeknight dinner inspo, and name-checked these Thai Sloppy Joes as one of her favourites. I remember thinking I needed to blog more of these types of recipes, but then here we are in May, and I haven't done a really good job in following through on this.
I think the problem is that I cook different things for dinner every week, and rarely go back to re-make things, in my never ending quest to cook every recipe on my Pinterest Boards (Spoiler Alert: this will never happen).
Anyway, I made these quesadillas for the first time back in January, and knew they needed to make it up here. I would say I'm almost 85% vegetarian at home now, basically doing a reverse Meatless Monday thing (i.e. I might eat meat once a week), so I'm always on the look out for tasty meals full of veggie goodness.
These quesadillas use a whole head of Swiss Chard, plus a pound of mushrooms, and some spices and cheese of course, to keep everything glued together. They get baked in the oven, so they get SUPER crispy, because nothing's worse than a soggy quesadilla. You can dunk them in sour cream, guac, salsa, or all three, and the leftovers also pack up okay for work the next day (we have a toaster oven at work for re-toasting…as you know, I wouldn't touch my office microwave with a ten-foot pole).
So here you go, Weedy! Try these and let me know what you think!
Side note: It is next to impossible to take an attractive photo of these. File under: ugly but delicious!
Mushroom & Swiss Chard Quesadillas
Source: Annie's Eats
Ingredients
2 tbsp olive oil
1 medium onion, finely chopped
1 lb white mushrooms, washed and sliced
salt & pepper
2 garlic cloves, minced or grated with a microplane
2 tsp ground coriander
1/4 tsp red pepper flakes
1 bunch Swiss Chard, ribs removed, greens cut into 1″ strips
1 tsp cider vinegar (I used white wine vinegar)
4 oz cheese, grated (I used white cheddar, it was in my fridge already)
2 tbsp minced fresh cilantro
4 x 10″ flour tortillas
extra olive oil for brushing the pan
Directions
Preheat oven to 450°, and line a large baking sheet with tin foil. Brush a thin layer of olive oil onto the tin foil.
In a large saucepan, heat the olive oil. Add the onion and saute for 5-8 minutes until starting to soften nicely. Add the mushrooms, season with salt and pepper, and saute for another 5-8 minutes until the mushrooms cook down and the juices have evaporated.
Add the garlic, coriander and red pepper flakes, and stir to combine. Add the Swiss Chard and cook until it wilts down.
Remove from heat and add the vinegar, cheese and cilantro. Spread the filling on half of each tortilla (I usually only have enough for three, but perhaps I'm overstuffing them) and leave a small border so the filling doesn't ooze everywhere when it starts to bake. Fold each tortilla over and press down gently. Place the quesadillas on the baking sheet, and brush the tops lightly with oil.
Bake for 10 minutes, then flip carefully (so the filling doesn't fly out, learn from me) and bake for 5-10 more minutes until golden brown. Let cool for a few minutes before slicing.