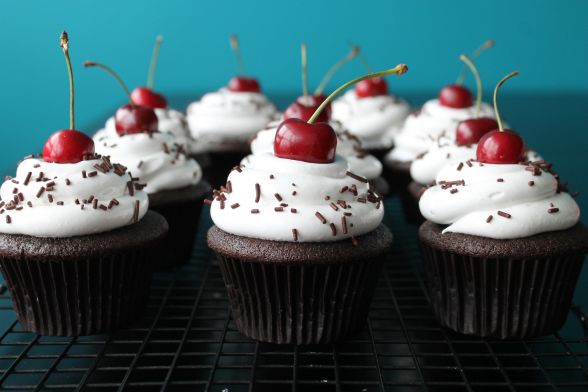 This week's Baked Sunday Morning recipe is for Black Forest Cupcakes, but I actually made these about three and a half years ago while I was testing for Baked Occasions! Personally, I'm not a huge fan of Black Forest cakes, due to childhood encounters with them at birthday parties, but I was interested to see the Baked Boys* take on them.
Traditional Black Forest cake is a combination of chocolate cake, cherry filling, whipped cream and chocolate shavings.  This recipe doesn't stray too far from that formula, just swapping in 7-minute frosting for whipped cream. One interesting addition, which didn't make the final version of the recipe in the book, was 1/2 tsp of freshly ground black pepper to the chocolate cake. It wasn't subtle either – I brought them to a party and all my testers commented on it. I felt it was too overwhelming. For the filling, I suppose you could also make your own cherry preserves for this recipe (here's a recipe from way back in the Planet Byn archives), but I just used a jar of Bonne Maman.
My favourite part of this recipe was the frosting. I've struggled with this type of 7-minute or marshmallow frosting over the years, and this is the first recipe that worked for me! It's now my go-to for any recipe that calls for it.
These were much better than the dreaded sheet cake from when I was a kid! You'll love them if you're a Black Forest fan.
You can find the recipe here!
More Baked Sunday Mornings here!
*Last week Renato announced he's moving on from Baked to pursue other opportunities! Good luck Renato! I can't even begin to describe the happiness you've brought me through your books over the last ten years. It's not an understatement to say that recipe testing for Baked Occasions and attending the opening of Baked Tribeca was a highlight of my life, and has brought so many amazing people into it (see you in July, Dafna!). Wishing you all the best!