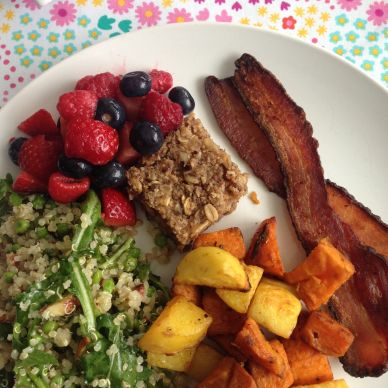 I had my besties over for brunch this past weekend, and I was so happy with my menu planning and excited to write about it here! My friend Aoife has a few restrictions (no gluten, dairy or eggs) but nothing that prevented me from whipping up a totally delicious brunch (in my humble opinion!).
While I usually go with quiche as a brunch centerpiece, instead I made this bright, fresh salad. The base is quinoa, and you add in peas, chopped almonds and few handfuls of arugula (or other fresh greens of your choice). The dressing is just olive oil, fresh lemon juice and honey, and it's so simple and perfect. This is also an ideal brunch dish because all the salad components can be made ahead of time, and then tossed with the dressing right before everyone arrives.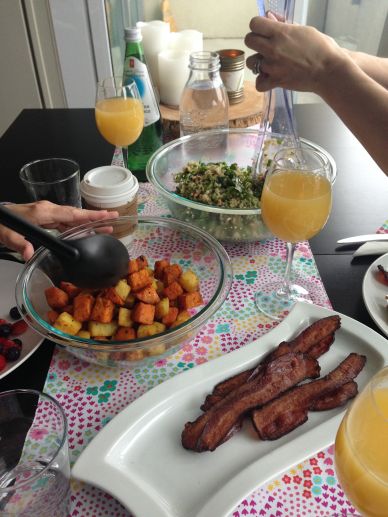 To round out our brunch I also made:
roasted sweet potato and yukon gold hash from Oh She Glows Everyday
thick cut bacon that I baked in the oven until crispy
fresh berries (made me long for summer farmer's markets!)
these Maple Cinnamon Oatmeal Breakfast Bars (because I like to have a carby baked good at brunch, and these were quick and easy using gluten free oats)
MIMOSAS of course!
Everything was totally easy, and it was so good to catch up and get some cuddles in with Aoife's baby Nolan. If only it wasn't 7 degrees outside, and we were actually having Spring weather!
Spring Quinoa Salad
Source: Pinch of Yum
Ingredients
Salad
1 cup quinoa, uncooked
2 cups frozen peas
1/2 cup chopped roasted, unsalted almonds
3 cups fresh greens (i.e. arugula, baby spinach, shredded kale)
optional add ins: 6 slices bacon, cooked and chopped, 1/2 cup crumbled feta, 1/2 cup chopped fresh herbs (i.e. basil)
Dressing
1/3 cup olive oil
1/3 cup freshly squeezed lemon juice (about 2 big lemons)
2 tbsp honey
1/4 tsp salt
Directions
Cook quinoa in your preferred way (mine is in the rice cooker with 2 cups water), and set aside to cool completely.
Fill a small saucepan with water and bring to a boil. Shut off the heat, then add the peas and cover for 3 minutes. Drain and add to the quinoa.
Stir in the almonds, fresh greens and any other add ins.
For the dressing, add all ingredients to a small mason jar with a lid, and shake until combined. Pour over the salad and toss until evenly coated. Let sit for 30 minutes or so at room temperature before serving.