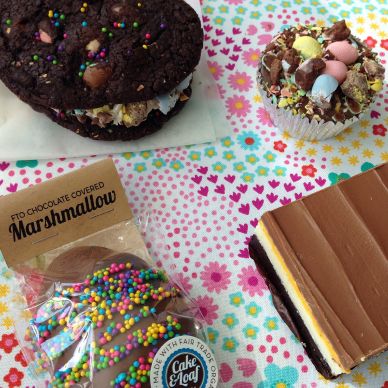 This month kicked off with a super fun and cute baking project! I made the treats for my friend Kristine's niece's 1st Birthday party. Her sister requested four dozen vanilla cupcakes (I used the recipe from Joy the Baker's first cookbook) with vanilla icing (I used My Favourite Buttercream) and I ordered the Flamingo sprinkle mix from Sweetapolita to go with the colour scheme for the party (pink and gold). I also made a batch of brownies topped with chocolate ganache and more sprinkles. I was so happy with how everything turned out!
I took a short vacation to Cuba, which was so relaxing and restorative, but it's true what everyone says about the food there: it sucks. Kristine and I did discover a new fun cocktail though, which I'm going to blog about soon.
While we were waiting for our flight home we discussed in detail what the first thing we wanted to eat was when we got back, and the verdict was SWISS CHALET. So satisfying. I also got a bag of the Chalet Sauce chips, and they were just okay. Nothing super exciting that I'm dying to have again (I have very strong feelings about all categories of potato chips, so this was a big deal for me).
For Easter this year, my Mom hosted, but I brought the same amazing stuffing that I made back at Thanksgiving. Honestly, I could just have a plate of turkey and stuffing with gravy and be so happy. Dessert was this pretty cake I blogged about last week!
I made a pre-Easter trip to Cake and Loaf, so I could try their infamous Creme Egg Brownie (pictured above). It was good, and not overly sweet like an actual creme egg, and I will definitely attempt to recreate it next year. My favourite treat was the little mini chocolate cheesecake with crushed Mini Eggs on top, it was to die for.
My foodie friends and I went to Square One last weekend to try Jamie's Italian and it was a total BUST. Everything we had was just meh. Total disappointment, sorry Jamie Oliver. Better to go to Scaddabush, which is right nearby.
My friend Sarah got a new job, and was adamant that she didn't want any fuss on her last day. I tried to respect her wishes (i.e. didn't plan a big lunch or surprise meeting) so instead I made her a #drakeoncake (this recipe) and we had a private party for two in my cubicle. She loved it, and I shared the rest of the cake with our co-workers.
Other non-foodie things I was obsessed with this month:
I read a bunch of books this month that I recommend. Today Will be Different, is a quirky book by Maria Semple, that I recommend if you liked her other one, Where'd you go Bernadette. Your Perfect Life was a fun beach read, if you're fan of body-swapping comedies (such as Freaky Friday or The Change Up). I Let You Go got off to a slow start, but turned out to be a pretty twisty, creepy read, must read if you liked Gone Girl and The Girl on The Train. All Grown Up is a quick one, but I really like this author, and ended up liking this too. I also read Difficult Women, but just found it just made me sad; proceed with caution on that one.
Obviously I saw Fate of the Furious on opening weekend. It made me miss Paul Walker, but I loved Charlize as the villain and love Jason Statham and The Rock in anything.
Raptors are in the playoffs again! I almost had about five heart attacks during the first round, but they made it through and Game 1 against Cleveland is tomorrow!
Flashback!