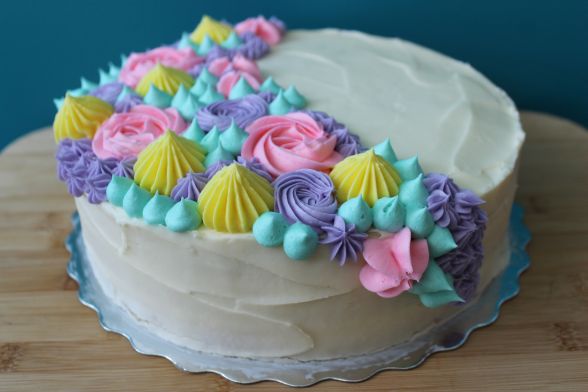 Last year's Easter Cake was a work of art, in my humble opinion. Three layers of marble cake with Nutella filling, speckled buttercream frosting and cute little chocolate nests with mini eggs on top. I mean, come on. It doesn't get much better than that. I couldn't decide what to make this year, and I think it's because I knew I wouldn't be able to top that cake. At the very last minute, I decided on a lemon blueberry layer cake, hopefully to help usher in Spring, which hasn't fully arrived here yet.
I used a recipe from Sally's Baking Addiction, and while it was good, I was disappointed because the layers were SUPER thin, like less than 1″. Once I stacked them up, things were looking pretty short and squat over here, and I was worried there wouldn't be enough to serve the 13 hungry people at my family's Easter dinner. I also love the drama of a nice TALL cake, because I've definitely been brainwashed from watching too many cake decorating videos on Instagram.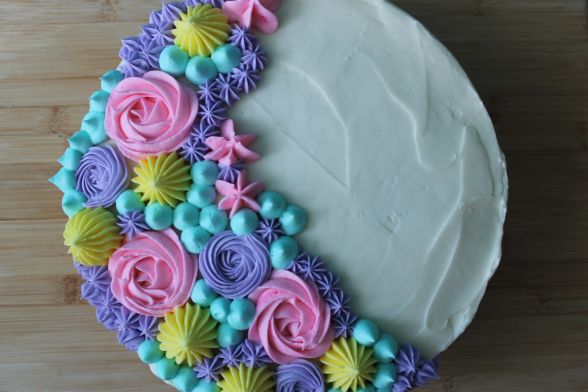 Speaking of those videos, my newest Instagram obsession is Milk and Water Baking Co., who's doing just the absolute cutest decorating technique with pastel swirled icing. For my first time decorating in this style, I made a half batch of My Favourite Buttercream, divided it equally into four bowls, and dyed it pink, yellow, turquoise and purple with my Americolor gels. I used four different shape and size piping tips, and just kind of played around until I liked the way it looked. I loved the way it turned out! Next time I'll try swirling the colours together.
After all was said and done, this cake was a HUGE hit, and a few peeps around the table said it was the best ever. It was super hydrated, nice and lemony, and I loved the burst of blueberries. I'd definitely make this again, but double the entire recipe for a nice tall cake.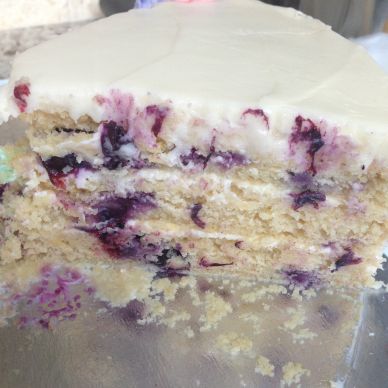 Lemon Blueberry Layer Cake
Source: Cake from Sally's Baking Addiction, Icing from Annie's Eats
Ingredients
Cake
1 cup (2 sticks butter), room temperature
1 1/4 cups sugar
1/2 cups brown sugar
4 eggs
1 tbsp vanilla
3 cups flour
1 tbsp baking powder
1/2 tsp salt
1 cup buttermilk
zest & juice from 3 lemons
1 1/2 cups fresh blueberries tossed with 1 tbsp flour
Icing
10 oz cream cheese, cold
6 tbsp butter, room temperature
3 1/4 cup icing sugar
4 tsp clear vanilla extract (or just regular if you don't have clear)
Directions
To make the cake, line three 8″ or 9″ cake pans with parchment paper and spray with non-stick spray. Preheat the oven to 350°.
In a large bowl, cream together the butter and both sugars for about 3 minutes until light and fluffy. Add the eggs and vanilla and mix again until fully incorporated.
Add the flour, baking powder and salt, and mix on low speed until just combined.
Add the buttermilk, lemon zest, and lemon juice and mix again until just combined.
Gently fold in the blueberries with a spatula by hand.
Divide the batter evenly between the three pans and smooth out with an offset spatula. Bake for 18-20 minutes or until a toothpick inserted in the middle comes out clean. Let cool for 30 mins or so in the pans, then invert onto cooling racks. Cool completely before frosting.
For the icing, whip the cream cheese and butter together until combined. Add the icing sugar and vanilla and whip again until smooth and fluffy. Don't overmix!