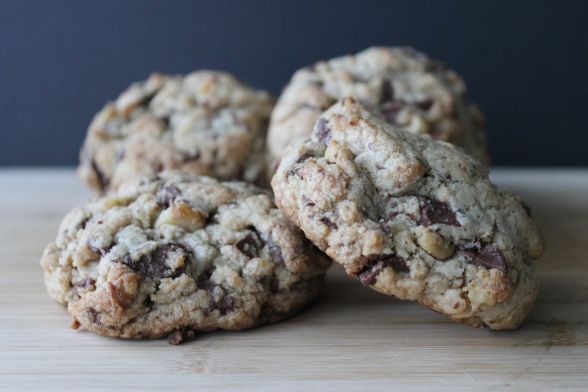 At the beginning of last year I declared it The Year of the Chocolate Chip Cookie on Planet Byn, and then promptly proceeded to make a grand total of two versions in all of 2016 (#typical). It may take me forever, but I'm still committed to this worthy cause of trying all the cookies recipes I listed on that post.
Let's pick back up with Levain Bakery's Chocolate Chip Walnut Cookies which are well known for being absolutely gigantic and delicious. Unfortunately, I missed Levain on BOTH of my trips to NYC in 2014, but a few months later my co-worker brought some back for me. He told me he was going to New York for the weekend and had innocently asked if I needed anything, and I was like "If you're serious, I do, and here's the address of this bakery". I requested a chocolate chip walnut, dark chocolate chocolate chip and dark chocolate peanut butter chip cookie (they also make an oatmeal raisin one).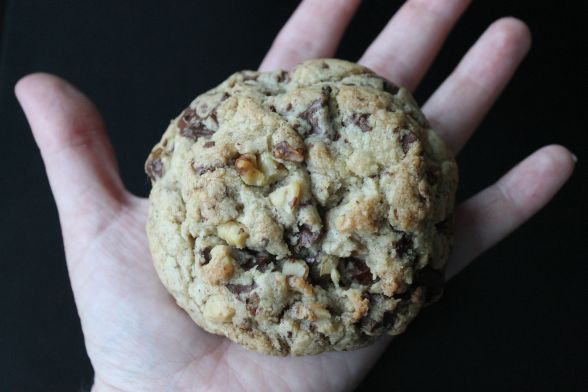 They were outstanding! First of all, they look like scones, that's how big they are. They're super thick, although not cakey or dry, and I wouldn't necessarily describe them as chewy. It's kind of tough to explain. But I knew I needed to see if I could make them myself.
There are tons of copycat recipes floating around online, and after originally seeing them on Smells Like Home, I went down a black hole of looking at all the versions, some with subtle changes or additions here and there. I went with the recipe on Cookie Madness.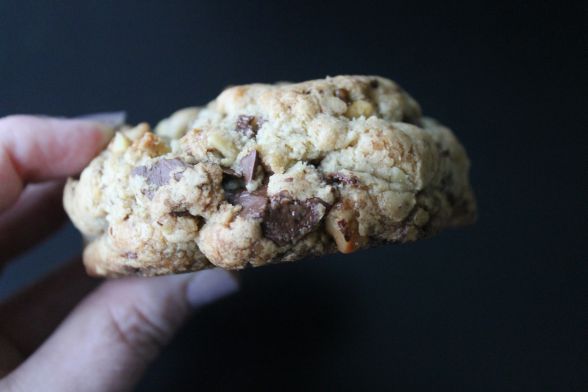 Some curious things about this recipe. You start with COLD butter, which goes against all my natural cookie baking tendencies. You also use bread flour, which is odd, except your girl Christina Tosi also does that in her Compost Cookies, so I guess they're on to something. Also like the Compost Cookies, the dough must rest for a few hours (or overnight) before baking. As for the size, some recipes say 4 oz of dough per cookie, others 6 oz, so I actually baked a few of each with some 5 oz ones thrown into the mix too.
So after all that, what's the verdict? Pretty freaking close if you ask me. The appearance, taste and that hard to define texture are all on point. I'm not the biggest fan of nuts in my cookies, but I will say the walnuts are key here to the Levain-style experience, so don't leave them out.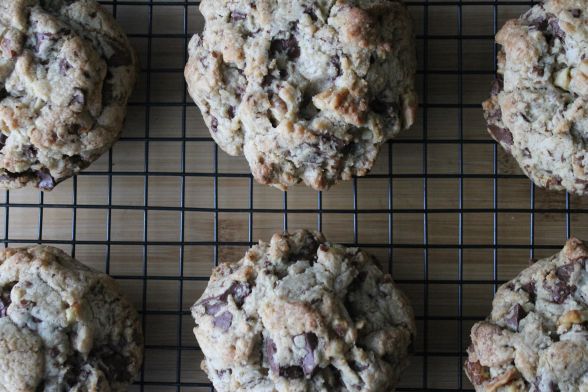 I'm so encouraged by this, I want to try the dark chocolate cookies too! Luckily Annie has a recipe for those ones right here!
Quick note: This recipe is measured by weight, so you'll need a kitchen scale for accuracy.
Levain Bakery Chocolate Chip Walnut Cookies
Source: Cookie Madness (originally found on Smells Like Home)
Yield: 8-12 huge cookies
Ingredients
376 grams bread flour
1 tsp baking powder
1/4 tsp baking soda
3/4 tsp salt
1 cup (2 sticks) butter, COLD, diced into small cubes
168 grams brown sugar
100 grams sugar
2 eggs, COLD, lightly beaten in a separate bowl
1 tsp vanilla
1 1/2 cups chopped dark or semi-sweet chocolate
1 cup toasted walnuts, coarsely chopped
Directions
In a medium bowl, whisk together the flour, baking powder, baking soda and salt and set aside.
In a large bowl, beat the butter until it starts to come together. Add the brown sugar and sugar and mix until combined. Add the eggs and vanilla and beat until combined. Scrape down the sides of the bowl with a spatula.
Add the dry ingredients and mix until just combined.
Fold in the chocolate and walnuts. I actually used my (clean!) hands to knead the dough in the bowl a bit to get everything to come together.
Line a baking sheet or plate with parchment paper, and use a kitchen scale to portion out 4oz, 5oz or 6oz of dough, depending on if you want your cookies to be big, gigantic or enormous. Don't roll them into balls, but leave them with a rough appearance. Cover the sheet/plate with plastic wrap and chill for 3 hours or overnight.
When ready to bake, preheat oven to 375° and line another baking sheet with parchment paper. Bake for 18-22 minutes, depending on how big the cookies are. Let cool on baking sheet for 5 minutes, then remove to a wire rack to cool completely.