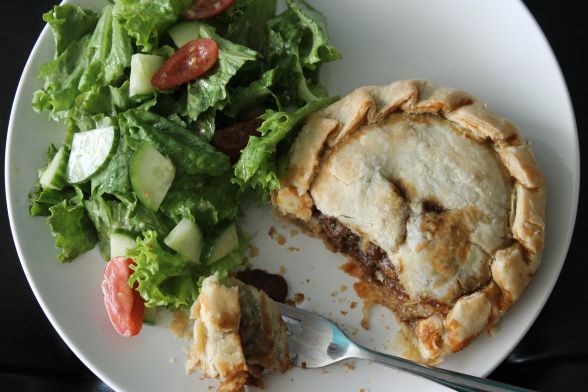 When Danielle and I went to London, we ate the most delicious savoury pot pies on our first pub night there and I've been waning to make my own at home ever since. I finally did it last week, due to the combined forces of Pi Day (3.14….get it???) and St. Patrick's Day.
My go-to pot pie situation is usually Chicken Pot Pie, and I've made so many variations over the years. None of them got blogged for some reason, so here's a quick break to list some of my favourites:
Instead of another chicken variation, I made cute little Mini Beef and Guinness Pies. I used this recipe from Elly that I've had bookmarked for about two years: a rich beef stew with mushrooms, carrots and celery, plus a can of Guinness*, braised low and slow for a couple hours. The only change I made was to use 1 lb of beef instead of two, but I kept all the vegetable and liquid measurements the same. I made a double pie crust recipe, and used little disposable 6″ pie plates. When all was said and done I had four mini pies, but probably could have squeaked out five if I re-rolled my pastry scraps and rationed the stew better.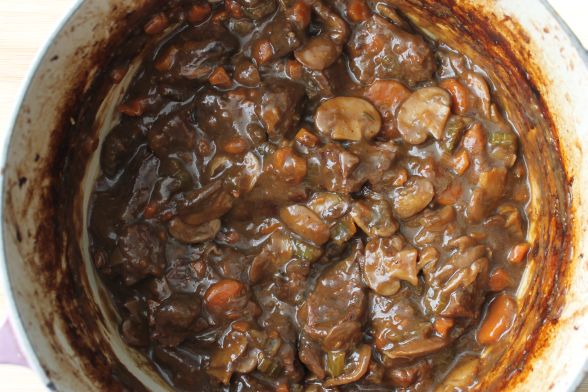 In London our pies were served with mashed potatoes, gravy and a pea/carrot/leek mixture, but I just went with a fresh green salad and it was perfect. I'm assuming these pies freeze well unbaked, so I have a couple tucked away to eat later.
*I find Guinness revolting otherwise, but it's great in here!
Mini Beef & Guinness Pies
Source: Elly Says Opa
Ingredients
2 tbsp olive oil
1 lb (or 2lbs if you want it extra beefy) stewing beef
2 medium or 1 large onion, sliced
2 carrots, peeled and sliced
2 celery stalks, sliced
8 oz cremini mushrooms cleaned and sliced
4 garlic cloves, grated with a microplane
2 tbsp flour
1/2 tsp dried rosemary (or 1 tbsp fresh if you have it)
12 oz Guinness
1 1/2 cups beef broth
+ salt & pepper
+ a double crust recipe of your favourite pie dough OR store bought OR puff pastry
+ 1 egg whisked with 1 tbsp water (egg wash)
Directions
Preheat the oven to 350°. In a dutch oven or other ovenproof pot with a lid, heat the olive oil over medium heat, and add about half the beef, seasoning with salt and pepper, and browning on all sides. Remove to a bowl and repeat with the other half, adding a bit more olive oil to the pan if needed.
In the now empty pot, add the onions, carrots, celery and mushrooms, and cook for about 5-8 minutes, until veggies are softened. Stir in the garlic and rosemary, then stir in the flour until everything is evenly coated, and let cook for 1 minute.
Add the Guinness and beef broth, plus salt and pepper, and stir. Bring to a boil, then cover with a lid and place in the oven, and let braise for about 2 hours. I'm assuming you could also do this in a slowcooker instead of the oven, probably for 6-8 hours or overnight (on low).
Once cooked, let cool FULLY before making the mini pies.
Roll out your dough and cut it into about 7″ circles to line the bottom of your mini pie plates (or just make one big pie in a regular pie dish). Portion out the stew into the pies. Cut smaller circles of dough out for the tops of the pies and crimp the edges over to seal. Use a knife to cut a few vents into the dough so steam can escape. At this point you can wrap the pies with a layer of plastic wrap, and then tin foil, and freeze.
To bake, brush the egg wash over the top of the mini pies, which will help them brown.
Bake in a 350° oven for 30-35 minutes until golden brown.