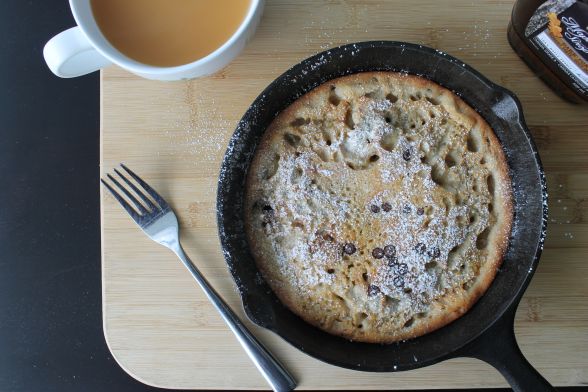 Dutch babies are something that I had never heard of before I started reading food blogs almost 10 years ago. This isn't something I ate growing up, and I unfortunately don't have a cast-iron skillet that was passed down to me through the generations! For this reason, I usually bypass any and all dutch baby recipes, but when it comes to Baked Sunday Mornings, it's worth a special trip to a friend's house to borrow one.
Dutch babies are basically giant puffy pancakes. The batter is made in a blender (I used my immersion blender) and poured in the hot skillet, and then baked in the oven until golden brown. The Baked version also has buttery bananas, chocolate chips, walnuts (I left this out), a dusting of icing sugar and a suggestion to serve with maple syrup. Kind of a lot going on, which is why this is the "Kitchen Sink" version.
I ate this up in no time, and it's kind of a cool idea for a brunch because you could slice it into wedges and serve, instead of standing at the stove flipping pancakes and missing all the fun. I would probably leave the bananas out next time (not too keen on banana desserts), but I would leave everything else as is.
You can find the recipe here!
More Baked Sunday Mornings here!