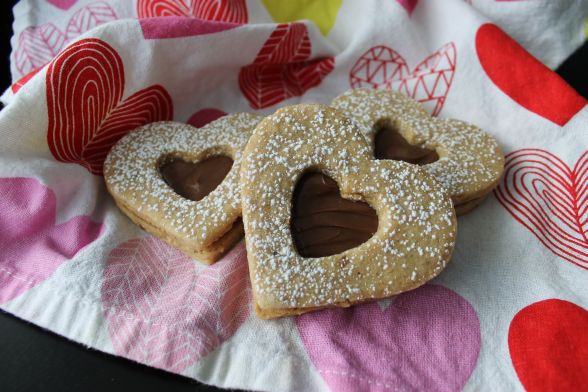 I think I'm ready to declare that Valentine's Day is my favourite baking holiday, or at least tied with Easter. There's no pressure, no expectations, and if I can spread some love with treats, well that's my joy in life anyway.
I haven't blogged my Valentine's Day baking in the past, with the exception of these amazing Beyoncé conversation heart cakes we made last year for Baked Sunday Mornings! I usually just make heart shaped sugar cookies with royal icing, and last year I added pink puffy heart shaped marshmallows into the mix. This year I made my standard cookies, except jumbo-sized and with a "We go together like…" theme, based on an idea from Cake & Loaf in Hamilton.
I was also trying to think of what I could make for my friend Janelle, whose main loves are s'mores, Nutella and crispy brownie edges. I knew these linzer hearts would be perfect. The dough is like a brown sugar sugar cookie, with a whole cup of ground hazelnuts mixed in, and the finished cookies are sandwiched together with Nutella.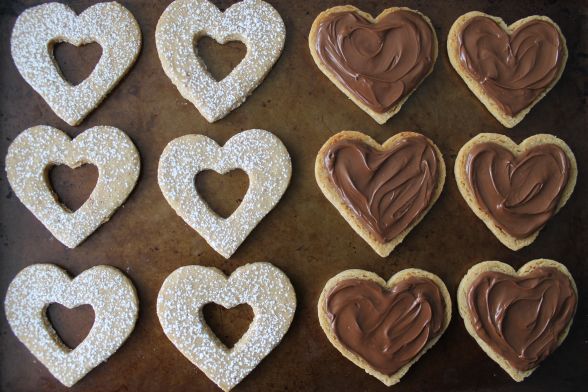 Did you have any doubt that these were absolutely amazing? I love the little peek into what's inside, and they're just a perfect, cute Valentine's Day treat. I always say Valentine's Day is where crafts and baking collide, and after not baking for all of January, it was so great to be immersed in this project. J said these are now her favourite, so I think we have a new Valentine's Day tradition!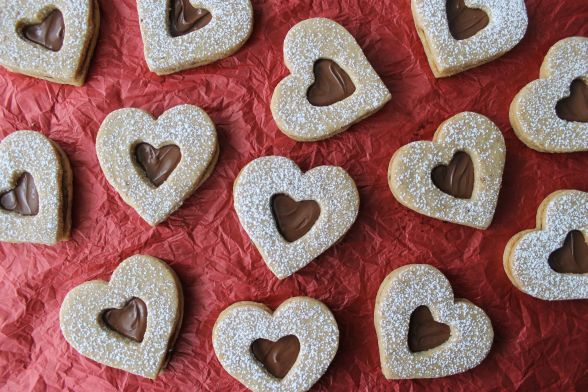 Chocolate Hazelnut Linzer Cookies
Source: Smitten Kitchen
Ingredients
2 cups flour
1 cup hazelnuts, toasted and skins removed
3/4 tsp baking powder
1/2 tsp salt
1 cup (2 sticks) butter, room temperature
3/4 cup brown sugar
1/2 cup sugar
2 egg yolks, room temperature
1/2 tsp vanilla
+ Nutella for sandwiching
Directions
Add the flour, hazelnuts, baking powder and salt to your food processor and process until the hazelnuts are in fine crumbs (I rubbed a pinch of the mixture with my fingers to check).
In a large bowl, cream together the butter and sugars until light and fluffy. Mix in egg yolks and vanilla.
Add the hazelnut mixture and mix in until well combined and no flour-y parts remain. Split dough in half, and pat each into a disc, wrap in plastic wrap and chill for at least an hour.
Heat oven to 350° and line two cookie sheets with parchment paper. Let discs of dough sit at room temperature for 10 minutes or so to start to soften up just a bit.
Clear a large workspace and dust it with flour. Roll out dough until it's about 1/8″ thick (don't want them to be too thick because you're sandwiching two cookies together). Punch out heart shapes and arrange on cookie sheets. In half the cookies, stamp out a little heart shape from the middle. I re-rolled the scraps 2-3 times to get as many cookies as possible.
Bake cookies for about 9-10 minutes, then let cool completely.
Take the cookies with no cut out and spread a nice layer of Nutella over top. On the cookies with the little heart shape cut out, dust some icing sugar over top. Sandwich them together and get ready for some happy Valentines!