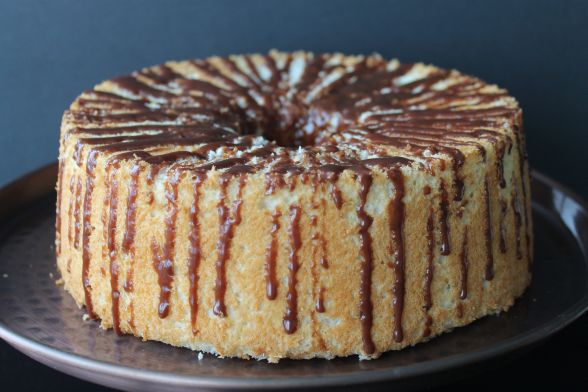 Is it possible I've never eaten Angel Food Cake before in my entire dessert-eating life? I'm trying to think back and I can maybe remember eating some as a kid, but I'm not 100% sure if it was Angel Food Cake, or just a random sponge cake from the grocery store. In any case, it was pretty forgettable.
I was intrigued by this week's recipe for Angel Food Cake, with a whole tablespoon of vanilla bean paste in it, plus a milk chocolate glaze drizzled over top. I made a few substitutions for this recipe:
I wasn't that interested in having a dozen leftover egg yolks, so I used a carton of egg whites and had no problems.
I didn't have any cake flour, so used all all-purpose flour.
I also didn't feel like making a trip to Bulk Barn, so I used regular sugar instead of super-fine sugar (and didn't grind it in my food processor).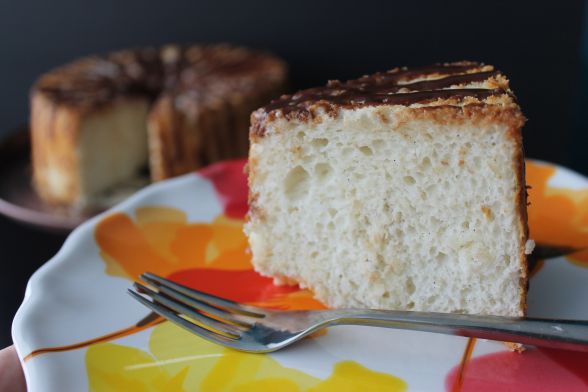 The recipe still worked well with my substitutions, but I have to say, Angel Food Cake is just not my thing, even if it's covered in milk chocolate glaze. Something about the texture, which is kind of, hmmm, is chewy the right word? I'm sure my co-workers will eat it up tomorrow in no time.
You can find the recipe here!
More Baked Sunday Mornings here!