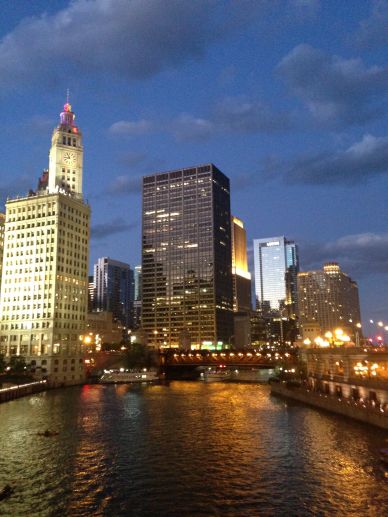 This past July, I confirmed something I've suspected was true for a long time: Chicago is the perfect place for a long weekend trip. I've wanted to go forever, especially since I was supposed to attend a conference there a few years ago (but ended up not going), and had to hear my entire office tell me how much fun they had without me (MAJOR FOMO). It's a short 90 minute flight from Toronto, you can walk almost everywhere, and there is SO MUCH good food. In a tragic twist, my foodie friends went back in May, but I already had Adele tickets for July, so we couldn't go together. But on the bright side, stalking their Instagrams was like a trip preview, and helped me narrow down all the things I wanted to try. We rolled into town on a Friday afternoon, and left on Monday evening. Here's what I ate in between:
Giordano's: I knew the first thing I wanted to eat in Chicago was DEEP DISH PIZZA! I did a lot of research online on this topic, but every "Best Deep Dish in Chicago" article I read had a different winner. I decided to go with Jenny's recommendation of Giordano's, and this was where we headed as soon as we dropped off our bags (the other contenders were Lou Malnati's and Pequod). We ordered a medium Chicago Classic pizza (eight slices for four people) which has pepperoni, green peppers, onions and mushrooms. The crust was at least three inches thick and the pie was just oozing with cheese. I was surprised how un-greasy the crust was, because I was anticipating something like Pizza Hut pan pizza, but I could not have been more wrong. You know how most pizza has a chewy crust? At Giordano's, it's more bready, even flaky, as you get to the end of each slice. My advice is to not order any apps (we did because we were starving) and even then you'll probably only be able to eat two slices. My other tip, which our waiter told us as soon as we sat down, is that it takes 45 minutes to 1 hour for one of their deep dish pizzas to cook, so like, call from the runway and it'll be ready when you get there!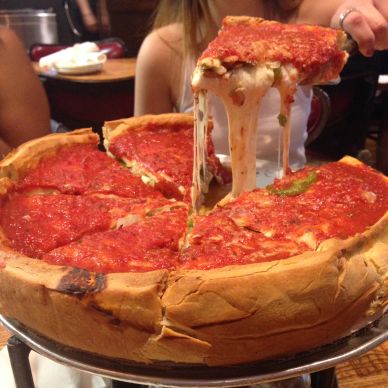 Molly's Cupcakes: Elly sent me a huge list of recommendations, and one was Molly's Cupcakes. I was completely and totally smitten! It was just one of the cutest bakeries I've ever been in. There are big wooden swings you can sit on at the coffee bar, long communal tables, and a sprinkle bar, I repeat, a SPRINKLE BAR! You can custom design your own cupcake, picking from cake, filling and icing options, or you can choose from their huge selection. We tried four: Cake Batter, Cookie Monster, Molten Chocolate and Boston Cream. Loved them all.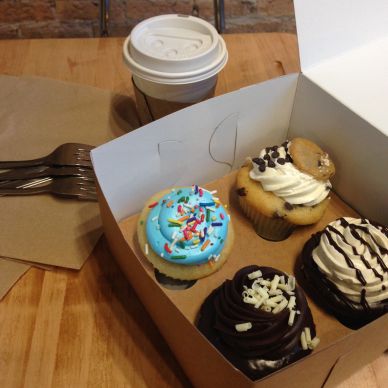 Beatrix: Shauna Sever called Beatrix's "Oh My! Caramel Pie" her favourite dessert of 2016 on Instagram, so I knew I would need to have that at some point during the weekend. It was so sinfully good: a buttery shortbread crust, filled with a deep, rich, complex caramel custard. I can't find the recipe online, and it's a damn shame. I also had a simple but delicious "Straight A" salad [arugula, Asian pear, almonds, avocado, asiago] with lemon dressing and loved the combo so much I recreated it at home a few times in the summer.
Umami Burger: My plans for Shake Shack were abruptly changed for Saturday night due to a protest on Michigan Avenue, so instead we headed up to Wicker Park where our dessert destination was (more on that in a minute) and found Umami Burger, which Juliet & Jacoby used to talk about on their old Food News podcast on Grantland. I didn't know what to expect, not having fully researched before we went, but it was incredible! I had the Throwback Burger, which has white cheddar cheese, miso mustard, umami ketchup, soy pickles and minced onions. Delicious! The fries came with four dipping sauces (I'm a sucker for dipping sauces!): umami ketchup, truffle mayo, and two spicy sauces I can't remember the name of. My friend Sarah also ordered the maple bacon sweet potato fries (sprinkled with rosemary salt and chives) and they were crazy amazing. When are you coming to Canada, Umami???!
Frontera Grill & XOCO: Speaking of stalking people on Instagram, I copied Annie's idea of having a Rick Bayless brunch at Frontera Grill, followed by churros across the street at XOCO. Brunch was delicious, but I was having severe menu paralysis and kept changing my mind from more traditional brunch dishes, to Mexican street food snacks, to full on enchiladas. I think had we gone later in the day I would have had the latter, but ended up going for the former since we were there at 10:30. To drink, I had a cocktail called Good Day (fresh orange juice, tequila, Cointreau, Aperol & champagne) and then Frontera Hot Cakes, which are corn cakes topped with whipped cinnamon pecan goat cheese, plus red-chile glazed bacon and sunny side up eggs. Sadly the churros from XOCO were not that great, so you can skip those.
Jeni's Splendid Ice Cream: My life is complete, because I have FINALLY had Jeni's Splendid Ice Cream!!!!! Last year, Danielle and I were so distraught when we went to Atlanta, as all the Jeni's stores were shut down due to a bacteria breakout in their factory. Even though there are so many of Jeni's recipes all over the food-blog-osphere, I just had this thing about actually trying the real deal before trying to make it at home, so I would know how it's supposed to taste. First of all, shout to all the staff at Jeni's, who are so sweet and helpful as you're trying to decide what you want! They are so patient and sampling is highly encouraged. Even though I was studying the menu for weeks in advance, I still couldn't decide when I got there. I ended up going pretty basic with Salty Caramel and Milkiest Chocolate, but I did not regret it. It's rich, creamy, dense and deeply flavourful.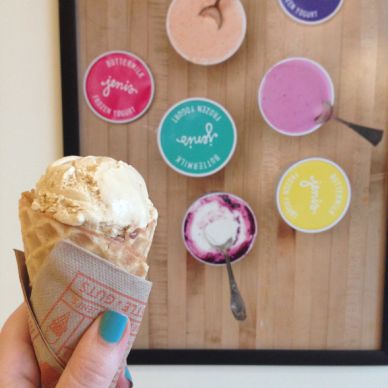 Doughnut Vault: Chicago is known for amazing doughnuts, so I went on a little doughnut tour while my friends were rock climbing in Millennium Park (you can see where my priorities lie), and my favourite hands-down was Doughnut Vault. I had an Old-Fashioned Buttermilk Doughnut (their signature), dipped in a fresh blueberry glaze and I loved it! The others I tried were decent, but my main criteria is that you have to at least be better than Tim Horton's, and I'm sorry Firecakes and Glazed & Infused, but you are not.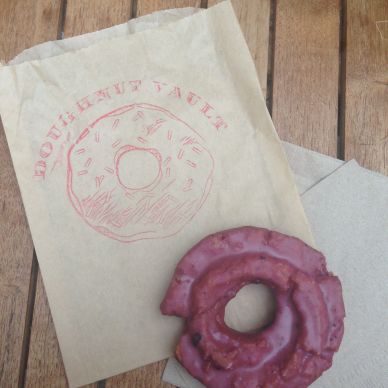 Little Goat Bakery: I ran out of time, so didn't get to eat at Little Goat Diner (sister to The Girl & The Goat), but I did stop into the Little Goat Bakery and picked up a S'mores Cookie and a White Chocolate Dulce Rosemary Scone to take home. Both were just perfect, so I'll definitely head back there for a meal next time!
Garrett Popcorn: Finally, I had to pick-up some Garrett's to take home. This is the originator of Chicago Mix popcorn, the combination of cheddar and caramel flavours that sounds so wrong, but tastes so right. My only note here is that the cheddar popcorn had already started to soften by the next day (the caramel stayed crispy though), so if you're planning on bringing it home, buy it at the last possible minute.
 Other non-foodie related notes:
I stayed at the Godfrey Hotel in the River North neighbourhood, which I absolutely adored! The 'L' train doesn't run through that neighbourhood, so it's a bit quieter, and there are great views of the city. Whole Foods, Trader Joe's and many of the restaurants mentioned above were close by, which was great.
In terms of "touristy" things to do, over the course of the weekend we walked through Millennium Park  (this is where Cloud Gate/"The Bean") is, visited Navy Pier, and went on an architectural river boat cruise of the city. I wasn't sure if I would like this, but ended up loving it! The tour guide was so knowledgeable and it was a nice way to learn more about the city and its history, while still being outside, enjoying a sunny day (as opposed to being stuck inside a museum or whatever).
The Target downtown was not great for clothes (only got one skirt), but I did stock up on Pretzel M&Ms! Paper Source was my favourite store of the weekend!
Obviously Adele was just absolutely phenomenal, like you can't believe that voice is coming out of that person. She is so chatty and funny, telling stories between songs, so you're laughing one minute, then sobbing the next as she belts out Someone Like You. You're just convinced that you would be best friends by the end of the show. So worth it!