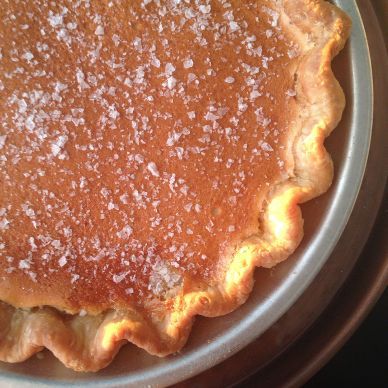 I've seen this recipe for Salty Honey Pie on so many blogs over the past few years, and have always been intrigued by it. It sounded kind of weird, but kind of like Crack Pie, but also maybe like a butter tart with honey instead of corn syrup. When Kristine and I went to Cake & Loaf at the end of November, they had Salty Honey Tarts so I finally got to try it. I was into it, but as you know with a tart, the filling to crust ratio is so small, so I felt like it wasn't an accurate representation of the magic of a slice of this pie. I knew this would make an excellent dessert for our Golden Globes feast, and got to work.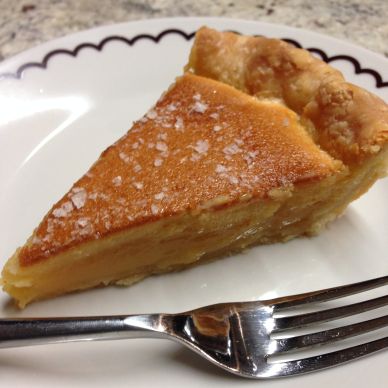 After years of being frustrated with pie crusts that flop and never hold a crimp, I've also just recently learned the secret: METAL PIE PLATES! Who knew? I've had a pair of these in my baking closet for years, but always used the glass ones. I also recently read this post from Hummingbird High, and followed her advice on the crimp: go big or go home. I literally counted up the number of crimps in her pie, and aimed for the same amount. I also froze the unbaked pie crust, rolled, trimmed and crimped in the pie plate, overnight before blind baking, and it held up like a champ! Super proud of this one right here. All these years I thought I was doing something wrong, and it turns out it was the stupid plate.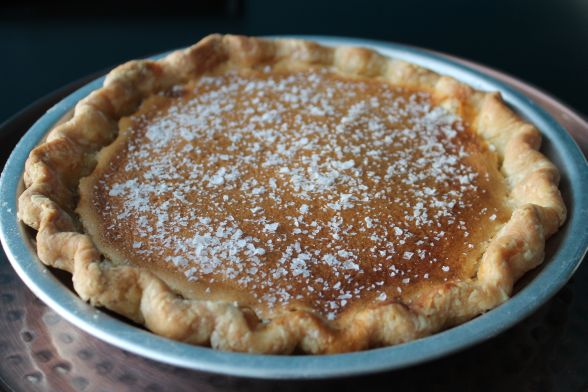 Anyway, once the pie crust is baked and bronzed, you pour in the filling, which is just butter, sugar, a bit of cornmeal, honey, vanilla, eggs and cream and bake for about an hour. I had to fold little pieces of tin foil onto my beautiful crimped crust so it didn't get too brown. The whole thing cools to room temperature and then you sprinkle a very generous tablespoon of flaky sea salt on top.
This pie slices up like a dream, and is a totally delicious combination of salty and sweet. It goes without saying that if you don't like the flavor of honey, you won't be into this pie, but we all loved it.
Salty Honey Pie
Source: Crust from The Messy Baker Cookbook, filling from Annie's Eats
Ingredients
1/2 cup (1 stick) butter, melted
3/4 cup sugar
2 tbsp cornmeal
1/4 tsp salt
3/4 cup honey
2 tsp white vinegar
seeds from 2 vanilla beans OR 1 tsp vanilla paste OR 2 tsp vanilla extract
3 eggs
1/2 cup whipping cream
+ one recipe your favourite pie dough, blind baked until golden
+ flaky sea salt (i.e. Maldon) for sprinkling
Directions
Preheat oven to 375°.
For filling, mix together butter, sugar, cornmeal and salt with an electric mixer until pale and slightly thickened. Add the honey, vinegar and vanilla (whichever form) and mix again until combined. Blend in the eggs one at a time, and finally the cream.
Pour the filling into the baked pie crust and bake for 45-50 minutes until golden brown on top, and the filling jiggles only slightly. Halfway through, check your crust, and if it's too brown, cover the edges with strips of tin foil.
Cool completely on a wire rack, then sprinkle sea salt on top.