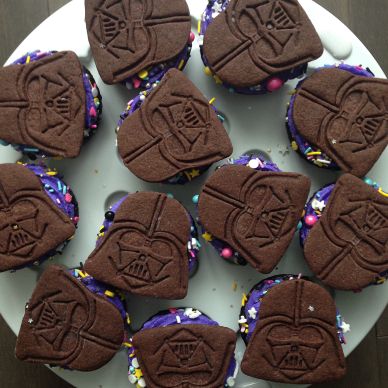 My niece Rebecca keeps surprising me with her Birthday Cake selections. Last year she asked for a Shimmer & Shine cake, and this year, even though she still loves all things princess, she asked for Darth Vader Cupcakes. I asked my brother how she even knows who he is, and apparently they watched a couple of the movies, and she took a liking to good ol' DV. Did I mention it's her 4th Birthday?
For a minute I thought I'd be dealing with a ton of black frosting, but then he sent me a link to these cupcakes. Obviously ain't nobody got time to make two dozen Darth Vaders out of fondant, so he ordered a silicone DV mold so I could make little chocolates to put on top. That thing still hadn't arrived as of Christmas, so instead I busted out my Star Wars cookie cutters from Johnny Mac's 5th Birthday, and made a batch of Darths from these brownie roll-out cookies. (Had enough left over for this too).
For the cupcakes I used this cake recipe from Sweetapolita, which made 21 cupcakes. I used a full batch of My Favourite Buttercream tinted purple (Rebecca's favourite colour), and large star tip to pipe the icing on top. I gently pressed a Darth Vader cookie on top, then added a few sprinkles to the edges. The sprinkles are from Sweetapolita's Sprinkle Shop (the Splendor Twinkle Sprinkle Medley) because I'm a huge hypocrite, but in my defense, she had free shipping for all of December so I thought I'd try them out. I also ordered her classic Rainbow Jimmies, and I can confirm that they are exact same sprinkles you can get at Bulk Barn, except her mix includes turquoise sprinkles. Can I get my $12 back?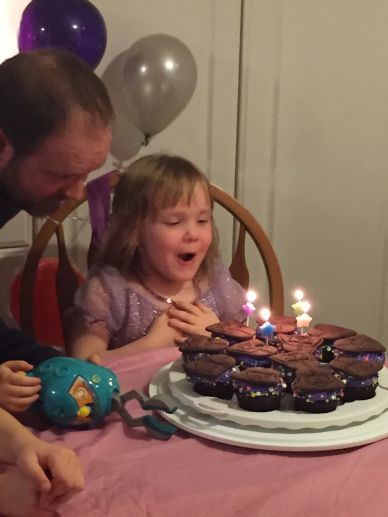 Rebecca's previous birthday cakes:
3rd (Shimmer & Shine Cake)
2nd (Thomas the Tank Cake)