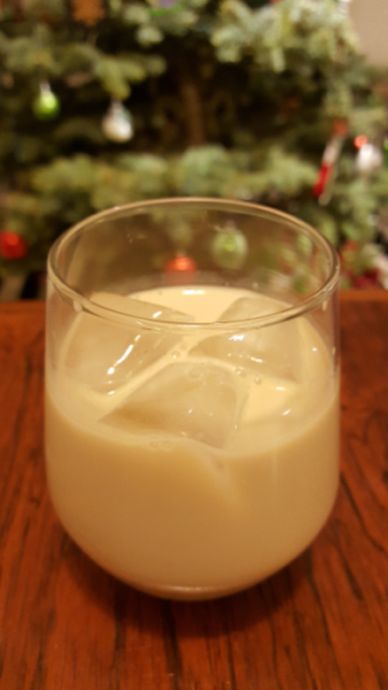 My friend Weedy showed up to Champagne & Cookies this year (more on that next week) with Homemade Bailey's, two dozen shot glasses, and the confidence that she was about to blow everyone's minds. I swear her version is even better than the real deal. She totally stole the show and I asked her to write this post and reveal her secrets to us all! Will I remember Christmas this year? Depends on how much of this I make! Take it away Weedy:
If you are looking to make your mark at any holiday party, this awesome Homemade Bailey's is the best way to do it. Every time I bring this to a holiday shindig people lose their minds. They can't believe that I have the time or skills to make this liquid ambrosia.
I usually make up an elaborate back story about the trials and tribulations of my feat, typically involving the use of home laboratory equipment combined with my bathtub, and an extended barrel aging process. This couldn't be further from the truth. This is the simplest thing to make. Ever. Period. The hardest part is coming up with up with your arduous back story.
My father started making this recipe back in the '80s when Bailey's became a thang. Remember those cheesy commercials? I think he cut out the recipe from an old magazine ad for Eagle Brand Sweetened Condensed Milk. The paper was all yellowed and gooey when I picked up the tradition while at university.
Our family now runs a Bailey's Show Down every Christmas and I am the reigning Champion having won the past two years. I'm feeling the pressure this year, and have been experimenting with variations on the theme. So far, nothing beats the original. So go forth, my friends, and spread holiday cheer with this secret not-so-secret family recipe.
Enjoy!
Weedy's Homemade Bailey's Irish Cream
Ingredients
1 cup heavy cream (35% whipping cream)
1 cup Jameson Irish whiskey (bourbon or rye will do if you are in a pinch)
1 can sweetened condensed milk
2 tbsp chocolate syrup
2 tsp vanilla extract
1 tsp instant coffee
Directions
Combine all ingredients in a blender for 30 seconds.
Decant into an airtight container and refrigerate. It should keep in  your fridge for a month if you have a reserve of willpower. Mason jars will make it look fancy.
Serve cold over ice, or put a splash in your coffee to kick start your morning (or dull the noise of your family gathering).
Make up elaborate back story about how you made your Bailey's.
Variations
Make a simply syrup with your favourite ingredient (for example: almond, mint, caramel, chipotle, or Sriracha). Substitute some of the sweetened condensed milk for the syrup. You'll need to take your time and taste as you go to get the perfect balance of flavour.