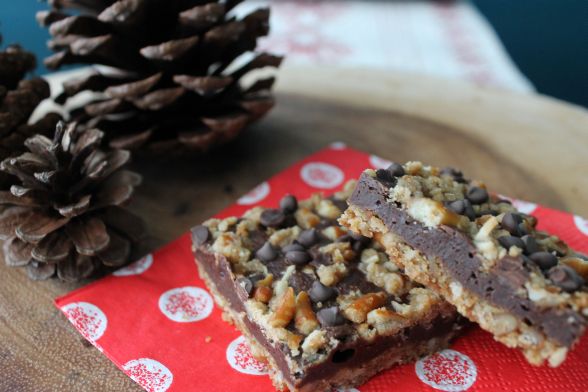 I didn't think I needed to start off this post with a description of what a Cookie Exchange is, but evidently I do, since I had to explain it to about six of my co-workers this week. So before we get into the details, a brief lesson: a Cookie Exchange is a gathering/party where each person in attendance brings a large quantity of the same type of cookie, and then everyone trades/swaps so you get to take home some of whatever everyone else has brought. The idea is that you then have a huge volume of different varieties of treats to serve when guests drop by throughout the holidays*.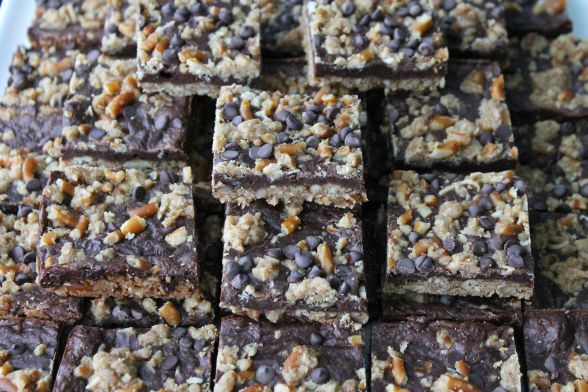 I can't believe I had never been to a Cookie Exchange before this weekend**. The Brunette Baker hosted one at her house, and it was epic. Jenny's rules were that you had to make 4 dozen cookies (or squares) and you could make whatever you wanted (i.e. it didn't necessarily have to be a traditional Christmas Cookie, because then you end up with a table full of shortbread and gingersnaps, which = snooze). Because she had mentioned to me that she was making some savoury snack recipes from some of the cookbooks whose authors would be coming to the party, I had the bright idea to make a square from her blog, and these Chocolate Pretzel Crumb Bars were a no brainer. They have a salty/sweet crust and crumble made with pretzels and coconut and a rich filling made from dark chocolate and dulce de leche. I actually think closer to 3 dozen made it to the party because I legit could not stop eating them (for quality control purposes of course).
Here's a shot of the table with all the treats on it: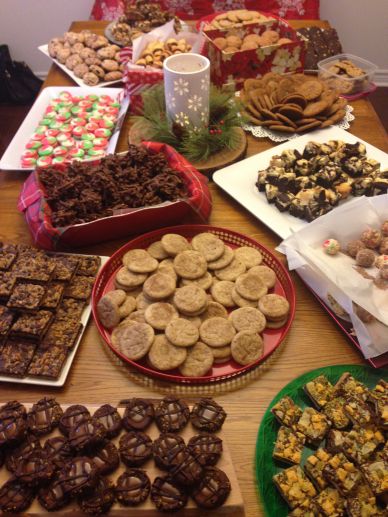 Jenny also had savoury snacks all over her house (warm brie, meatballs with fresh ricotta, cheese, charcuterie, etc. etc.), plus this amazing HOT CHOCOLATE BAR: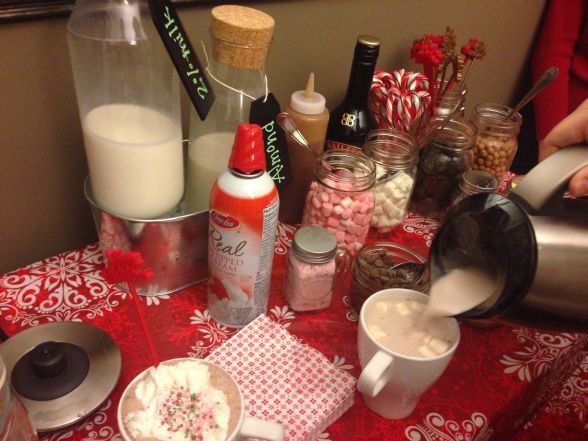 After snacking and catching up with everyone, we basically all queued up with our empty tupperware, then went around the table, taking two of everything, doing laps until everything was gone. I ate so many of the cookies myself, and the rest came to work with me, where I cemented my reputation as everyone's favourite co-worker. Check out the Instagram hashtag #bbcookieexhange to see more pictures from the party!
*Does anyone ever drop by anymore? I think the art of the 'drop by visit' died with our generation and beyond. Millennials have clearly never showed up anywhere unannounced in their entire lives.
**I did participate in The Great Food Blogger Cookie Swap for two years (2013 & 2014), but that doesn't really count.
Chocolate Pretzel Crumb Bars
Source: The Brunette Baker
Ingredients
Crust & Crumble
1 cup (2 sticks) butter
2 cups finely chopped pretzels (I put mine in the food processor and pulsed until they were crumbs)
1/2 cup brown sugar
1/2 cup coconut
1/2 cup flour
1/4 tsp baking soda
Filling
1 can dulce de leche sweetened condensed milk
1 1/4 cup chocolate chips (dark or bittersweet)
1 tsp vanilla
+ 1/2 cup mini chocolate chips
Directions
Preheat the oven to 350°F and line a 9×13 pan with parchment paper or tin foil.
Place the butter in a large microwave safe bowl, then microwave for 1 minute until melted. Stir in the pretzel crumbs, brown sugar, coconut, flour and baking soda, and mix until evenly combined.
Add about half the mixture to the pan, and press into an even layer, using a bit more if needed to fill in any gaps. Set aside the remaining mixture.
In a medium microwave save bowl, add the condensed milk and chocolate chips, and microwave for 1 minute. Give it a stir until it's smooth, and heat for another minute or so if there are still unmelted chocolate chips. Stir in vanilla. Pour over pretzel crust and spread into an even layer.
Crumble the remaining pretzel mixture overtop and sprinkle with chocolate chips.
Bake for 25-30 minutes, and cool completely before slicing into squares.