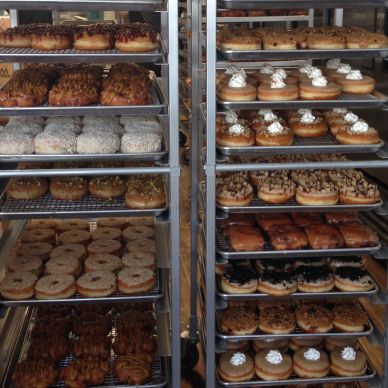 November is usually a quiet month around here, where I can re-charge and get set for the holidays, and this year was no different, except I was also sick for most of the month, which sucked. Here's what else was going on:
My Mom took me for a belated birthday brunch to The Crepe Kitchen in Oakville. It was so cute! Little mis-matched tables and chairs, and a huge list of savoury or sweet crepes to choose from. I had the Good Morning crepe with bacon, cheddar and egg, and Mom had Mediterranean with goat cheese, spinach, tomatoes and onions. We loved them both.
I went on a little Stateside road trip to Target and Trader Joe's for treats and Christmas stuff, and on the way there, we stopped at Beechwood Doughnuts in St. Catherine's where I had the best doughnut of 2016 (even better than Donut Monster that I mentioned last month!). I can even deal with how good this place was, and I need to go back soon! I had their French Toast doughnut, and it was the best kind of yeast doughnut: soft, squishy and so fresh. St. Catherine's already held a special place in my heart because I visited Kristine and Alexis there so often when they were at Brock, and now they have the best doughnuts ever!
Kristine and I made another trip to Cake & Loaf, our favourite new bakery, to check out their holiday menu and so I could get some inspiration for Champagne & Cookies VII! We had Salty Honey Tarts and Unicorn Bars as we watched the final episode of the Gilmore Girls Revival on Netflix (more on that below!).
Nicole and I had our annual Christmas baking day this past Sunday, and a special new helper, baby Francis, was on the scene this year! We made Buckeyes, which is our tradition, plus Maple Pecan Squares and Ginger Molasses Cookies. This is always the day that puts me in the holiday spirit!
Other non-foodie things I was obsessed with this month:
GILMORE GIRLS! This was the focus and joy of my month. GG was my favourite show back when it was on in the early 2000s, and I remember I would call Kristine at university (St. Catherine's again!) after each episode when she was still there so we could discuss everything, and we would binge watch the DVD sets when they were released. I knew I wouldn't have time to re-watch the entire series, so starting at the beginning of the month, I just watched my favourite episodes of each season. Best ones: Sookie's Wedding, Dear Emily & Richard (when we flash back to teenage Lorelai), Rory's graduation from Chilton, the trial run of the Dragonfly Inn when Luke kisses Lorelai, the 100th episode with Emily & Richard's vow renewal, plus any episode with Christopher, an epic fight between Lorelai and Emily, or a freakout by Paris. I totally loved the revival, with the exception of a few small things, and thought it ended perfectly. Don't want to write too much here in case of spoilers, but as Lorelai says: Full. Freakin'. Circle.
Flashback!