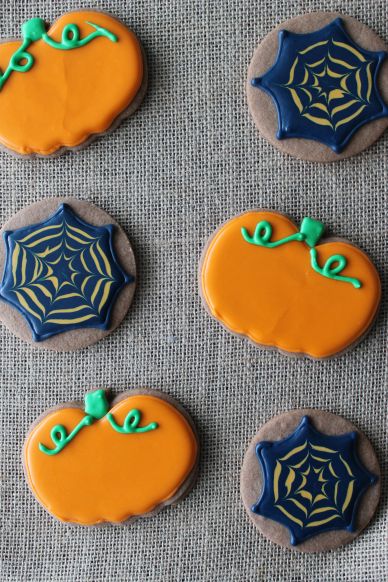 This week for Baked Sunday Morning, we're baking Chocolate Cinnamon Sugar Cookies. They're actually supposed to be Chocolate Cinnamon Chipotle Sugar Cookies, but I wasn't too keen on that. I have enough problems with mixing chocolate and cinnamon together, so I just left the chipotle powder out.
The dough for these cookies was easy to mix up, and rolled out like a dream. I found I could re-roll the scraps twice, and the dough was still pretty smooth.
Instead of dressing up my cookies for the Day of the Dead (as done in Baked Occasions), I went with a Halloween theme of pumpkins and spiderwebs. See, while I enjoy decorating cookies with royal icing (and I still follow Annie's recipe and tutorial here), I've learned a few things about myself and this process over the years. First, it's only fun (and even relaxing) if I have lots of time. Whenever I try to rush the process, things never go as well. Second, I know myself well enough to know that I get bored doing large quantities of these. So small batches of cookies are the way to go. Third, I only ever do one or two designs at any time, and try to limit the number of colours involved. More than that and it looks like a bomb went off in my kitchen – a bomb made up of squeeze bottles, icing bags, food colouring, bowls and toothpicks.
I brought these into work on Halloween and they were a hit!
You can find the recipe here!
More Baked Sunday Mornings here!