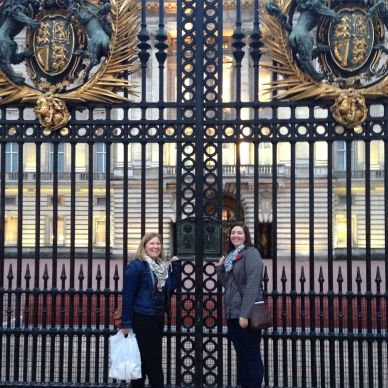 This post is a long time coming, but I'm excited to finally be writing about my trip to London last November! It was my first time travelling to Europe, and I was equal parts excited and nervous leading up to the trip. I went with my friend Danielle, who is an accomplished world traveler and had been to London a few times before, so I knew I was in good hands.
In terms of eats, I found it challenging to research restaurants and treats online for London, because the city is so huge, and it was hard to find consensus on where to go.  Instead, I asked my friends for their recommendations: Weedy (who lived in London for a few years), Sarah (who grew up there), Jenny (who has visited many times), Jen (whose brother lives there now) and Gwendolyn (just an overall excellent resource). I also stalked Jenn Yee's Instagrams of her visit last year, and of course Danielle had a few places she wanted to return to. Here's a glimpse into the highlights of what we tried over the course of our week when we weren't in pubs eating fish & chips and pot pies:
Harrod's Food Hall: Of course everyone tells you to go to Harrod's when you're in London, but the Food Hall there is also a must! It was totally magical and a foodie dream. In the bakery section, we picked up a quartet of cupcakes, and I was loving all the flavour combinations (i.e. Harrod's Posh Peanut Butter Cupcake was peanut butter chocolate chip cake with peanut butter buttercream, brushed with gold lustre!). Hidden in the back of Herrod's is a Ladurée, the French Tearoom known for their macarons. It was the absolute cutest little shop.
B Bakery Afternoon Tea Bus Tour: Danielle noticed this tour the last time when she was in London, and knew it would be perfect for us. You get to cruise around London in a vintage double decker bus, whilst having afternoon tea (in a travel mug you get to take home!) with delicious savoury and sweet snacks. There were little quiches and tiny sandwiches, plus mini cupcakes, macaron and fruit tarts. The plates and serving dishes are secured to the table, so nothing is sliding around, and you just sit back and enjoy. We loved this!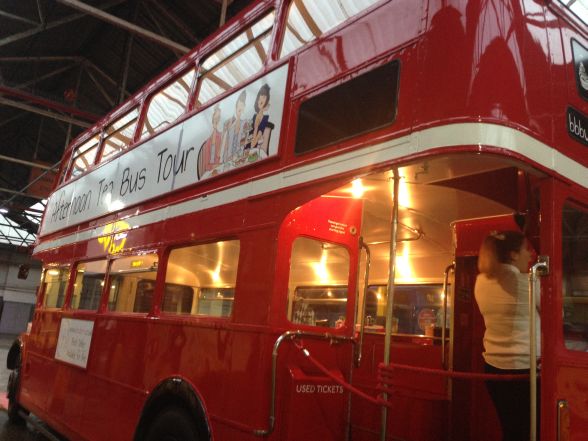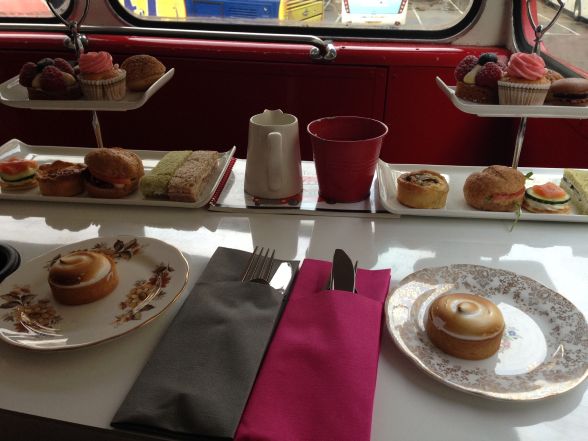 Hotel Chocolat: I couldn't even handle this chocolate shop. I think I did two or three laps before I could even decide what I wanted to buy. Danielle had been here before, and even sent me some chocolates in the mail, and going in person was like sensory overload. I brought so much chocolate home with me, and my favourite was the Milk & Cookies bar.
Nopi: The only restaurant reservation I made before the trip was for Ottolenghi's restaurant, Nopi. I researched all of the different locations extensively before the trip, as Danielle had told me that some are solely takeaway spots and some are casual eat-in places with seating, but there is only one true restaurant, and that is Nopi. There's a more formal dining room upstairs, and a communal space downstairs, which is what I booked. I can't emphasize enough how much I loved this experience. We were seated side-by-side on the corner of a huge marble table and to our left was the open kitchen, where we could see all the dishes being prepared, and all the desserts being plated. To our right was the cutest pair of couples that we eavesdropped on; I was obsessed with their accents and also the dishes they ordered.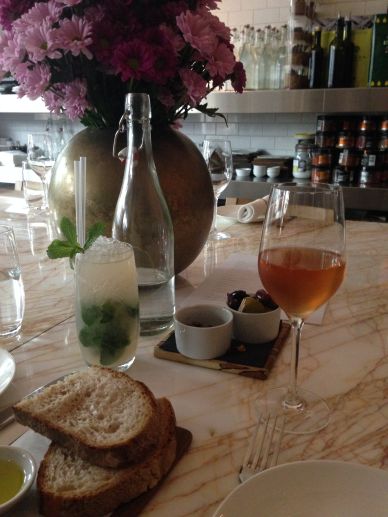 Instead of ordering entrees, we copied our new friends and ordered many small plates to share. We had: a roasted cauliflower dish, a beet and goat cheese salad, a butternut squash dish, truffle polenta chips and this savoury cheesecake made with blue cheese, almonds and honey. Everything was so unique, and like nothing else I've ever had, pairing flavours together in unexpected ways.  Side note: Google "Ottolenghi Nopi Washrooms" because I can't even try to describe them. So cool. Also, it also goes without saying that Nopi is expensive as hell, but to me, so worth it.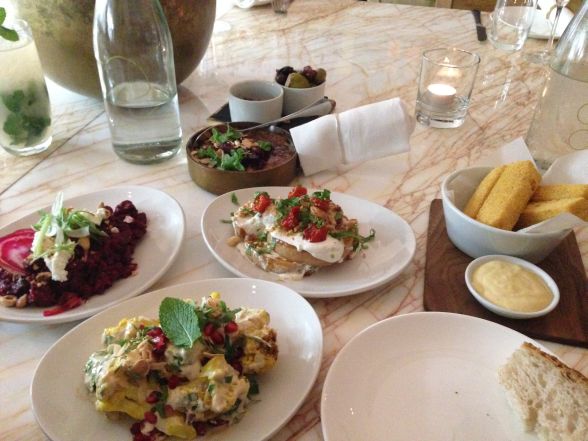 Wahaca: I thought it seemed a little odd to eat at Mexican restaurant in London, but Weedy and Sarah both mentioned Wahaca, so we had to check it out. It turned out to be delicious, and a welcome change from all the pub food we'd been enjoying. We had guac and chips, chicken tostadas, plaintain tacos, and sweet potato and feta taquitos.
B Bakery: Because we had so much fun on our Afternoon Tea Bus Tour, when we were in Covent Garden, we stopped by B Bakery to try more of the treats we enjoyed on our tour. We had some rooibus tea, and shared a chocolate darling and a banoffee tart, and they were perfect.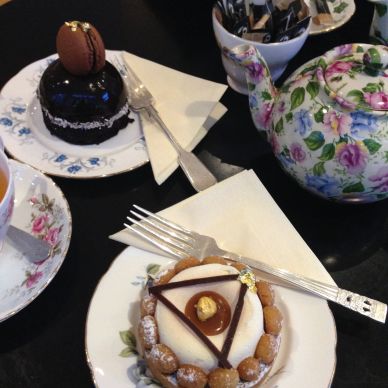 Piebury Corner: This was another place Danielle had noticed on her last trip and we returned to check it out. We tried a savory pie (butternut squash, onion and goat cheese) and a sweet one (blueberry) and both come with sauces on the side to pour over (mushroom gravy and vanilla custard respectively). This was such a charming little shop and the kind of place I would get takeout from all the time if I lived nearby.
Indian Restaurant We Can't Remember The Name Of: Over the last 15 years, I've read so much British Chick Lit, starting with Bridget Jones' Diary, and one thing those books all have in common, is that our heroine at one point or another is always having Indian takeaway for dinner! We both heard that all the best Indian food is on Brick Lane, but on our last night, we didn't have the energy to head over there (about an hour away on the tube) so instead we wandered around Kensington High Street near our hotel trying to find something close by. I don't remember the name, but we stumbled upon a small little neighbourhood place and gave it a try. It was SO amazing. As were settling in, looking at our menus, we kept seeing people come in to pick up takeaway (like Bridget!) and we knew we were in for some deliciousness. We had chicken tikka, a vegetable curry, piles of warm, soft, chewy naan, and tried all the pickled vegetables and sauces on the table. Just the best.
CHIP CRISP PARTY: One night when we were still full from a late fish and chips lunch, we just went to Tesco and loaded up on every type of British crisp flavour we could find and had a crisp party in our hotel. We tried cheese & onion, worcestershire, and a few others I can't remember. We have basically done this on every trip we've been on together and I love it.
Ridiculous amounts of CHOCOLATE: Case in point: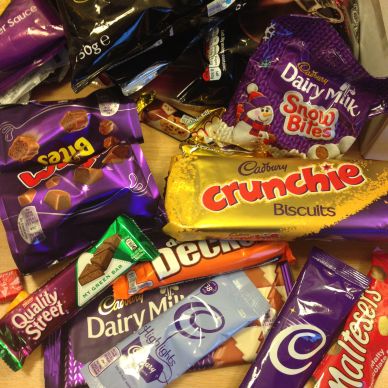 Other non-foodie related adventures:
God bless Danielle, she did all this touristy stuff with me, even though she had seen it all before: London Bridge, Big Ben, going up in the London Eye, Buckingham Palace, Westminster Abbey, Picadilly Circus, Trafalgar Square, Kensington Palace and more.
You better believe we travelled about two hours outside London to go on the Warner Brothers Studio Tour of THE MAKING OF HARRY POTTER. This was absolutely incredible for an HP fan such as myself. It has the soundstages and backlot where all eight of the Harry Potter movies were made, plus sets, props, costumes, the actual Hogwarts Express, Diagon Alley, and so much more. Plus you can have BUTTERBEER ICE CREAM in the snack bar (obviously I did).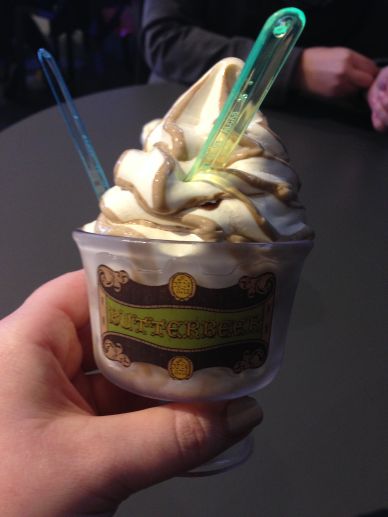 We saw Billy Elliot the Musical, which was a delight, and something I missed in Toronto years ago.
We stayed in Kensington neighbourhood, which was perfect. Our hotel was a short walk to the tube, and there were so many cute shops near us, plus a Boots pharmacy with free Wifi, that we took advantage of many times.
Every London stereotype about the weather is true: it was grey, dreary and raining every single day when we were there, but I don't think I would have had it any other way!