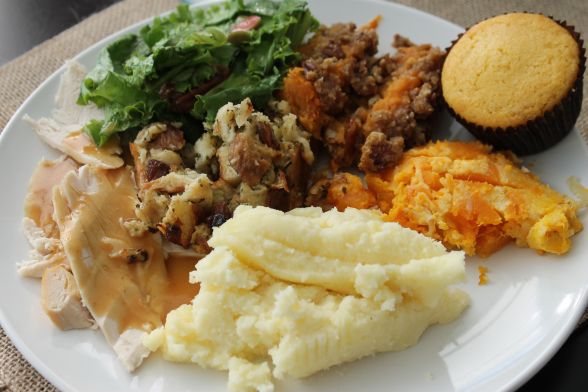 I was so, so excited to host Thanksgiving at my place this year! My middle brother and sister-in-law were away celebrating their 10 year wedding anniversary, so I was able to fit everyone else (7 grown-ups, 2 kids) in my condo. You know by now that I took this very seriously, and it was basically all I could talk about in the weeks leading up to Thanksgiving Sunday. For your enjoyment, here are 1,500 words on how it went!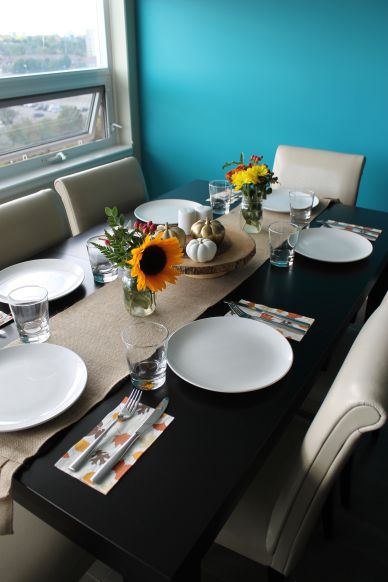 I started planning more than a month in advance by thinking about the structure of the menu, and what I wanted to make. I wanted to keep things pretty close to what my Mom has always served, but with a few updates/twists. I also sent an email to the Thanksgiving guru, Jan from Family Bites, to see how she sets up her menu, as well as Danielle, to find out what's on her mom's table. After some research and a lot of thought, this is what I came up with:
Appetizers: my Mom has never served an appetizer at any family event I can think of. Her school of thought is along the lines of 'why should I cook all day if people are going to fill up on apps', but she usually puts out a few bowls of nuts or pretzels. I did the same thing, picking up some maple toffee peanuts, hummus, sweet potato chips and pretzel thins from McEwan's.
Turkey/Gravy: outsourced to my Mom. I figured hosting my first Thanksgiving was perhaps not the right occasion to attempt to roast a turkey for the first time. She also brought some leftover cranberry sauce she had in her freezer (no one in my family is big on this).
Stuffing: my Mom always made her stuffing without a recipe and I loved it no matter what, but she would always comment that it was tricky to get right. I did a lot of research on this to find a simple recipe that wasn't too weird for my family (shout to all the Cornbread & Sausage Stuffing recipes out there, I would have loved you, but I don't think my family is ready for you!), and settled on this one from Brown Eyed Baker. It was perfect, and and SO EASY. I also added a handful of raisins to this, a family tradition from my Dad's side of the family.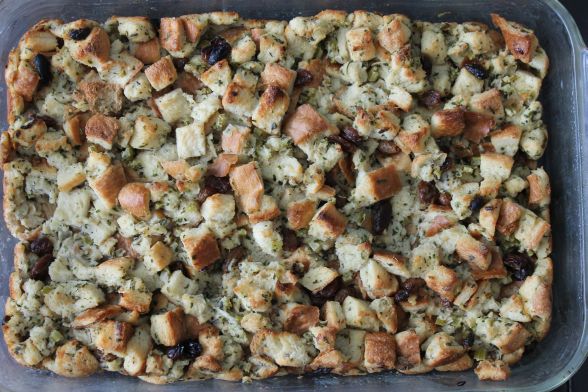 Mashed Potatoes: I went with a classic that I've made many times before – this recipe for White Cheddar Mashed Potatoes. I don't add the green onions, bacon or roasted garlic, keeping it pretty simple. These are so creamy and so tasty, and the key is using a ricer to make sure there are no lumps!
Butternut Squash & Caramelized Onion Gratin: My Mom normally makes mashed turnip (or a turnip puff casserole recipe from Nicole's mom) but I wanted to switch this up a little bit. Instead I made this gratin again, with butternut squash, caramelized onions and parmesan, and it was once again amazing. I ignored my own note to myself on this post, and didn't double it. I should have, it was so delicious.
Sweet Potato Casserole with Bacon Pecan Streusel: My sister-in-law usually makes a sweet potato dish for turkey dinners, but once I saw this recipe on Simply Scratch, I was sold. It has a smooth, creamy layer of mashed sweet potatoes on the bottom (you're supposed to spike it with bourbon but I left it out because of the kids) and a brown sugar bacon pecan streusel sprinkled over the top. I repeat: brown sugar bacon pecan streusel. Everyone loved it. My only notes on this would be to cut the streusel in half, and then either leave the bacon out totally, or double it. I found it kind of got lost in there.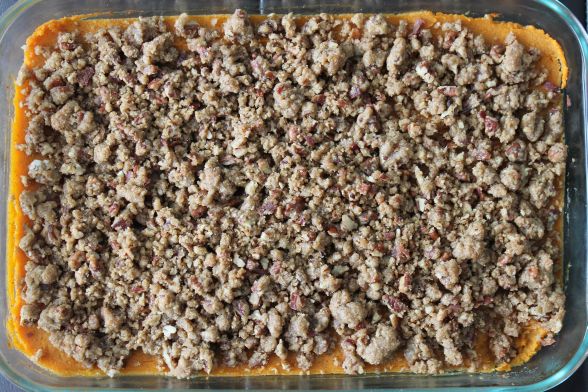 Honey Corn Muffins: For me, there has to be some type of bread on the table. In the past I've made dinner rolls and bacon biscuits, but decided to go with cornbread muffins. This is a recipe from Baked Explorations that I've made many times. I found them a little on the dry side this time around, and I'm not sure if it's because I overbaked them, or because they were in the freezer for the week. I would just make them fresh on the morning of next time.
Green Salad: I wanted something green in the mix, but not our traditional side of CANNED PEAS that I've refused to eat since I was a little kid! I went with a fresh green salad with sliced apple, pepita, candied pecans and a maple balsamic vinaigrette.
Chocolate Chip Cookie Pie: Look, on Planet Byn, there's just not going to be pumpkin pie. I'm not a fan. I still wanted to make a pie though, so I went with this recipe for Tuscaloosa Tollhouse Pie from the very first Baked book. I made it on Sunday morning, then I followed the suggestion in the book by heating slices in the microwave and serving warm with a scoop of ice cream. My brother Chris said it tasted like a warm, gooey, chocolate chip cookie fresh out of the oven. (Looks kind of homely because all the chocolate chips sunk to the bottom).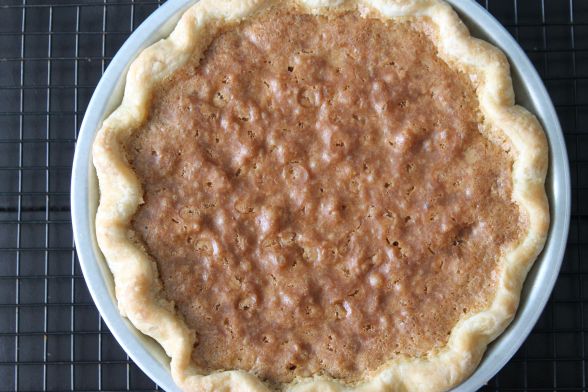 Apple Cider Caramel Corn: Yes, at my Thanksgiving, there are loot bags! I just love the idea of handing out a treat for everyone to take home at the end of the night. This comes from years of reading Annie's Eats, where she always has cute little cookies packed up for her guests. Caramel Corn is actually a perfect idea because you can make it way in advance. I prepped it and packaged it on Monday, and everyone was so excited when I surprised them with it as they were heading out ("Is it one treat per family or one per person?" Chris asked, hoping he would get one all to himself!). The caramel coating has an entire litre of apple cider reduced down to a syrup, plus lots of fall spices (cinnamon, allspice, ginger, nutmeg). Recipe is below!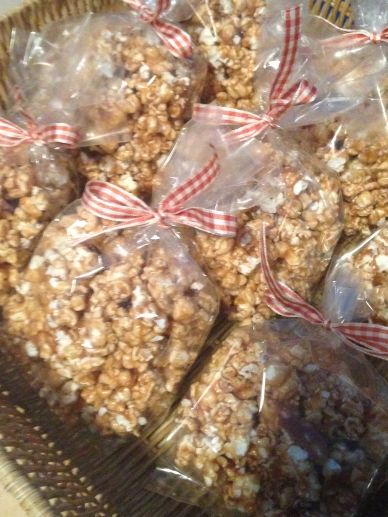 Overall, I would consider my first Thanksgiving a huge success, even with my sweet potato casserole sliding out of the fridge and onto the floor 5 mins after everyone arrived. Luckily my Pyrex dish didn't smash, it landed right side up, and was still the star of the night!
Other notes:
I really took my planning to another level for this dinner, and I had my menu set in September. I did all my grocery shopping the weekend before Thanksgiving, and then had a smaller list of fresh things to pick up closer to the big day (i.e. lettuce, fresh flowers).
I actually set the table a week before, and it was so nice to look at my tablescape every day and get more excited!
I made a workback schedule of tasks to complete for the week leading up to dinner on Sunday, and started doing little things each day, beginning on Monday (i.e. making and freezing pie dough, peeling and chopping butternut squash etc.)
I made as many complete dishes as I could on Saturday, so on Sunday all I had to do was reheat them.
To make thjngs even easier, I told everyone to bring whatever they wanted to drink, which saved me time and fridge space. This meant the gang all showed up with their favourite wine, beer, or mixed berry drinking box.
My friend Weedy has encouraged me to practice making a turkey so I can motivate her to do the same, so I think FRIENDSGIVING is going to be revived in November!
Apple Cider Caramel Corn
Source: Annie's Eats
Ingredients
1L apple cider (the kind you buy at a farmer's market, not apple juice)
3/4 cup popcorn kernels
1 cup (2 sticks) butter
1/2 cup corn syrup
2 cups brown sugar
1 tsp salt
1/4 tsp cinnamon
1/8 tsp nutmeg
1/8 tsp ginger
1/8 tsp allspice
1/2 tsp baking soda
1 tsp vanilla
Directions
Pour the apple cider into a large saucepan and bring to boil over medium high heat. Once it's boiling, reduce the heat, and continue to boil until it's a super thick syrup and measures about 1/2 cup (I had to pour mine into a measuring cup a couple of times to see where it was at, I'm a bad judge of volume when just looking into a pot). This will take almost an hour.
In the meantime, make your popcorn. I always follow this method, which is the best ever. I dumped all the popcorn into a big bowl, shook it a little bit, then transferred it by handfuls to another big bowl, making sure to leave all the unpopped kernels behind (which I then put in the garbage, don't try to repop them). Then I split all the popcorn among those two big bowls.
When the cider is almost done, preheat the oven to 250° and line two big baking sheets with parchment paper. Get all your other ingredients measured and combine all the spices together in a small bowl (this just makes things go quicker later).
Add the butter, corn syrup, brown sugar and salt to the saucepan with the cider syrup. Bring to a boil over medium high heat, stirring constantly. Once boiling, stop stirring, and let bubble away for 5 minutes, then add the cinnamon, nutmeg, ginger and allspice. Remove from heat and add the baking soda and vanilla, and stir well. It will bubble up and go crazy a bit.
Pour the caramel over the popcorn and use two spoons or spatula to make sure it's evenly coated. Spread the popcorn out over the baking sheets. Bake for 40 minutes, stirring every 10 minutes.
When totally cool, add to cellophane bags and tie with a ribbon, or store in airtight containers. I made mine a week in advance and it was still perfectly crispy when I ate it.