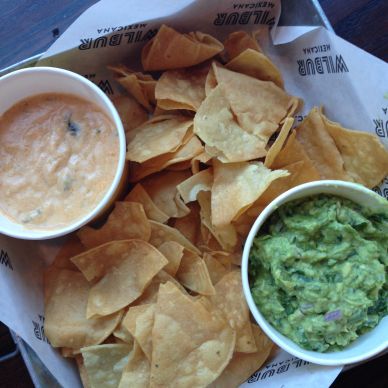 My social policy this summer was to say YES to everything, which meant I had lots of fun, but then basically didn't feel leaving the house in September. I laid low and cooked almost exclusively out of the new Oh She Glows Everyday (which I'm blogging about over here). There wasn't much else going on except:
Lydia came over to watch the season finale of our favourite show: Bachelor in Paradise. It was only fitting that we had a tropical dinner of these Pineapple Chicken Fajitas, which I fully endorse.
Nicole and Francis came over to watch the Emmys, and everything I made was out of OSG Everyday: Lemon-Garlic Hummus, Sweet Potato, Chickpea, Spinach and Coconut Curry and Flourless Brownies (with Coconut Ice Cream).
Krishna and I planned out the 2016 WEEDY BIRTHDAY MARG + TACO TOUR, which was pretty much the most fun I think I've ever had on a Tuesday. We started at Wilber Mexicana for margs, guac, queso and chips (pictured above), moved on to La Carnita for tacos, and finished at El Caballito for more tacos and a CHURRO ICE CREAM SANDWICH. Weedy said to me as we were eating it, "This is the only time you've stopped talking all night". It's that good.
I went to Kristine's brother's wedding and had the best time ever! EJ & Ashley's take home treat was a box of two Krispy Kreme doughnuts: the best snack ever to eat at 3am in your Uber home.
Other non-foodie things I was obsessed with this month:
I picked up Season 2 of Fargo from the library and binged it in one weekend. It was SO good! Less creepy than Season 1 (no Billy Bob), but just as quirky and dark and crazy.
I tried a few new Fall shows, and my faves are This Is Us and Pitch. Zack Morris is HOT you guys! Obviously I'm watching The Bachelorette Canada. Kevin W. is inexplicably my fave.
Truly, Madly, Guilty finally came off the hold list for me, and while I liked it, I wouldn't say it was better than Liane Moriarty's other books that I was obsessed with (The Husband's Secret & Big Little Lies). I also read Judy Blume's In the Unlikely Event and HATED it (so boring).
Flashback!