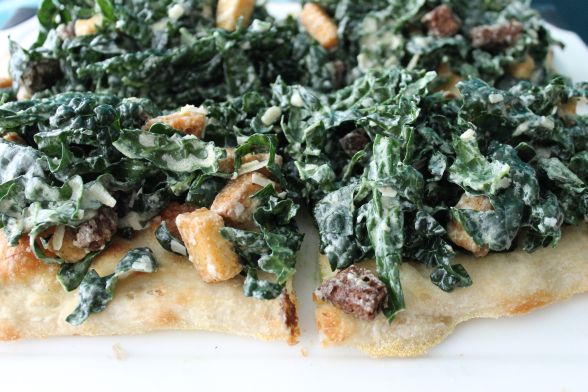 Alright, this isn't so much a 'summer dinner' as a 'dinner I made in the summer', but it's so incredibly good I have to share it. A good caesar salad is one of my joys in life, and if you'd like to read approximately 5,000 words on why, you can click here. I wrote that back in 2012 before kale had really come to take over our lives, and now I often make the same salad with shredded kale instead of romaine.
I was curious when I came across this post for a kale caesar salad pizza on How Sweet Eats, because the dressing is made with plain greek yogurt instead of mayo, and I wanted to try it out. The fact that the salad is served on what is basically a gigantic piece of garlic bread also provided a lot of motivation for me to make this.
So here's what's happening: pizza dough stretched out and topped with olive oil and baked until golden brown, then brushed with homemade garlic butter and sprinkled with fresh parmesan. You mix shredded kale with a super creamy and garlicky dressing, more parmesan (why not?) and crunchy croutons (what the hell). There might be kale in this, but it's really just an explosion of carbs, garlic and cheese, and I'm here for it.
I loved the dressing here made with greek yogurt; it's definitely more creamy that my usual go-to version. I don't think it will replace it, but it's nice to have another option in my back pocket. This would also be outstanding with some bacon crumbled in, just saying.
Kale Caesar Pizza
Source: How Sweet Eats
Ingredients
Salad
1 bunch kale
4 cloves garlic, grated with a microplane
3 tbsp plain greek yogurt
2 1/2 tbsp lemon juice
1 tbsp dijon mustard
2 tsp red wine vinegar
1/4 tsp pepper
1/2 cup olive oil
salt to taste
+ croutons if you're feeling extra carby
Pizza
1 batch of homemade (or store bought) pizza dough or even flatbread in a pinch
1/2 tbsp olive oil
2 tbsp butter, melted
2 cloves garlic, grated with a microplane
1/2 cup freshly grated parmesan
Directions
For salad, first prepare the kale by removing the tough ribs, the slicing the kale into thin ribbons and washing and drying in a salad spinner.
For the dressing, whisk together the garlic, yogurt, lemon juice, dijon, vinegar and pepper in a small bowl, then slowly whisk in the olive oil. Taste and if it needs a bit of salt, add it. Let sit while you bake the pizza crust.
For pizza, preheat the oven to 475° with a pizza stone inside if you have it, or the back of a cookie sheet if not. Spread out a big piece of parchment paper on the counter, and dust it with cornmeal. Press or roll out the dough on the parchment paper, using a little flour on your hands or rolling pin to keep the dough from sticking. Brush with olive oil. Slide the pizza onto a cutting board and place onto the pizza stone or cookie sheet in the hot oven. Bake for 10-12 minutes until golden brown.
While pizza is baking, stir the melted butter and minced garlic together. When pizza is out of the oven, brush the garlic butter over the hot pizza crust and sprinkle with the fresh parm.
Scoop the salad onto the pizza crust and slice into pieces. It's a total mess to eat this, but it's soooo delicious.